Only snippets of information are available on the life of Bernard Adler, who made at least one important ragtime contribution. The collective snippets are presented here for the first time as a long-view portrait of the composer. Bernard was born in Chicago, Illinois to Louis Adler, a German immigrant clock and watch repairman, and his California-born wife Sarah Sophie "Sallie" L. Jacobs. He was the middle of five children, including Flora (12/1876), Maurice (3/12/1878), Sophie (12/15/1880) and Janet (11/1889). The 1880 census showed Louis as a clock manufacturer. While little is known of Bernard's musical training or home life, his abilities went beyond what would be taught at Chicago public schools. The fact that Maurice also became involved in the music business suggests that the brothers received some kind of formal music instruction in a town full of very competent musical talent.
Bernard's first published composition appeared in 1896 when he was just 17. Teamed up with British immigrant
Arthur J. Lamb
, who over the next few years would make quite a name for himself in Chicago and New York,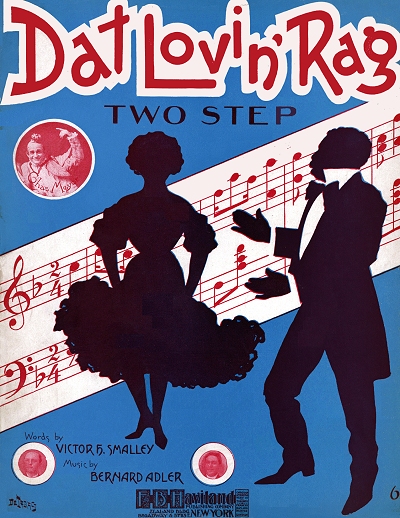 Have You Seen the Old Home Since You Left It?
was the first of several of his numbers from 1896 to 1899 that spanned the sentimental and outright "coon" song formats. In fact, Lamb's take on the genre that had done well for him in the beginning of his own career,
I'se Done Grown Tired of Coon Songs
, remains as an indication of how many musicians and consumers had reached saturation as far as exposure to such songs. Their
I Want a Real Coon
from 1898 was enough of a hit on the Chicago stage to warrant an instrumental release as well. Curiously, the 1900 census does not list an occupation for Bernard, Maurice or their father, which is likely an oversight, since all three were gainfully employed. Bernard is shown as a musician in at least one early Chicago directory, even though he was still living with his parents.
Adler worked largely in drinking establishments and occasionally for the stage over the next few years, as Lamb had moved on. Virtually nothing came from his pen, or at least was published during that period. He was mentioned as playing at several events in Minneapolis and Saint Paul, Minnesota, from 1904 to 1906. On June 9, 1906, Bernard was married in Minneapolis to Charlotta A. "Lottie" Hayward of Buffalo, New York, after which the couple relocated to Chicago. Also, Bernie's pieces started to appear in print again, this time written with St. Paul, Minnesota, journalist Victor H. Smalley. One of their first songs was Dat Lovin' Rag, dedicated to W.B. Dixon of St. Paul, Minnesota, where Smalley was raised and maintained a home. Issued initially in Chicago, the piece got picked up by publisher F.B. Haviland in New York where it saw a measure of success. This simple ragtime song was integrated into a 1907 play with lyrics and libretto by the ambitious Smalley. The Merry Widower had a short 1908 run at the famous Pekin Theater, which was largely a Negro-run venue, showing how highly his music was regarded there. While the play did not endure, the song did through the efforts of rising star Sophie Tucker. In fact, the feedback she got from Dat Lovin' Rag convinced her to steer more towards syncopated songs in her act, soon propelling her to national stardom. The piece also became a solo piano rag with a little bit of rearranging in 1908, one of those rare instances where the instrumental version came after the song. Adler and Smalley followed this with The Man From Home, also produced at the Pekin in 1908.
In August of 1908, Adler and Smalley had their one act musical play,
A Mexican Tangle
, staged in Newark, New Jersey at Proctor's Theater. It was given a mixed review in Variety, which stated that, "The offering is a very chaotic arrangement of ideas, suggesting that there were too many cooks concerned." However, the New York Dramatic Mirror called it a "novelty of strength." It still does not appear to have made it to a New York stage. Bernie and Victor continued to turn out a few more pieces through 1909, including the overt advertisement,
I Love My Horse and Wagon, But Oh, You Buick Car!
. The cover featured famous drivers and others associated with the Buick company at that time. After that, Smalley changed gears and became the manager of a new vaudeville agency, commuting between St. Paul, New York City and New Orleans, Louisiana. (He would die of appendicitis in New Orleans in late 1910.) Adler continued to write sporadically with a couple of other lyricists, including
Irving Berlin
. There is no indication that Bernie had lived in New York City during that time period, so the details of how he got involved with Berlin as a lyricist for
That Dying Rag
are not available.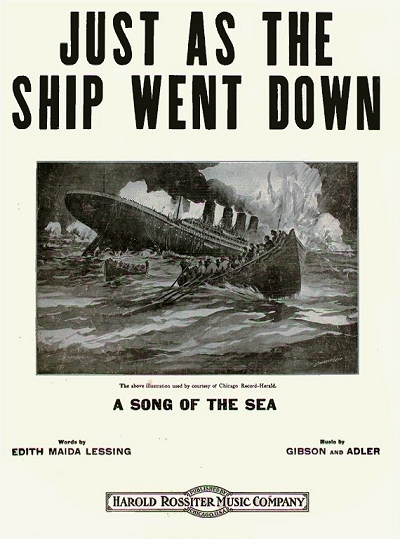 Perhaps the title was not all that attractive, as sales on the piece were only moderate, even after Berlin achieved fame late in the year for his own
Alexander's Ragtime Band
. Bernard was shown in the 1910 enumeration living in Chicago with Lottie, listed as a musician. His brother Maurice appeared in the same record listed as a sheet music salesman, although no specific firm was indicated.
At the beginning of of 1911 Bernie relocated for a while to New York City, signing on initially to the publishing house of Thompson Music. However, by April, he was working for the much larger Ted Snyder publishing firm. According to the New York Clipper, he was engaged to write and "at the same time instruct and teach performers how to sing and how to play Snyder's big hits." However, Bernie's New York tenure was short lived, and by early 1912 he was back in Chicago. For whatever twist of fate was involved, Adler did manage to become involved in one of the most visible hot topic songs of 1912. There was an almost macabre rush to get books and songs to press after the tragic sinking of the ill-fated steamship Titanic in April of 1912. Adler teamed up with two other Chicago area composers, one of them being Sidney C. Gibson, for what would become perhaps the most enduring of these entries, Just as the Ship Went Down. Somewhere between the maudlin Asleep in the Deep and the catchy The Band Played On, it found performance venues all over the country, particularly where films of the ship leaving dock and the rescued survivors pulling into New York Harbor were shown. Along with Dat Lovin' Rag, Just as the Ship Went Down was widely recorded to disc as well as readily available on piano rolls. In spite of this success, it was the last known published song from Bernie's pen for nearly a decade. Unfortunately for Bernie, Charlotta died on December 15, 1912, leaving him as a widower.
Less than a year after Charlotta's death, Bernie married again this time to 19-year-old May Evelyn Moore on August 20, 1913. He played some Midwest vaudeville circuits, traveling in 1915 and 1916 with Sidney Gibson, the two of them performing their songs in a reportedly entertaining act in both theaters and cabarets. The marriage to May went bust, and they parted ways in 1916. On February 26, 1918, he married one final time to Lynuella Williams, 13 years his junior, in a civil ceremony held in Detroit, Michigan. In June, Bernie helped to open up the new Grand Café in Chicago along with singer Bert White. However, with the proliferation of traditional the new jazz in Chicago in the late 1910s and the influx of talented black pianists and musicians from St. Louis and New Orleans, the work for ragtime men simply dried up. On his September 9, 1918, draft record, Bernie was listed as a traveling salesman for the Roman Oil Portrait Company. Not quite 40 yet, he cited rheumatism in his left foot and a rib injury as exemptions from that draft. He was not readily found in the 1920 census, although Maurice was still present as a sheet music salesman. One other copyrighted tune appeared in 1921, published in New York by Haviland who had taken on some of his earlier works. However, there is no indication that Adler had moved to the east coast.
Bernie was seen in a couple of 1920s directories in Chicago, but none that indicate his vocation. The 1930 census, however, did show him as a night club musician, actually living above the club at 749 Rush Street in Chicago with other performers, and single once again. That same year, Maurice was busy in a new career as the owner of a toy store. The Great Depression was hard on musicians, but in Chicago most of them managed to find work in clubs, more so after the repeal of the Volstead Act and National Prohibition. By the time of the 1940 enumeration, Bernie was shown living in a rooming house in North Rush Street, working as a musician at the Club Alabam. His 1942 draft record, filled out as Bernie instead of Bernard, showed him now lodging in a home on North St. Louis Avenue in Chicago, but he claimed an 1882 birth year. Within three months Bernard Adler would die in a Cook County hospital, although the cause of his death just a month after his 63rd birthday was not located. He was interred at Rosehill Cemetery in Chicago. Several years later, Bernie enjoyed some new measure of fame when Capitol Records A&R man Lou Busch recorded Adler's most famous piece, Dat Lovin' Rag, on the first all ragtime LP, Honky-Tonk Piano, released in 1950. Although Busch had re-titled it to That Everlovin' Rag and rearranged it somewhat, the piece was still recognizable. An even more authentic rendition was recorded by Dick Hyman in 1958 on one of his honky-tonk albums as Knuckles O'Toole. It is still performed in the 21st century at various ragtime events around the world.