Burton Franklin Bales
(March 20, 1916 to October 26, 1989)

1951

Angry/Doodle-Doo-Doo

Cake-walking Babies From Home/Down Among

    the Sheltering Palms

1953

Burt Bales & His Ragtime Piano

After Hours Piano

1957

Jazz from the San Francisco Waterfront

1958

They Tore My Playhouse Down (w/Paul Lingle)

1959

On the Waterfront

1974

New Orleans Jazz

1975

Burt Bales - New Orleans Ragtime

c.2000

Burt Bales 1947-1961

Other

At the Jazz Band Ball

Turk Murphy Volume 1

Bob Scobey Volume 1

Burt Bales and the Rose & Thistle Jazz Band

Bob Scobey's Band

Bunk Johnson in San Francisco

 

[GTJ 35] 78-RPM  

[GTJ 36] 78-RPM

 

[GTJ EP-1006] 7"

[GTJ L-19] 10"

 

[ABC-181]

 

[GTJ L-12025] 12"

 

[Cavalier 6010]

 

Unknown Issue

 

[Euphonic 1210]

 

[G H B Records 13] CD

 

[GTJ L-12005]

[GTJ L-12026]

[GTJ L.12032]

[Sacramento Jazz SJS-20]

[DC-12004]

[AMCD-16]
Burt Bales is not a widely known name outside of ragtime playing circles, and he rightfully should have been. He was just born in that niche where he was too late for the original ragtime era, too sophisticated in many ways for the honky-tonk era, and too obscure for some in the ragtime revival. Bales was also sometimes overshadowed by other pianists in the San Francisco Bay Area, largely due to circumstance more than anything else, and sometimes of his own doing. Yet he was highly regarded by all who knew him, and much sought after as a band musician. Here is his story.
Burton was born in Stevensville, Montana, to Montana native father Benjamin Franklin Bales and his wife Elizabeth D. Johnson. Stevensville is located around 20 miles south of Missoula, the county seat, on the Bitter Root River. By 1920, the family had moved north about 60 miles to Pablo on the Flathead Indian Reservation. Benjamin (who later went by Frank B. Bales) was listed as a newspaper editor, but was a printer by trade. Burton would be joined by his younger brother Jack W. in 1919, and Robert S. in 1921. In 1925, Frank moved the family west to Marin County, California. By 1927 they were living at 322 Richardson Street in Sausalito, and Frank was listed as a printer. In 1930, the family was still in Sausalito, but now at 11 Princess Street, with Frank listed more specifically as a newspaper printer. By 1933, the Bales family had settled at 108A Sycamore Avenue in San Anselmo where they would remain for many years.
Burt came to Northern California right in the middle of jazz age, although most of the jazz in San Francisco, which was a bit of a trip for the family before any bridges spanned the bay, was more often performed by visiting groups. Later in the 1930s a few performers started making their home in the Bay area, most notably pianist Paul Lingle who would become a friend and colleague of Burt's. While there are reports that he had actually been performing in public at hotels and nightclubs since the age of 12 (around 1928), confirmation of any appearances before the mid 1930s is difficult to come by, so this might have been a slight exaggeration.
However, while he was attending Tamalpais High School in his mid to late teens, Bales had already begun playing piano professionally in the Bay Area, focusing his efforts on traditional jazz works by Jelly Roll Morton, and contemporary artists like Fats Waller.
The young, sophisticated pianist
in the 1940s.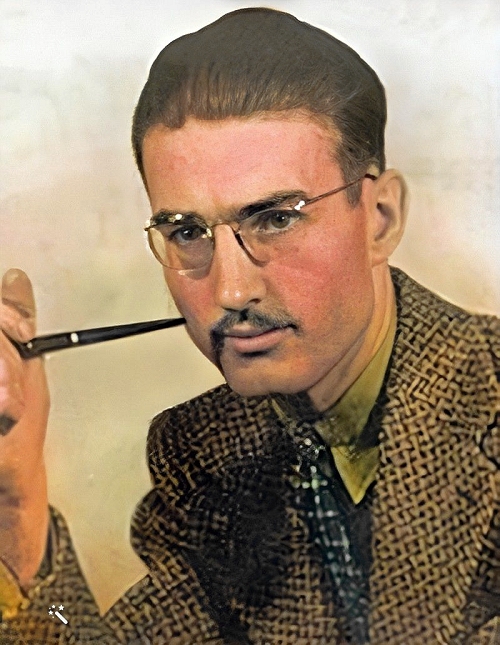 According to a July 1956 article about trombonist Jack Buck, who Burt often played with, "in 1935 he joined Ellis Kimball's orchestra which was playing at the now defunct Topsy's Roost at the San Francisco ocean beach. 'Burt Bales was doing many of the arrangements for us' Buck said, 'and we were playing a lot of New Orleans jazz. This was several years before Lu Watters formed the Yerba Buena Jazz Band and opened at the Dawn Club [1940]." Through listening to hundreds of recordings, and at times actually backing some legendary musicians, Burt soon became somewhat of an expert in Chicago jazz style, and particularly the traditional jazz of New Orleans, even though he had not visited there.
A frequent performer with bands at the iconic Dawn Club in San Francisco, Bales became known to bandleader Lu Watters, who had been working on a revival of the tunes first laid down by Joseph "King" Oliver and Louis Armstrong nearly two decades before. Wally Rose was Watters' primary pianist, and a cornerstone of Watters' pioneering Yerba Buena Jazz Band, but Bales also started working with the group from time to time as a backup. Wally's style was much more traditional, based largely on ragtime, but he also did fine work in the Jelly Roll Morton idiom. Bales was adept at either but leaned much more in the Morton direction. Both made invaluable contributions to the early years of the revival, helping to keep it alive until it exploded nationwide around 1950.
From the late 1930s into the 1940s, Burt became known as a solid club pianist who was flexible for use with a variety of jazz musicians. As it was, he played with noted musicians such as Jack Teagarden, Earl "Fatha" Hines, Huddie "Leadbelly" Ledbetter and Bunk Johnson, a rarity in an era where integrated bands were not always welcome in any number of public venues. He also appeared on radio with banjo player Clancy Hayes in the late 1930s, a bit ahead of the coming revival. Having already recorded with Benny Strickler's group in 1942 on a KYA broadcast from the Dawn Club, Bales, along with Bunk Johnson, made one of his only studio recordings with the Yerba Buena Jazz Band in 1944 after Rose had been drafted into service. Burt himself had enlisted in the Army on January 23, 1943, but his service was short-lived, not even lasting through basic training due to poor vision issues from his myopia. This left Bales, along with Paul Lingle, as a viable Bay Area commodity during the war years, as many other musicians were fighting the battle overseas. Bales also led his own band from 1943 to 1946 before taking an extended residency at San Francisco's 1018 Club after the war.
One of Bales' first studio recording sessions was in 1947, courtesy of
Lester Koenig
and his
Good Time Jazz
label.
A Good Time Jazz EP release
from 1953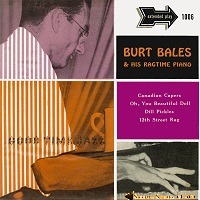 Koenig had been recording Watters and Rose, among other bay area traditional jazz groups, since late 1941. Given that Turk Murphy was taking an increasing leadership role in the band, and that Bales was called on to gig with his group from time to time, it was natural that Lester became acquainted with his style. However, the sides were not released for 15 years. Bales was kept busy, however, playing also for the bands of
Bob Scobey
and
Marty Marsala
in 1948. In 1949, Koenig once again put Bales in front of the microphone in San Francisco, and eight recorded solo piano tracks from that session eventually made it to a 10" long-playing record in 1953. In May he laid down a set of tracks with Murphy and Scobey, this time in Los Angeles, and in December recorded four with
Ed Garland
on bass and the widely used
Minor Hall
on drums. Those four tracks were released on a 7" EP disc, also in 1953. More recordings with Murphy in Los Angeles, where Koenig had set up his company, followed in 1950, along with a couple of singles recorded with his own ensemble again, including vocalist
Jeanne Gayle
.
Following the success of Koenig's release of Lingle's famous 1952 studio recording for Good Time Jazz, and similar good response to Wally Rose's classic piano rag album, Lester saw fit to also release the Bales solo piano cuts, giving Bales more import in the national jazz press. It kept him dutifully employed throughout the 1950s, but mostly in the Bay Area which he preferred. Bales had the central theme of the influence of Jelly Roll Morton in common with Lingle, and while there was no overlap in their cuts, there was certainly a lot of variety between the two. This served Koenig well when he converted the entire Good Time Jazz line to 12" LPs in the mid to late 195os. While some were not re-released in the lengthier format, Bales and Lingle were combined on one of the most famous releases the company ever issued, They Tore My Playhouse Down, from 1958. The title and the cover referred to, in a thinly veiled manner, the "playhouses" of the Storyville district of New Orleans, or even of the notorious Barbary Coast area of San Francisco. Even as it caused some minor controversy among some concerning taste, the compilation sold briskly. It is still available on CD and via digital download some six decades after the original analog cuts were recorded.
In spite of his brief national fame, and slightly higher local favoritism, from the mid 1950s forward, Bales worked largely as a solo pianist in various clubs around the Bay Area, most frequently at Pier 23. Several tracks were recorded there during his tenure, but not all were as well received as his Good Time Jazz releases. In a Saturday Review mention of the 1958 release of the album Jazz from the San Francisco Waterfront released on the ABC Paramount label, author wrote that "Burt Bales sounds as if he'd spent a lot of time listening to [Joe] Sullivan, Fats [Waller] and Earl [Hines], but no one else. The ensembles are meaningless except for spots on 'Tin Roof' and 'Save it Pretty Momma,' when Matty [Masala] band saves them. This record, with all its faults, is still more enjoyable than the performances of people who never listened to music before 1958."
Burt at home playing at Pier 23
in the late 1950s.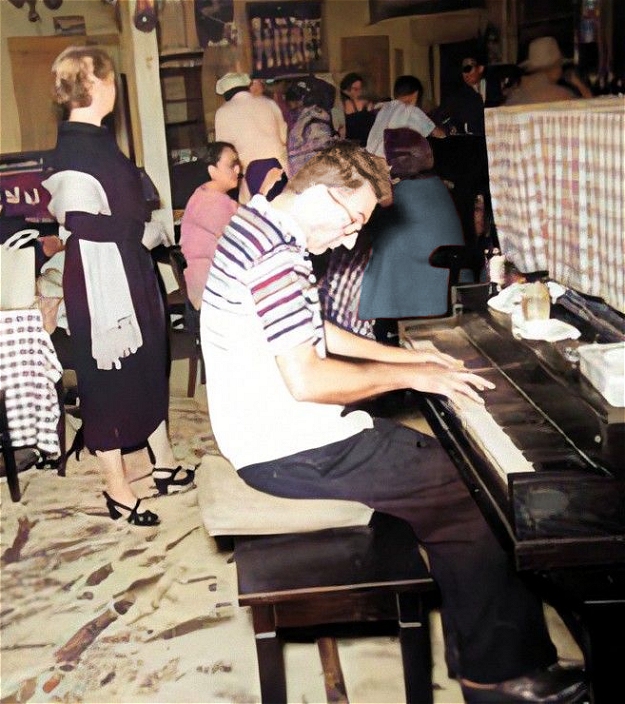 It was also in his new regular spot, located in a not entirely savory part of town in spite of its popularity, that one of the more interesting stories surrounding the eclectic pianist emerged, as reported in a San Francisco paper on March 21, 1958
3/21/1958 The boys at Pier 23 Tavern on the San Francisco Embarcadero had planned a little birthday party(?) for player Burt Bales last night. It was to be a real high class affair.
Then along came Fred A. Cellarius Jr., 26, a typesetter of 121 South St., Sausalito. He was acting up and this was not in keeping with the way owner Havelock Jerome and the boys had planned the evening.
Jerome refused Cellarius a drink and told him to leave.
Sellarius seized a chair and started swinging and after the melee four persons were treated for injuries. Police arrived and chased Cellarius across the Embarcadero into a warehouse at 1250 Sansome str., where he climbed 18 feet onto stored packing cases. It took a fork lift to get him down.
He was booked on suspicion of felony assault, drunk, battery and malicious mischief. His companion, Paul Johannes, 24, of 902 California St., was released as a drunk under $0 bail.
Jerome suffered cuts on the scap, lip and a black eye; Heber C. Galloway, 56, of 806 Page St., concussion and lacerations of the head, one finger nearly bitten off and a possible fractured arm; and Charles J. Ooghe of 209 Amhurst Ave., San Mateo, cuts on the head.
In the fight all the tavern's windows on the Bay side were broken out and the place was pretty much a shambles.
However, when Bales arrived for the party, Jerome, his head bandaged, his tavern littered and his cusomers battered, said the party would go on just the same.
Everybody wished Bales a happy birthday, there was fun and revelry and they forgot about that fellow who tried to break it up.
In 1959 Burt was included in A Survey of 60 Years of Piano Jazz held at the University of California, San Francisco on May 13 and 14. He appeared along with Wally Rose, Tiny Crump, stride pianist Ralph Sutton and modernist Richie Crabtree. Later that year he appeared with singer Lizzie Miles, whom he frequently backed, at the Monterey Jazz Festival down the coast, but may have been off his game as he received a scathing review in the San Mateo Times on October 10, 1959. The critic stated that "Burt Bales threw away a good chance too. Lizzie Miles couldn't even cover for him when he lost beat, tempo, focus and hearing through most of the numbers together."
Then came the crushing blow that caused Burt to take a mandatory pause in his life, and perhaps refresh his resolve as a performer. On February 26, 1960, Bales was crossing Seventh Street near the Greyhound Bus Depot in San Francisco when he was struck by a car. There was the possibility that he was going to lose his left leg.
Ev Farey's Golden State Jazz Band c.1979. Burt is leaning against the signpost to the right.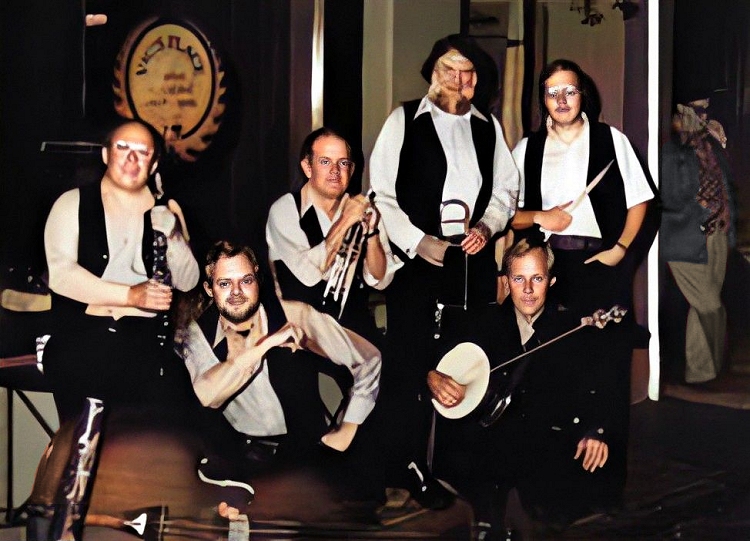 By July, his leg still intact, he was informed that he might have to wear a cast on the leg for up to a year, but that a walking cast might be fitted by late 1960. That was enough encouragement to keep him going, since it would mean a return to his Pier 23 gig after nearly a year of convalescence and healing. Friends were always around him at the hospital, which further helped his spirts. To assist with his substantial medical bills, several benefits were held for Bales, resulting in $2,000 or more for many of the events, directly donated to the ailing pianist's cause. On one spring evening there were simultaneous coordinated benefits held at four of his favorite hangouts. By early 1961 he was indeed back on the bench at Pier 23, and even made a recording with a pick-up band, although the tracks were released many years later.
Burt spent the rest of the decade playing rather uneventfully at Pier 23 and other venues with a dedicated crowd following him around. By the 1970s he was starting to slow down a bit, but still kept a regular Monday Night gig at the Washington Square Bar & Grill into the 1980s. There was a brief flirtation with another jazz band from 1979 to 1980, but Bales preferred his solo work.
In 1989, in failing health, he finally visited New Orleans and felt a kinship with the musicians there who all greeted him warmly. Bales was ailing from cancer, diabetes, and cardio-vascular complications, having stopped playing regularly just a year prior. On October 26, 1989, at age 73, and just 9 days after the devastating Loma Prieta quake that had shaken San Francisco, Bales died there of complications from heart surgery at St. Mary's hospital, survived by his wife Yvonne, brother Jack, and mother Elizabeth. Around the same time his historic works were finding their way into the digital medium, and remain with us today. Even though he was under-recorded, sometimes under-regarded, and at times somewhat eccentric, Bales believed in his music and breathed joy into whatever he played for whoever would listen.