George James Botsford
(February 24, 1874 to February 1, 1949)

1899

The Katy Flyer

1906

When Other Hearts Grow Cold

In Dear Old Arizona

Traveling [w/James F. Devins]

1907

Pride of the Prairie (Mary)

[1]

1908

Klondike Rag

Black and White Rag

The Big Jubilee

Love Watches: Valse Caprice

Denver Town

[1]

1909

Old Crow Rag

Dance of the Gowns

The Pianophiends Rag

Fat Men On Parade

Texas Steer

Wiggle Rag

1910

Venetian Beauties

Chatterbox Rag

Lovey-Dovey Rag

Grizzly Bear Rag Dance of the Grizzly Bear

[2]

Maybe You're Not the Only One Who

    Loves Me

[3]

1911

Royal Flush

Honeysuckle Rag Hyacinth

Somebody

[4]

How to Make a Huckleberry Pie

[4]

Did You Ever Hear Them Tell of Floradora

[4]

Honey Girl

[4,5]

1912

Erry-Merry Rag

Silv'ry Bells (Jingle Bells)

Oh, You Silv'ry Bells

[4]

The Eskimo Rag

[4]

Here's to the Friend in Stormy Weather

[4]

I Want to Love You While the Music is

    Playing

[4]

Marry a Yidddisher Boy

[6]

1913

Universal Rag

Rag, Baby Mine

The Buck-Eye Rag

The Incandescent Rag

Join Our Jubilee

[4]

Sailing Down the Chesapeake Bay

[4]

I Want to Go Back to Dixie Land

[4]

The Married Women's Club:      One Act Musical

[4]

1914

Come Over to Dover

[7]

A Dutch Courtship: (Minature Opera)

[4]

1915

The Volunteers: One Act Quartette A Holland Romance: (Minature Opera)

[4]

   Honey-Moon Bells

1916

Boomerang Rag

On the Old Dominion Line

[4]

Captain Kidder: (Minature Opera)

[4]

1917

Sheila [w/Theodosia Garrison]

Clubmates: One Act Musical

[4]

1918

Courting Days: One Act Musical

[4]

1920

It's the Way That You Have When You Smile

    [w/Tom Post]

1921

When Big Profundo Sang Low "C"

    [w/Marion T. Bohannon]

1923

The Owl: One Act Musical

1932

A Basso Profundo Am I [w/Al Bernard]

1951 (Posth)

Meanderin' [w/Cy Coben & Charles Grean]

1. w/Harry J. Breen
2. w/Irving Berlin
3. w/Alfred J. Bryan
4. w/Jean C. Havez
5. w/J.B. Lampe as Ribé Danmark
6. w/A. Seymour Brown
7. w/Stanley Murphy


1913

Take Me to That Suwanee Shore

On the Mississippi

Hyacinth Rag

Row, Row, Row

Down in Dear Old New Orleans

Here Comes My Daddy Now

You Know You Won't

Underneath the Cotton Moon

Silv'ry Bells

Hyacinth Rag

Take Me to That Swanee Shore

On the Mississippi

All played w/Albert Gumble


Matrix

[Rythmodik ?]

[Rythmodik ?]

[Rythmodik ?]

[Rythmodik A4762]

[Rythmodik A4882]

[Rythmodik B5152]

[Rythmodik B5162]

[Rythmodik B5213]

[Rythmodik B5262]

[Ampico 2203B]

[Ampico 2684B]

[Ampico 2784B]
George Botsford
was a man who knew how to write tunes the public liked. He was one of two sons born in Dakota Territory (South Dakota near present day Sioux Falls) to New York native miller
James George Botsford
and his bride
Harriet M. "Hattie" Smithe
, the other one being
Charles E.
(5/29/1878). The 1880 census showed the family living in Sioux Falls, but by 1885 they were residing in Clermont, Iowa. George spent his formative years in the Midwest, specifically in Iowa. There was a great deal of pre-ragtime style and influence in this region, as evidenced by the amount and quality of ragtime that eventually emerged from Iowa and Nebraska, so it is likely he was exposed to some of it.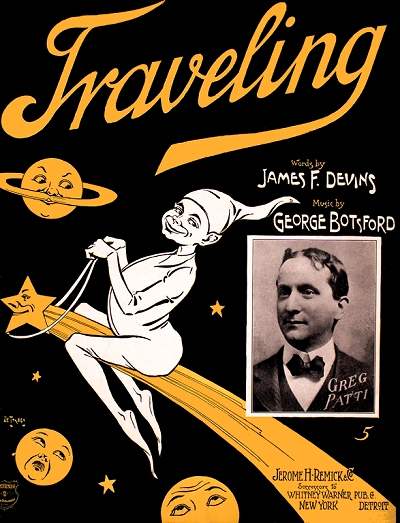 He received a fair amount of formal musical training in his youth and proved to be a natural performer. George married singer
Della Mae Wilson
, the daughter of a music teacher with whom they lived for a time in Centerville, Iowa, later moving back to Clermont.
George was listed in the 1900 enumeration as a "Theatrical Pianist" so was already likely expected to know some of the latest ragtime tunes and cakewalks. He and Della Mae set out on the road with the Hoyle Stock Company in Nashville, Tennessee, ultimately spending 34 weeks from 1900 to 1901 with the troupe. During that stint the Botsfords may have ventured to New York City in February 1901, as they placed an "At Liberty" ad in the New York Clipper: "George Botsford, Pianist, Director and Arranger, Della Mae Wilson, Comedy Parts, Character and Singing Specialties with Monologue. Address Geo. Botsford, Clermont, Iowa." They spent that summer in Champaign, Illinois, where George directed the orchestra at the Casino Theatre and Della Mae worked with the Bennett Stock Company. That fall they picked up with the Van Dyke & Eaton Company for another successful run on the road that ended in May 1902.
Taking the summer off, the Botsfords finally relocated their base to New York City in late 1902 where they would stay for the remainder of George's career. They appear to have done one more season with Van Dyke & Eaton before settling for good in the summer of 1903. While there may have been hopes of a career for Della Mae, ultimately it was George who became the entertainer of the family. One of the first mentions of him after they moved was as a pianist for events held by the Fort Greene Council in February and November 1904, then as an organist at the Brooklyn Lodge of Elks, of which he had become a member, for a large memorial service in December. He was next heard from in 1905 as a vocal director for a large politically based performance at the Monroe Club. George was able to establish a foothold as a composer in 1906 with a couple of pieces published by the New York firms of M. Witmark and Sons, and Tin Pan Alley giant Jerome H. Remick. Among his first published compositions was the song Traveling, the chorus of which was adapted in 1921 by another set of composers as the Iowa Corn Song.
George was found that years participating in a July 4 "Pop Concert" on Long Island, where he played along with several other entertainers, including the
Edgemere Club Orchestra
. This was around the time of his first minor hit,
Pride of the Prairie (Mary)
.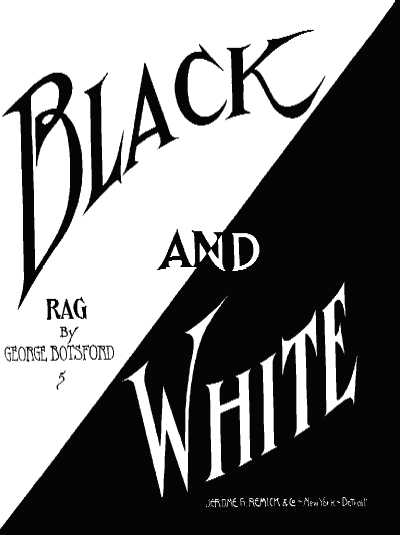 In the spring of 1907 he was part of a show called
The Haymakers
presented in various venues around the New York City area. Botsford soon secured steady work as an arranger and composer for Remick, who had already published some of his work, in late 1907. He would remain with the firm on and off for more than a decade. The following year would be a breakout one for the composer as he introduced his most famous and long-lived rag.
Of Botsford's many rags, primarily composed from 1908 to 1913, most contained at least some of the secondary rag pattern, or repeated three over four, of which Black and White Rag of 1908 and Grizzly Bear Rag of 1910 are prime examples. As a result of this pattern, Black and White Rag was easy and enjoyable to play for the average pianist, and it became a runaway hit in short order. It has remained his most enduring syncopated work, and was also one of the first piano rags ever recorded to cylinder, as well as being ubiquitously in use in early sound cartoons of the 1930s. The piece further enjoyed many recordings during the ragtime revival of the 1950s and 1960s.
Botsford's momentum clearly picked up in 1909 with a number of good instrumentals. However, that was what he was getting known for, and a change was in the works. Early in 1910 he joined the staff of the Ted Snyder Publishing Company. His subsequent hit, Grizzly Bear, began a dance craze during a time of animal dances, including the Turkey Trot and the Fox Trot, which prompted its publisher Ted Snyder to have his new protégé Irving Berlin fit some lyrics to it. In this way it counts less as a genuine popular song than it does a retrofit hit, but either way it swept the country. In spite of, perhaps because of his success, George ended up back at the house of Remick later in the year.
As noted in a November 1910 clipping in the Music Trade Review: "George Botsford is probably best known as a composer of the more difficult syncopated or ragtime instrumental successes, but with Alfred Bryan, he has turned out a new one in the popular song line that may put him in that class of song writers who write the 'Remick hits,' and a Remick hit means a lot to a song writer in money and fame." The best was yet to come for Botsford in the song department. George and Della Mae were shown in Manhattan for the 1910 enumeration, where he was listed as a music composer. Della Mae also often made the society pages of the New York Times throughout the 1910s in various organizations or hosting public parties, particularly for the Iowa New Yorkers. She was not known to have further pursued her performing career, however, even though she headed the entertainment committee for many functions.
George often served as a choral arranger and conductor both on and off Broadway, working in genres such vaudeville, Broadway shows as a pianist, minstrel show revivals, and with the
New York Police Department Glee Club
. He also frequently advertised for amateur singers offering his services as a vocal coach. An active member of both the Elks and the Friars, he often headlined or even directed their shows on a regular basis. George also wrote the music for a few hit songs, typically with lyricist
Jean Havez
, of which
Sailing Down The Chesapeake Bay
of 1912 remains the biggest,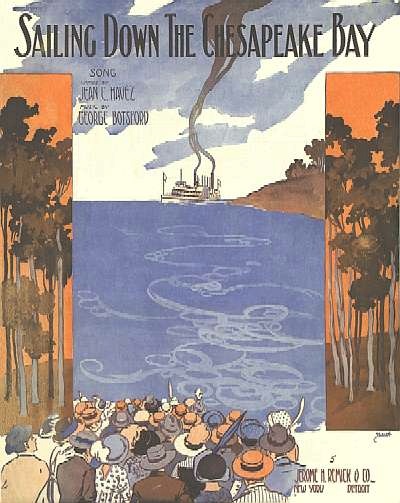 and was also a great musical boost for the Baltimore/Washington D.C. area.
By this time George had gained a lot of traction and warranted a rather substantial writeup in the New York Clipper on February 15, 1913, clearly larger than all of the other composers profiled on that page, and perhaps a bit more effusive than a historical perspective might support:
George Botsford, known as the greatest exponent of technical ragtime music and the writer of some of the most popular "piano rags" was born In lowa, in the great farm section, "took" piano lessons from a teacher whose curriculum consisted of Bellak's and Czerny's studies, but who found in young George her most apt pupil, for before the year was out George could play a great deal better than his teacher, and appeared as a prodigy pianist at all the church and district school concerts. When George came to New York and joined the Remick forces only the words of encouragement from Messrs. [Jerome H.] Remick and [manager Fred] Belcher prevented him from going back to good old Iowa. To-day he ranks second to none as the arranger and instructor of trios, quartettes and choruses, and his ensemble chorus work is one of the features of the Remick house. He is really a self-made musician. As a composer he has met with great success, and his "Grizzly Bear" song was the forerunner of most of the ragtime songs so popular to-day. His big instrumental rags, such as "Black and White," "Chatterbox" and "Hyacinth," are novelties in syncopation that have been copied by most every other ragtime writer. The "Hyacinth Rag" is noted as being the most difficult rag for the piano ever written. Among his songs, "Pride of the Prairie, Mary." written for and sung to-day by Ethel Levey; "Denver Town," the original cowboy song, and "Maybe You Are Not the Only One Who Loves Me," have been big hits. His latest and greatest success is the rollicking Winter Song, "Oh, You Silvery Bells," a sleighing song which has superseded every sleigh bell song ever written. During the Winter Mr. Botsford coaches some of the most notable amateur minstrel shows, such as the Brooklyn Elks, the Harmomie Club, the Friendship Club, and his work in that line is without doubt equal to that of any professional stage director.
Soon after this George went to the American Piano Company (AMPICO) studios to record his only known piano rolls for the Rythmodik label. Only nine titles were known to have been performed by Botsford, all of them duets with Remick composer and arranger Albert Gumble. Some of them were later issued on the AMPICO label following the demise of Rythmodik. They remain the only audio documents of Botsford's fine playing, until perhaps a rare radio show transcription turns up.
In an article in the New York Times on July 24, 1913, it was stated that prima donna Cecil Cunningham would appear in vaudeville for the first time at Proctors, "using a singing sketch entitled 'The Married Ladies' Club,' by Jean C. Havez and George Botsford." Another article on March 8, 1915, highlighting an actor's fund benefit vaudeville entertainment, mentioned that it was directed by Botsford, and that he and his Harmonists took part by closing the program. George became one of the charter members of ASCAP in 1914.
In the mid-1910s Botsford experimented with the concept of miniature opera, a one-act opera staged with a minimal cast and a small instrumental ensemble. Among these was one presented in early 1914, The Dutch Courtship. It was followed another presentation in the summer of 1915 at the grandest of all the vaudeville theaters, The Palace, A Holland Romance, which was possibly a reworking of The Dutch Courship. Both were composed to lyrics by Jean Havez and featured some notable talent in the cast. In spite of the considerable effort, the miniature operas ultimately failed to take hold, and the music contained in them was difficult to market in sheet music form.
Botsford, the consummate music professional, clearly had a sense of humor to some extent, given the shenanigans in which he participated at various Elks and Friars functions. But as a professional he also had some frustrations which were cleverly channeled into a piece that appeared in the New York Clipper on June 6, 1917:
George Botsford, noted arranger, quartetter, producer, pea'nist, remover of harm from harmonies, and inserter of mellow in melodies, rises to the boiling point and wishes to be heard. George has been suffering long in silence, and at last wants it recorded that the following should be pasted on the walls of each piano room, and labelled "Goat Getters."
1 — The singer who starts talking just as you get through playing the vamp.
2 — The "friend" of the singer who carries on a conversation while you are demonstrating a song.
3 — The singer who says he can read notes and can't.
4 — The singer who asks you to play the introduction, when you have played the song, including the introduction, enough times to have taught a blind man the words.
5 — A quartette with only three people. Likewise a two-act with one missing.
6 — The vocalist who uses his own words and hates to be corrected.
7 — The wise one who says "I sing all my songs in 'B' flat."
Maintaining a position as a bandleader or conductor, Botsford managed to make inroads with some major publishers who kept his compositions in front of the public for many years. In his capacity as an arranger with Remick, George worked with manager Jens Bodewalt Lampe as part of one of the more efficient staffs in the industry, an organization with incredibly high standards for turning out socres without errata. He is shown on his 1918 draft record as employed by Remick in the capacity of musician, and not composer, doing much less of the latter by this time. Among his contributions to the Remick catalog were pieces in Bodewalt's Star Dance Folio series of the 1910s and 1920s. Botsford's composition and performance revenue was fairly substantial, and the Botsfords had a home address literally on Broadway by the mid-1910s. A passport issued in August 1918 indicates that he traveled to England, where many Broadway shows and American performers were finding success. He was also stationed for a time in France as part of the Over Seas Entertainment Unit towards the end of World War I, returning in late February 1919. One of the last public notices of him in the New York Times is on April 21, 1919, when he is mentioned as arranging a specialty number of a "Cycle of Songs from 1850-1919" in a program headlined by comedian Ed Wynn.
The Botsfords are shown still living in Manhattan on Broadway in 1920, but his profession is obscured on the records, presumably still as a pianist or composer. He seems to have pretty much retired from composing in the 1920s, except perhaps occasionally for special stage shows or radio appearances, as little else was published. Among these shows, perhaps an extension of his miniature opera idea, were single act pieces such as Courting Days in 1919 and The Volunteers, a singing quartette act that was staged several times in various renditions from 1915 to 1925. Another short act he put together was a "miniature musical satire" called The Owl in 1923. Botsford's Glee Club was heard frequently on the AT&T station WEAF in the early-to-mid-1920s.
In 1930 the Botsfords were still living in Manhattan, although they also had a Long Island residence. He was again listed as a pianist on Broadway. Interestingly, as with many ragtime composers when they grew older, George seems to have selectively trimmed a few years off his age, listing himself as 50 in 1930. Della had already trimmed her age somewhat in 1920. George added some solo appearances on the radio to his résumé, although it is unclear what radio stations or specific shows he may have played for. Some appearances were found in the early 1930s on WEAF and WPCH in New York. He evidently spent most of his last three decades playing rather than writing.
One of the last events he was known to be at was an old-timer's song fest at the storied Algonquin Hotel on January 28, 1934. The article noted that many distinguished survivors of Tin Pan Alley were present and in good form, and stated that "George Botsford, lean, tall and gray... sat at the piano when the cigar smoke began to thicken. He played 'Sweet Rosie O'Grady,' 'My Gal Sal' and 'Blue Bell,' and the evening got underway. The disappointment left behind from these years is that his many pieces composed for minstrel shows and vaudeville one acts, most of which were very well reviewed, were not collected for publication or submission to an archive.
As of the 1940 census George and Della Mae were living in the same place, with George listed as a creator of orchestrations, likely a musical arranger, as his own business. He retired from this at some point in the mid 1940s as he approached 70. Then George Botsford died early in 1949 just short of his 75th birthday. A notice published in the New York Times of February 3 was posted by Fred E. Ahlert, the president of ASCAP at that time. "We announce with profound sorrow the death of our beloved member and colleague, George Botsford, in New York City on Feb. 1, 1949." Within the next year, some of his rags would once again find their way into recordings with a renewed popularity, including his famous Black and White Rag interpreted by the "Hollywood Pianist," Ray Turner, on a Capitol Records single. It remains one of the single most performed rags into the 21st century.