Charles Neil Daniels
(April 12, 1877 to January 21, 1943)

1897

Imperial Courier Two Step


1898

Margery
Only a Bugle Boy

[1,6]


My Rag-Time Lady

[6,7]




1899

The Poster Girl - March
Without Thee [w/Earl Fitzhugh]

[1]


A Proposal

[1]


You Tell Me Your Dream, I'll Tell You
    Mine

[6,7]


You're Drifting Further From Me, Day By
    Day [w/Scott Frederick]


1901

My Dream Lady

[1]


My Sugar Baby

[6]


Actions Speak Louder than Words

[6,7]


When the Cold, Cold Wind Begins to
     Blow

[6]


Hiawatha - A Summer Idyl

[1]

(1901/1902)


1902

'Neath Southern Skies

[1]


Dolores - Cubanola

[1]


The Arrival of the Gecks

[1]


The White Slave

[2]




1903

Hiawatha - His Song to Minnehaha

[1,8]


Me Heart Breaker "Rags" [w/Eddie Dustin]
The Jolly General
Show Girl

[1]




1904

My Cherokee

[1]

[w/Eugene Parker]
Poppies - A Japanese Romance

[1]


A Deed of the Pen

[1]


One Little Soldier Man

[1]

[w/Edward
    Madden]
Say You Forgive

[2,5]


Moonlight - A Serenade

[1]




1905

Moonlight - Song

[1,8]


Niccolini

[1,8]


Cleopatra Finnegan

[1]


Silverheels

[1]


Silverheels - Song

[1,8]


Sombrero - Mexican Serenade

[1]


Autumn: The Woods Are Ablaze

[1]


Cherry - Intermezzo

[3]




1906

Cherry - Song

[3,9]


Heartsease

[1]




1907

Louisiana

[3]


Senorita

[3]


Dark Eyes - A Mexican Dance

[1]


Clematis - A Garden Dance

[3]


Musette

[1]


Musette - Song

[1,8]


Strong-Heart

[1,8]


Innocence - Valse Lente

[1]


Indian Summer

[1]


After Vespers

[1]




1908

Sleepy Chile: Lullaby

[1]




1909

Classic Rag

[1]


Mary - March

[1]


Truly Southern - Rag
Pearls: Novelette

[1]


Chung Lo: A Chinese Monkey Doodle

[1]


Under the Tents
Hearts of Gold

[3]


Honka-Tonk Rag

[3,10]


Love's Serenade

[1]




1910

Fifty Years Ago - Dear Old Chum

[3,10]


By the Moss Covered Well, Dear
    Estelle

[3,10]


Cotton Time
Cotton Time - Song

[10]


The Lady Bug's Review

[1]


Woodland Dove (My Gypsy Love)
On Mobile Bay

[10]


Cupid's Patrol: March

[1]


Sayonara: Intermezzo

[1]


Mondschien: Seranade

[1]


When the Moon Swings Low [w/John Page]


1911

In Maple Sugar Time

[10]


Fare Thee Well, Lizzie Lee

[10]


Texas

[10]


Borneo Rag - Oriental Pastime

[10]


Sugar Plum

[3]


Abide With Me [w/Charles F. Shermer]
The Island of Roses and Love

[1,10]


I Think of Home and Mother When it's
    Christmas Time

[10]


Have You a Little Fairy in Your Home?

[9]


    [w/G.H.E. Hawkins]
The Only Pal I Ever Had Came From Frisco
    Town

[10]


Love is a Weaver of Dreams

[1,10]


    [w/L. Lockwood Moore]
I Never Thought I'd Miss A Girl Like
    You

[1,10]


Bye and Bye

[1]


Virginia Love

[10]


The Heart That Sighs Too Late

[1]


Enchanted Nights

[1]


When My Dark Diana Dreams of Me

[10]




1912

Echoes of Seville

[1]


It's Such a Little Pansy

[3,10]


That Banjo Rag

[1,10]


Where the Moonbeams Gleam

[10]


A Real, Live, Regular Town

[10]


Gee, I Love A Beautiful Girl

[10]


Kill That Bear

[10]


On Long Island Sound

[10]


That Rag

[1,10]


I'll Come Back to You, My Honolulu Lou

[10]


Beedle-Um-Bo - I Love You in Zulu

[10]




1913

The Beautiful Dawn of Love

[1,10]


In Apple Blossom Time (Down on the
     Farm)

[10]


It's a Rocky Road to Dublin (But I'm Coming
     Back to You) [w/George J. Moriarty]


1914

My Little Baby Rose

[1]

[w/Mannie
     Lowenstein]
Pretty Wild Thing

[1]


At the Panama-Pacific Fair

[5]


Peter Pan

[5]




1915

In Monterey

[1,11]


Hula Lou

[1,11]


The Lord and Master of Mine [w/Charles R.
     McCarron]
Nadja

[1]


Thelma

[1]




1916

My Sweet Moana

[1]


My Pearl of Honolulu

[5]

[w/Charles B.
     Brown]
In the Purple Twilight


1917

Underneath the Tennessee Moon

[11]


Hawaiian Dreams

[5,12]


The Smiles and Tears of Killarney

[1]




1918

Arabian Dreams

[5,12]


Mickey

[1,11]




1918 (Cont)

Yearning

[1]

[5]


Aloha Soldier Boy

[5,13]


Roses of Lorraine

[5,13]




1919

Yankee Doodle in Berlin

[11]


When You Come Back to Me

[1,11]


Dreamy Moon

[5,13]


When it's Over, Over There Molly Darlin'

[1]


     [w/Ben Purrington]
Peggy

[1,11]


Dancing with the Girl You Love

[1]


Some Night

[1,14]


Hindu Rose - The Oriental Vamp

[1,14]


Rose of Romany

[1]

[w/Louis Weslyn]
Rose of My Heart

[1,15]

[w/A. Bollaert]
Sunshine Mary

[1,11,13]


My Buddy

[1,16]




1921

Sicily: Waltz

[1,11,15]


Love Moon

[1]


Mello Cello

[1,11]




1922

Without You

[1,17,18]


Just Plain Folks

[1,17,18]


Babylon: A Romantic Fox Trot

[1,11]




1923

Alexandria

[1,18]


Trip Along

[1,18]


Betty - A Dancing Song

[1,19]

[w/Barton Mac]
Half Past Ten: Chinese Waltz

[1,19]




1924

On the Way to Monterey

[1]


Nancy

[1,18]




1925

Moonlight and Roses

[1,18]

[w/Edwin H.
     Lemare]
Beside a Silv'ry Stream

[1,18]


I'm In Love with You

[1]


She's Funny That Way

[1,20]


Moon Deer

[1,20,21]




1926

Song of the Wanderer

[1]


Sandman Lullaby [w/Billy Baskette &
     Coleman Goetz]
Don't Sing Aloha When I Go

[1,13,18]




1927

Chlo-E (Song of the Swamp)

[1,22]


An Old Guitar and An Old Refrain

[1,18,22]


Rose of Monterey

[1,16]


Persian Rug

[1,22]


Up in the Clouds

[1,18]


God's Greatest Gift

[1]

[w/Merton H. Bories
     & Paul Cobell]


1928

Happy-My Baby Just Said Yes [w/Larry Yoell]
Evenin'

[1,20]


Ready for the River

[1,22]




1929

Song of Siberia

[1,23]


Little Old Log Cabin in the Lane

[1,23]


Chinky, Chinee Boogie Man

[20,24]


Feelin' the Way I Do

[20,24]

[w/Charles Cooke]
Singin' River

[25]


Varsity Rhythm

[1]


One Moment More with You

[1,20,21]




1930

Sally, I'm Lovin' You, Sally

[1,24]


Blue Mountain Shack

[26]

[as Charlie Hill
     w/John Forrest]
When It's Harvest Time (Sweet Angeline)

[1]


     [w/Charley Kisco]
My Dream of Love

[1]

[w/Mabel Musante]
Kiss Me to Sleep

[1]

[w/Leverett Edwards]


1931

I'm Gonna Get You

[4,27]


Hills of Idaho

[4,6,27]


Sweet and Lovely

[4,27]


Within This Heart of Mine

[4]

[w/Milton
     Brockman and Jimmie Lederer]
A Pillow Wet with Tears

[1,26]


Put Your Little Arms Around Me

[4,27]




1932

Give Her a Kiss for Me

[1,26]


It Might Have Been You

[1,26]


Goodnight My Love

[4,27]


From AM to PM, I Love You All the
     Time

[1,14,27]


Thank You for the Evening

[1,29]




1933

Dancing in Blue

[1,25,27,29]


Here You Come with Love

[1,27]


Lady Lou

[1,27]


Swanee Woman

[25]


Lou-Anna

[1,14,27]


Oo-oo-ooh! Honey! What You Do to Me
    

[1,27,30]




1934

Give Me Your Answer Tonight

[1,25]


Call of the Rockies

[1,27]


A Pretty Girl, A Lovely Evening

[1,14,27]


Wild Honey

[1,27,28]


Swanee River Dream Man

[1,27,30]




1935

Here Comes Your Pappy With the Wrong
    Kind of Load

[4,27,28]


In the Merry Month of May

[1,27]


     [w/Charles Tobias]
Love is the Thing

[1,27]


Darling Ella-May

[4,25]

[w/G.S. Piermont]
What's the Use of a Silv'ry Moon

[1]


     [w/Carl Winge & Sylvester L. Cross]


1937

Lovely Debutante

[1,27]


O Heart of Mine

[1]

[w/Raymond Eldred]


1938

White Shadows

[1,27]

[w/Gene Wilbur]
A Gentleman and A Lady Were in Love

[1,29]


Kahala

[1,27]

[w/Harry Owens]


1943

Somewhere Under the Stars Tonight

[1]


     [w/Will Weston]

   1. as Neil Morét
   2. as Paul Bertrand
   3. as L'Albert
   4. as Jules Lemare
   5. as Sidney Carter (lyrics)
   6. w/Albert H. Brown
   7. w/Seymour Rice
   8. w/James O'Dea
   9. w/Arthur Gillespie
   10. w/Earle C. Jones
   11. w/Harry Williams
   12. w/Herbert B.Marple
   13. w/Walter Smith
   14. w/Ted Fiorito
   15. w/Weston Wilson
   16. w/Byron Gay
   17. w/Art Hickman
   18. w/Ben Black
   19. w/Paul Ash
   20. w/Richard Whiting
   21. w/Raymond B. Egan
   22. w/Gus Kahn
   23. w/Al Lewis & Al Sherman
   24. w/Haven Gillespie
   25. w/Jo Trent
   26. w/George Waggner
   27. w/Harry Tobias
   28. w/George Hamilton
   29. w/Gordon Clifford
   30. w/Cliff Friend

Charles Neil Daniels
, born in Leavenworth, Kansas, to jeweler
Alfred E. Daniels
and
Agnes E. Tholen
. He was one of two surviving children of the couple, including
Elizabeth "Bessie"
(8/1884). Another sister,
Mamie
(1879), died during childhood. Charles actually spent most of his youth in St. Joseph, Missouri, and the family was found there by the time of the 1880 Census. The traditional year of birth for Charles has been 1878. However, since the 1880 enumeration shows him as three years-old, there is a probability that he was actually born in 1877.
     Alfred moved the family to Kansas City, Missouri when Charles was 15, and entered the lucrative field of real-estate. There his son studied a panoply of musical disciplines,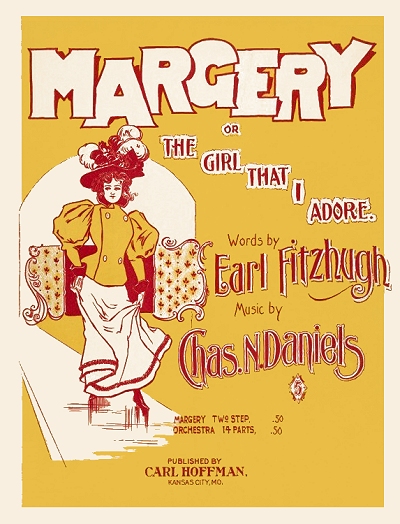 including piano, music theory, and musical calligraphy (a viable skill for prospective typesetters and arrangers). Charles also studied harmony and theory with
Carl Preyer
in Kansas City. Among his first positions were various gigs as a pianist in department stores, an accompanist at the Kronberg Concert Company, and demonstrator for the Carl Hoffman publishing house, which gave him his first break. They also published one of his first works,
Imperial Courier Two-Step
.
     It was while working for Hoffman, in response to a competition, that Daniels composed his second published piece, a two-step called
Margery
. It won the $25 prize, and soon the attention of no less than bandleader
John Philip Sousa
, who put it in his repertoire and created a quick demand for it. Even though sales for
Margery
were brisk, going as high as 275,000 within a few years, Daniels saw nothing of it since the prize money also constituted ownership of the piece by Hoffman. Pressing onward, Charles composed the music for an even bigger hit the following year,
You Tell Me Your Dream, I'll Tell You Mine
, which soon became a standard in the American Song Book, but also caused a further rift with Hoffman who refused to offer royalties on this piece as well.
     In December 1898 Daniels utilized his position to help another young composer, Scott Joplin, and arranged to have a rag of his published, the first one of many for Joplin. Titled
Original Rags
, the cover cites that it was "arranged" by Daniels. However, according to family history passed down to from his son to Charles' grand niece, the late
Nan Bostick
, Daniels did nothing more to the piece than help transcribe and typeset it directly from Joplin's performance of it, and apply his newly-famous name to it to help with sales in markets where he was known.
Original Rags
would be eclipsed by
Maple Leaf Rag
in short order, but it remained in print with Daniel's name on the cover for many years.
     Bolstered with confidence, Charles next turned to writing an opera. In reality, it was a burlesque opera for a fireman's benefit, composed with
St. Clair Hurd
. It turned into an ambitious affair, complete with large choruses and the burning of a local building. The pending event was noted in the
Kansas City Journal
of November 9, 1899: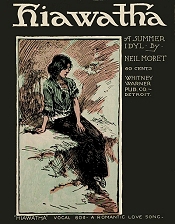 A burlesque entertainment will be given for the benefit of the firemen's Paris fund at Convention hall December 13 and 14. Last night at Music hall the first steps were taken to incorporate the company that will furnish the entertainment. A full chorus of bass and tenor singers was secured together with a number of minor performers in an opera written by Charles N. Daniels and St. Clair Hurd...
      The opera, which will really be a burlesque on an opera, to be presented has been prepared by Charles N. Daniels and St. Clair Hurd, and will picture a scene in Madrid and representing the victorious Kansas City firemen returning from Paris, where they had won many prizes...
     Two days later in the November 11, 1899 edition, and years before the celebrated Nordstrom Department Store started using pianists for atmosphere, there was an advertisement stating that "Mr. Charles N. Daniels is entertaining our [Doggett Dry Goods Company] customers in the Music Department. Be sure and hear him play 'The Bands of the Nation' march. Mr. Daniels uses the celebrated Crown piano." He was, of course, actually filling the role of a musical schiller and not so much of an entertainer. Music departments with song demonstrators were just starting to come into their own in many Midwest department stores. Daniels would not remain in this mode for long, however.
      It may have been from the experience with
Original Rags
, plus the music scene in Kansas City, that Daniels caught the ragtime bug to some extent. Dissatisfied with the treatment he received from Hoffman, Charles formed the
Western Music Publishing Company
to release the tune on his own. This later became
Daniels & Russell
when another Hoffman refugee, Albert Russell, threw his hat in with Daniels. The 1900 Census shows Charles living with his parents and sister in Kansas City, Missouri, and listed as a music publisher. Charles and Albert headed for St. Louis around 1901 in anticipation of the coming Lewis and Clark Exposition/World's Fair, and reformed as
Daniels, Russell & Boone
with offices in the Benoist Building in that city, also working as music demonstrators at the
Barr Dry Goods Company
.
     It was in late 1901 that by happenstance Daniels inadvertently created a new sub-genre of popular music. On a trip from Kansas City to Hiawatha, Kansas, he focused on the rhythm of the train wheels against the track joints, and came up with an intermezzo melody that he named after the destination, which itself was named for the Native American hero from the famous Longfellow poem
Hiawatha
. Originally subtitled
A Summer Idyl
(tone poem), this was also picked up by the Sousa, now his friend.
     Sousa's exposure of the piece resulted in a sale of his catalog to Jerome H. Remick for the extraordinary sum of $10,000, just so Remick could obtain
Hiawatha
, such was the public's response to it.
As part of this deal Daniels was put in charge of the subsidiary company that Remick had started his empire with, Whitney Warner. Management in this company subsequently tried to exploit the Indian name aspect further. With lyrics added in 1903 by James O'Dea that incorporated a brief retelling of the romance between Hiawatha and Minnehaha,
Hiawatha
became even a bigger hit, as well as a template for many so-called Indian pieces to follow over the next two decades that would be incorporated by many famous composers, including
Joseph F. Lamb
,
Percy Wenrich
,
Kerry Mills
, and another friend,
Charles L. Johnson
.
     One of the ironies is that Daniels brought
Hiawatha
out using a pseudonym,
Neil Morét
, which was derived in part from his middle name. Given the exposure of that name through his early hits, Daniels ended up using it more than his own name throughout his career, more so than any of his contemporaries who also used pseudonyms. He also used
L'Albert
on a few pieces, and infrequently attributed his own lyrics to
Sidney Carter
for variety. Charles followed
Hiawatha
in 1905 with an intentional Indian intermezzo and song titled
Silverheels
. He also started composing a number of Mexican or Spanish-tinged pieces, forecasting another craze among composers and the musical consumer. One of his mood intermezzos,
Moonlight
, was so appealing to Remick that he bought it from Charlie's firm for $20,000, double what was paid for
Hiawatha
and the earlier catalog. Under his own name he had the privilege of contributing the only "official" music composition of the 1904 St. Louis Louis and Clark Exhibition, a march titled
A Deed of the Pen
, which referred to the signing of the Louisiana Purchase in 1803.
     Daniels traveled for Remick for some time, setting up music departments in stores around the East. While many towns had their own music shops, department stores in particular prided themselves on having a music department with a piaist demonstrator. Daniels took that one step further using new technology. One such description of his methods was found in the Music Trade Review of October 29, 1904: "The new music department inaugurated by the R. H. White Co., Boston, Mass., is under the management of Charles N. Daniels (Neil Moret) the composer of 'Hiawatha,' 'Moonlight' and the new song, 'Poppies.' Mr. Daniels has inaugurated many ideas of his own for the display of sheet music and is using the phonograph as an effective demonstrator." While people like Daniels "managed" these departments, it was usually on a rotating long-distance basis, making sure that the products for his company were properly represented through occasional visits or other supervision.
     In 1904, it was announced that: "Albert H. Russell, of Detroit, has assigned all his interest in the music firm of Daniels & Russell, Wetherbee building, to his partner, Charles N. Daniels, and the latter has assigned it to Shapiro, Remick & Co., including all copyright music, plates and manuscript." It was not a permanent exit from the publishing business by any means. He had his eye elsewhere. In late 1904 Charles met
Pearl Hamlin
of St. Louis, Missouri, and they were soon engaged. Their friends turned out to be very surprised when Pearl went to visit Charles in Louisville, Kentucky in January 1906 and came back as his wife.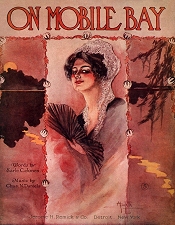 While working in Detroit in 1906 for Remick and Whitney Warner, and still writing for his own firm as well under the pseudonym of L'Albert (as in partner Albert Russell), Charlie opened a subsidiary shop in the old Barr's firm, now the
Grand Leader Department Store
, where future composer
Irene Giblin
worked as a demonstrator. Daniels acquired
Dill Pickles
from Hoffman, a rag composed by his friend
Charles L. Johnson
. It has been stated that the two Charlies may have extended the ragtime craze by as much as a decade with this single tune, because Johnson set a standard for easy to play rags that appealed to the average pianist, and Daniels promoted it well in markets nationwide, which included getting it played and recorded by many bands. His efforts helped make Remick one of the largest publishers of both piano rags and popular ragtime songs, and Daniels was perhaps as much a proponent of piano rags as classic ragtime magnate
John Stark
, one of it's biggest champions.
     Two other pieces he picked up from Hoffman included Johnson's
Iola
, again named for a town in Kansas and not a particular Indian (although O'Dea also added lyrics to this one as well), and
Peaceful Henry
by Hoffman arranger
E. Harry Kelly
. These made plenty for Remick and their composers, but not so much for Hoffman, who may have been regretting his earlier fiscal treatment of Daniels by this time. It probably didn't help that the Kansas City branch of Daniels' company settled in right next door to Hoffman's office! While promoting ragtime heavily during this period, Charles wrote very few of his own pieces that were touted as rags, rather releasing them as intermezzos or similar genre titles. He was also concentrating on the more lucrative song business, eventually hooking up with lyricist
Earle C. Jones
who helped create even more best-sellers for Daniels, or more properly, Morét.
     Charles' enthusiasm for making good music and the benefits that could be had from interpolation into popular music forms was made clear in an October 1910 article in
The Music Trade Review
:
     Mr. Daniels is convinced that the popular taste is improving. Some of the means by which this desired end is being achieved may be such as to make the musically judicious grieve, but are none the less effective, he declares. '"The popular songs introducing strains of classical compositions are actually having the effect of creating the desire to know more of the music suggested," said he. "Thousands of people know the Mendelssohn 'Spring Song' to-day who had never heard it or heard of it before. Last year our house published 'That Loving Melody Rubinstein Wrote,' and I know it to be a fact that Rubinstein's 'Melody in F' came into great demand in Detroit as a consequence. People went into the music stores and asked what the 'Loving Melody' was and bought it. Of course, this is one factor working toward the creation of a taste for gcod music. Why, the other day in Detroit a vaudeville singer won tremendous applause from the gallery with an aria from 'Rigoletto.' Now, all this means that the people want good music. It doesn't mean that there will soon be no market except for the productions of long-dead composers, but it does mean a gradual raising of the standard all along the line."
     By late 1913, his primary lyricist partner, Earle Jones, had died at 35 of typhoid. Charles' young daughter had long been suffering from diabetes (misdiagnosed as lung disease), and hoping to save her life he gave up his position with Remick and relocated to a climate that was recommended as more conducive to her health, that of the desert around San Bernardino, California. Sadly, his daughter died of her ailment in 1915. However, by this time, he had started again on his own as a publisher, first founding his own self-named firm, then partnering with a younger graduate of Stanford University,
Weston Wilson
, to form
Daniels & Wilson
.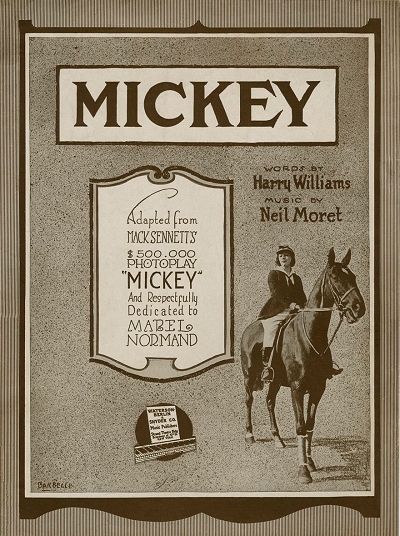 Daniels also imported lyricist
Harry William
from Remick, and they continued to turn out hits in California. Among the pieces that he arranged for publication for Remick in 1914 and his own firm in 1916 were two works by
Elizabeth Ogden
, which was actually a pseudonym for his younger sister Elizabeth [Hawkins], who later worked as a piano teacher in Chicago and then Michigan. The alternate identity trait ran in the family.
     Charles' reputation got him a turn at composing a title tune for a 1918
Mack Sennett
film starring one of Hollywood's more popular actresses,
Mabel Normand
.
Mickey
worked well as a two-way promotion for both the film and the song, garnering Daniels and Williams a good-sized wartime hit. Many historians consider it the earliest popular song directly associated with a film title, and it did very well after being picked up by
Waterson, Snyder and Berlin
in New York. The following year Daniels and Williams turned out another nationwide hit,
Peggy
. However, the lucky streak was not to last. His young partner Wilson joined the military for the war, never to return to the firm but later to get into the oil business, which left Charles to run the company by himself. Then in 1922 Harry Williams died while visiting Daniels, sadly ending another successful partnership.
     Daniels regrouped after these tragedies and worked for a time as a west-coast arranger for Waterson, Snyder and Berlin, but after getting back on his feet he founded the San Francisco firm of
Villa Morét
(House of Morét) in 1924. Now living across the Bay in Oakland, he partnered with bandleader
Ben Black
to compose one of Villa Morét's first issues. Adorned by a beautiful cover, it was a fox-trot version of organist
Edwin Lemare's
andantino
Moonlight and Roses
, which became a dance band hit in short order. This was the beginning of several years of big hits turned out by the successful firm, including some penned with now-famous lyricists
Richard Whiting
and
Gus Kahn
. The most famous of these pieces by Morét and Kahn was
Chlo-E - Song of the Swamp
of 1927, which featured a plaintive cry to the titled lady. Some will remember the famous parody of this work in the late 1940s by
Spike Jones and his City Slickers
, but it received serious attention at this time, and put him once again on a par with many contemporary East Coast composers like Duke Ellington. In 1928, with Richard Whiting, he turned out
She's Funny That Way
, which later became an early theme for crooner
Frank Sinatra
. By 1926 Villa Morét had an office at 1596 Broadway in New York City, and Daniels became a bi-coastal traveler between the two bases. Offices in ten other cities were opened by the end of the year, giving Daniels an excellent distribution and acquisition network.
     Trends were changing in 1929 in advance of the Great Depression, and Daniels saw these coming. Many of the publishers were being bought up by film companies now looking for material for sound movies. Also, sheet music was losing its luster in light of phonograph records, talking pictures, and radio, all of which required little effort on the part of the listener to enjoy. Daniels moved to Los Angeles, but could not convince the company, of which he was president but not owner, to move their operations to Hollywood. Charles, his wife, daughter and mother-in-law are found in the Shelton Apartments in the heart of Hollywood, three blocks from Hollywood and Vine, for the 1930 Census, with Charles listed as a musician and composer/publisher. He wrote a few pieces as
Jules LeMare
while trying to legally separate from Villa Morét publications, and spent the 1930s working with younger lyricists, primarily for publisher
Jack Robbins
, who was associated with the MGM Studio. Many of these credited bandleader
Gus Arnheim
as co-composer, a courtesy title for the leader who introduced the pieces - including the big hit
Sweet and Lovely
- on his radio show, a common practice in the 1920s and 1930s. That courtesy also included 33% of the royalties.
     Charles composed up until a few years before his death. In the 1940 Census he was shown living in Los Angeles on Olympic Blvd. with his sister and brother-in-law,
Nellie and John C. Page
, plus mother-in-law
Sarah Hamlin
and a maid. His occupation remained "music composer, own business." In mid 1942 he was diagnosed with a kidney ailment, and after eight months succumbed to it in Los Angeles at age 64. One final song was released just after his death. While Daniels is less remembered under his own name, Daniels had a fairly substantial role in both the style and the spread of music in the early 20th century, working from outside of Tin Pan Alley, and yet contributing to it in a big way. This includes ragtime music, early popular song, and well beyond.