Edward Harry Kelly
was born right into the ragtime environment, literally, above the family-owned saloon in the
Mechanic's Hotel
at 1300 West 9th Street near Union Depot in Kansas City, Missouri in 1879 to Irish immigrants
Edward and Frances Kelly
. In the 1880 census, the senior Kelly is listed as a hotel keeper, having bought the Mechanic's Hotel several years prior. His brother
James
and sister
Mary
also lived with them and worked as hotel staff. Harry (who curiously is shown as E. Henry in the 1880 census) was the oldest in the family of two boys and two girls, including
Mae E.
(9/1880),
Frances C.M.
(4/1884) and
Joseph A.
(11/1889). Two other siblings had died in infancy. Edward was given the requisite piano lessons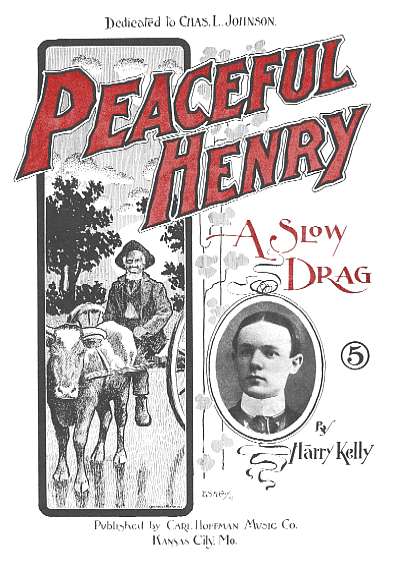 (usually reserved for non-farm family school children) early on, as well as standard music training in the public schools. When he was 11, the Kelly family moved out of the hotel and into a home at 14th and Park in Kansas City.
By the time Harry was in his mid-teens the ragtime era was underway as was his interest in it. He attended St. Mary's College in Kansas in the late 1890s. Kelly was soon playing in concert bands that also featured ragtime, and found himself associating with composers and publishers like Charles L. Johnson, Charles N. Daniels and Carl Hoffman for whom he worked as an arranger and composer, later to join J.W. Jenkins & Son in the same capacity. He is listed as Edward H. Kelly in the 1900 census, and working as a pianist. He would soon be known as E. Harry, likely to professionally distinguish himself from his locally well-known father.
It was while in the employ of Hoffman in 1901 that Kelly wrote his biggest hit, Peaceful Henry, reportedly named after the building's custodian. One of the themes in this slow drag eventually found its way into Jerome Kern's composition Old Man River. This was the first big ragtime hit to come out of Kansas City, pre-dating Daniels' equally impressive hit Hiawatha by a few months. In 1902, noted banjo recording artist Vess Ossman laid it down on a cylinder, followed by the Columbia Records orchestra. In 1903, Peaceful Henry became a pivotal piece in the acquisition of the Hoffman firm by his former rival Daniels, now working for Jerome H. Remick and the Whitney Warner firm in Detroit. According to a June 2, 1903 article on the sale: "The musical publishing house of Carl Hoffman has been sold for $10,000 to the Whitney-Warner publishing company of Detroit, and Harry Kelly, whose 'Peaceful Henry' slow drag was the most important composition included in the sale, has been offered a fine position by the Detroit company. He will go there to-night to see about it." How seriously Kelly took the offer is unknown, but he ultimately stayed in Kansas City while still having some of his works published by Whitney Warner.
Harry eventually went to the Jenkins firm where he wrote a similarly successful tune in 1907,
All the Candy
. In the meantime,
Peaceful Henry
was being recorded and played by bands and orchestras through the western world. In spite of this, Kelly and his pieces all remained grounded in Kansas city locales and style. In 1906 Harry formed the
Kelly Band and Orchestra
, a multi-tiered organization with subsets of musicians suitable for nearly any occasion. They performed often in Kansas City on both sides of the river,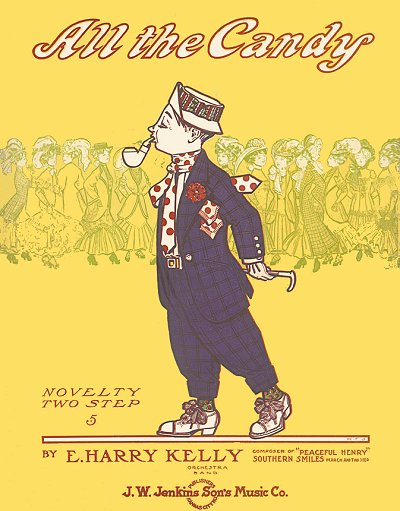 frequently at the
Baltimore Hotel
, the
Muehlebach Hotel
(for which he played at the opening) and the
Country Club Plaza
, all of which he wrote a piano rag for. They also performed at the local trolley parks such as
Fairmont Park
and the aptly named
Electric Park
. Kelly successfully managed this group for more than a decade. He also performed often with the
William Zeiler Orchestra
through the 1910s.
In 1910, Harry and his siblings were still living with their parents, although Edward Sr. had shifted from saloon keeping to real estate by this time, a lucrative business in rapidly growing Kansas City. Kelly listed himself as an orchestra leader, and his sister Mae E. Kelly as a vocal teacher for a local music conservatory. There is very little output from Kelly after 1907 and All the Candy, although he still did some arranging, much of it for ensembles. He also started his own short-lived publishing house in 1910, putting out works for some of his friends and co-writers, including Joe Bren and Lucien Denni. Kelly's focus by the mid 1910s was his work for hotels and other venues that featured live music. By 1915 he had moved to the Grand Elks Club in Kansas City, and lists that as his home on his 1918 draft record, still shown as a self-employed band leader. Although he did not serve in World War One, his orchestra was proudly engaged to perform for the local troops as they returned to Kansas City in late 1918.
Harry spent much of the 1920s performing and occasionally arranging or writing non-published pieces for special occasions. The 1920 census found him in Muskogee, Oklahoma, rooming with what appears to be a relative and his family, perhaps just for a short stay. Harry still remained in the general radius of Kansas City, going where there was work. Various show bills and newspapers, plus city directories establish him still in Kansas City, Missouri through the 1920s and 1930s, as does the 1930 census, this time as a pianist and not as a band or orchestra leader. Harry became ill with chronic emphysema in 1932 and was hospitalized for some time. One of his nurses, Miss Agnes Glaab, caught his eye, and once he recovered they were married later that year. The couple ended up living in a large house owned by the Northeast Hospital Association which used to house nurses and other staff members of area hospitals. Harry had pulled back from active music performance by the time the Great Depression arrived, spending much of it in partial retirement, and as a caretaker for the hospital home.
As of the 1940 census Edward and Agnes were living on in the home on Highland Street in Kansas City near the hospital, with Edward still listing himself as song writer and author. In 1944 the Kellys left the hospital house and moved into a home left to him by his late father at 407 Benton Blvd. It is now on the Kansas City Register of Historical Places and the home hosts ragtime performances from time to time. Agnes and Harry evidently never had children, so any descendants of his would be nieces and nephews. After a quiet retirement Harry passed away in April 1955 of complications from kidney disease just shy of age 76. Even though he often performed and arranged jazz in later years from time to time, his tombstone in Mount St. Mary's Cemetery proudly proclaims him as a "Ragtime Composer" for all time.