Hans Engelmann
(June 16, 1872 - May 5, 1914)

1896

Marine Band March - Opus 73
Variety King
On the Pier


1897

Love Letter Waltzes - Opus 228
The Four Leaf Clover: Waltz
March of the Guards - Opus 252
Consuela: March - Opus 262
Hawaii: Dance Characteristic - Opus 267
Over Hill and Dale - Opus 270


1898

The City Troop: March
Rosebud Schottische
Rough Riders: Military March
Dance of the Snowflakes - Opus 356


1899

The Night Before Christmas
The Arrival of Santa Claus (or St. Nicholas)
    Opus 360
The Whirling Dervish: Tarantella - Opus 370
The Chapel In The Valley - Opus 371
A Happy Return - Opus 372 #3
Restless - Opus 372 #5
To the Dance - Opus 372 #6
Piff-Paff
By Request: March
I Think of Thee, of Thee Alone


1900

Parade Review: Marche - Opus 307
Concert Polonaise - Opus 308 No. 4
Ideal Waltzes: Rondo
A Joyful Departure: Rondo
The Start-Up: Waltz
Curly Locks: Polka - Opus 408 No. 2
Little Boy Blue: March - Opus 408 No. 5


1901

Day Dreams
Playtime and Pastime: Easy Piano Solos
The Pixie's Carnival
Little Home Pets: Four Pieces - Opus 469
   Waltz
   Redowa
   Schottische
   Polka
On the Home Stretch: March - Opus 505
Medallion Waltzes


1902

Revel of the Goblins
Mountain Elves - Opus 592
Think Not This Heart Can Alter
The Little Hostess
Characteristic Pieces for Piano
   The Whirlwind: Tarantella
   The Wave-Maiden: Barcarolle
   The Bridge of Dreams: Cradle Song
   In Jolly Mood: Polonaise
Six Easy Dances
   Waltz in G
   Polka in F
   Redowa in B
   Schottische in G
   March in C
   Galop in G


1903

Cinderella: March
Gavotte - Opus 562, No. 4
Robinson Crusoe
Impressions of the Heart
The Bride's Kiss: Waltzes Opus 588
Album of Twenty Four Pieces for Small Hands
The Little Truants: Tarantella - Opus 591 #12
Melody of Love - Opus 600
In the Arena: March - Opus 608
Awakening - Opus 620
Laughing Waters: Intermezzo - Opus 640
Dolly Varden: Waltz Song [w/Richard
    Dillmore]
Mathushka: Polish Dance - Opus 2 #1

[1]


Castello: Spanish Dance - Opus 2 #3

[1]


Flying Sparks: Galop - Opus 2 #6

[1]


Jack O'Lantern: Polka - Opus 3 #2

[1]


The Spanish Gypsy: Mazurka - Opus 3 #3

[1]


Cradle Song: Berceuse - Opus 4 #4

[1]


Lolita: Spanish Dance - Opus 4 #6

[1]


Pleasures of Youth: Waltz

[2]


Little Foreign Beauty: Mazurka

[2]


Morning Glory: Polka

[2]


Six Instructive Pieces for Piano
   Reverie in G
   Scherzo in G
   Nocturne in B
   Gavotte in C
   Polonaise in G
   Tarantella in Am


1904

Melody Of Spring
Mother Hubbard: Waltz
Old King Cole's March
Humpty Dumpty
Hungarian Rhapsody: Opus 602
Forget-me-nots: Idyl
Frolic of the Lambs
The Young Marshal
With Flying Colors: March
Nocturne Romantique
Shell Dance
The Coming of the Band
Queen of Morn: Waltz - Opus 705 No. 1
King's Delight: Mazurka - Opus 705 No. 2
Queen of Twilight: Mazurka - Op. 705 No. 4
Tender Avowal - Opus 706
Venetian Boat Song
Cherry Blossoms - Opus 733
Three Easy Dances
   Softly Gliding: Valse
   With Graceful Steps: Mazurka
   With Coquettish Swing: Schottische
Three Piano Pieces Grades Two and Three
   Gavotte in B
   Nocturne in F
   Reverie in G
Six Easy Dances
   Waltz in F
   Polka in G
   Schottische in F
   Maruka in G
   March in C
   Galop in G


1905

Merriment: Tarantelle Caprice
Grand Valse Caprice
Two Roses
Youthful Pride: Petite Poloniase
Every Cloud Has a Silver Lining [w/Harry M.
    Kramer]
Restful Moments
Bees and Flowers
Dreamland
In Festal Array
Valsette
Berceuse in A
Zenita: Petite Gavotte
With Heart and Hand: March
In the Alhambra: Danse Espagnole
Message of Peace: Reverie
Dancing Shadows
Love's Message (Liebesbotschaft
Come, My Dearest: Serenade
Love and Art: Waltzes
I Love Thee (Ich Liebe Dich)
Shadow Dance - Opus 740
Apple Blossoms: A Springtime Idyl
Serenade Coquette: Opus 4

[2]


Six Melodious Little Pieces in Dance Form
   Dashing Troopers
   Dear Little Dollie
   A Lively Time
   Little Sweetheart
   Foxes and Hounds
   Across the Fields
Six Merry Moments for Piano
   Idylle
   Gavotte
   Petit Impromptu
   Rondo
   Scherzo
   Tarantelle


1906

Russian Dance - Opus 753
Valse Impromptu
At Vespers: Meditation
Presto a la Tarantella
Forget-me-nots (Song) [w/M.V. Freese]
A Prayer
Toodles: A Humoristic Episode
'Neath Weeping Willows: Reverie
Nanette: Dance Gracieuse
Dandelions: Intermezzo
Cord and Tassel Dance
Heart's Beloved (Herz-Liebchen)
Impromptu Nocturne
Episode Oriental
Ball Scenes: Caprice
La Flora: Intermezzo
When the Lights are Low: Reverie
The Swan: Reverie
The Minute Men's Parade
Marcia Espańa
March Hongroise
Rose of Normandy: Valse Caprice
Lover's Lane: Waltzes
The Journal
The Flower's Greeting
The Philadelphia Record March
Stray Thoughts for Piano
   In Summer Fields
   Chasing Butterflies
   On the Dreamy Hudson
   The Brooklet and the Willow
   Dance Grotesque
Six Lively Dances for Piano
   Merry Sailors
   Song of the Hammock
   Sunny Hours
   Village Holiday
   Holly Blossoms
   Clown Dance
Three Miniatures for the Pianoforte
   Bohemian Dance
   Raillery
   Gipsy Life


1907

Cupid's Appeal
Cupid's Wooing
The Sea-Gull
What the Moon Told: Waltzes
Eternal Spring: Reverie
Troubadour's Farewell
Concert Polonaise
Father in Heaven
A Star-Lit Night
Blue Anchor
Love's Amulet: Meditation
Flight of the Gipsies: Caprice
The Bachelor Maid: March
The Maid and the Wheel: Spinning Song
Puss in Boots: Schottische A Mountain Idyl
To the Front: March
The Debutante's Dream: Waltzes
Sparkling Dew Drops: Caprice
Ever of Thee
Bitter Sweets
The New Beauty: Waltzes
Only You
Golden Tresses: Dance Gracieuse
The Fairest Rose
Moonlight in the Forest: Tone Poem
The American School March
The Rising Moon: Nocturne
Echoes of the Fatherland: German March
    Melodies
Days Of Yore
The Wasp: Dance Characteristique
In A Moorish Garden
Twining Garlands: Schottische
The Adventuress: March
The Dream Boat: Lullaby
Suwanee River [Foster]
Blue Eyes, True Eyes: Waltzes
Parting Vows: Reverie Romantique
Valse Novelette
Hallowe'en Pranks

[2]


Three Easy Piano Pieces
   Swing Song
   Bijou March
   Melody
Eight Little Piano Pieces
   Little Bolero
   Little Hungarian Piece
   Little March
   Little Minuet
   Little Polka
   Little Schottische
   Little Tarantella
   Little Waltz
Four Characteristic Dances for Pianoforte
   Hungarian Dance
   Bohemian Dance
   Polish Dance
   Spanish Dance


1908

Rustic Dance
Our Gallant Officers: Polka Militaire
Polka Militaire - Opus 475 (as above?)
Wild Ride: Petite Galop
After the Charge
Poppy Buds
Heart's Melody
Ever Faithful: Romance
The Trumpeter: Polka
As You Like It: Valse
Daughters of the Revolution
Sunset in the Valley
Spanish Serenade
Arcadia
Sweet Dreams of Home: Meditation
Kaleidoscope: Charcteristic Dance
Mid Palms and Roses: Intermezzo
Darkie's Secret: Dance Caprice
Flowers of Love: Reverie
Dialogue: Valse Impromptu
The Toreador's Sweetheart: Waltzes
Hallowe'en Dance
Garden of Roses: Reverie
Loretta: Caprice
Six Melodic Studies of Medium Difficulty
At a Children's Concert: Four Pieces
Love Story

[2]


Iris: Intermezzo

[2]


Seven Second Grade Piano Pieces
   Bagatelle
   Bijou Schottische
   Little Alpine Piece
   Petite Gavotte
   Rondo-Scherzo
   Rustic Dance
   Spanish Dance
Holidays Diversion: Six Pieces
   Athletic Sports
   Under the Mistletoe
   Mirthful Momenets
   Fairest
   Love Tales
   At the Regatta
In the Holidays: Five Dances
   The Coming Year: March
   Christmas Dance: Waltz
   Facing the Wind: Polka
   Dancing Snow: Schottische
   Winter Fun: Caprice


1909

Rainbow Dance
Reflected Beauty: Waltzes
Valse Arabesque
Valse Fantastique


1909 (Cont)

Sunset at Sea
Meditation: Reverie
The Caged Coquette: Valse
Boots and Saddles: March
Wiegenliedchen (Cradle Song)
School Comrades
Wistaria: Intermezzo
On the Alert: March
The Toy Ark
Bear Dance
In the Barn
Ducklings
The Elephant
The Lion
The Ostrich
Turtle Doves
Snow Flurries
Frolic of the Fairies
Call of Spring: Waltzes
Loyal Hearts
Love and Sunshine
Behind the Scenes: Intermezzo
Valse Caprice in E
Serenata
Diablo
Wedding March
Belles and Beaux (after Melody of Love)
Valse Caprice Elegante
West Point Cadets: March - Opus 803
Autumn: Idyl

[2]


Love Story

[3]




1910

Dreaming
Ocean Bells
En-Route: March - From The Little Tourist
Tender Thoughts
The Shah: Persian Intermezzo
Romance of Youth: Waltz
Don Quioxte: Marche Grotesque
Sonatina in G
Danse Antique
Spanish Dance
Fair Maid of Spain
A Lone Flower: Reverie
Blue Ribbon: Danse Gracieuse
Pure and True
On Escort Duty
Dreaming of Thee
Glittering Jewels: Mazurka Caprice
Remembrance
Birds of the Sea: Tarantella
Confiding Hearts
The Thoroughbred
Seven Piano Etchings
In Dance Form: Four Pieces
   On the Stage
   Pretty Little Dolly
   Two's Company
   Marathon
Storiettes: Four Piano Pieces
   In the Fair Grounds: March
   College Girls: Schottische
   In the Willow's Shade: Waltz
   Going for a Spin: Polka
In Lively Rhythm: Six Dances
   Naval Cadets
   On the Pier
   On Tip-Toe
   Happy Anticipation
   Celebration Festival
   Hop! Skip! Jump!
Six Amusements for the Pianoforte
   Exhibition Drill: March
   Poetry of Motion: Waltz
   Best of Friends: Polka
   From Russia: Mazurka
   From the Orient: Caprice
   At the Horse Show: Galop


1911

Twilight Strains
Thoughts Of Thee - Souvenir
Polka
Through Field and Meadow: Waltz
Echoes of Fairy Land
Return from Victory: March
Colonial Times
The Heart's Answer: Reverie d'Amour
Between Friends
In Days of Chivalry
Step by Step: March
A Little Story
Sylvan Sprites: Valse
Bianca: Barcarolle
Barcarolle in F
Truants: Rondo Scherzo
In Camp: Waltz
The Jolly Captain
A Jolly Yachting Party
Ma Lady
Old English Dance
Love's Devotion
Petite Romance
Dance of the Goblins
Momento Capriccioso
Roly-Poly: Waltz
Reverie
At Vesper Hour
Autumn Leaves
Bright Eyes
Bunny
Carmencita
Dainty Orchids
First Attempt
For Home and Country: March
Spring Blossoms: Gavotte
Gently Drifting
Golden Dawn: Waltz
In Spring
In Springtime (Same?)
Little Corporal: March
New Lesson
Off and Away
Summer Frolics
In Full Chase: Caprice

[1]


Flight of Time: Galop

[1]


Dancer's Delight: Schottische

[1]


Day of Joy

[1]


Gaiety: Rondo

[1]


In the Whirl of Joy

[1]


Invitation

[1]


Light and Bright

[1]


Military Drill

[1]


Perfect Contentment

[1]


Spanish Dance

[1]


Starry Emblem

[1]


Summertime Song

[1]


Treasured Keepsake

[1]


Seven Instructive Pieces for Piano
   Fleurette Polka
   Happy Fay
   Just for Instance
   La Tyrienne
   Purple Heather
   Rosalie Galop
   Tarantella
In Fragrant Bower: Four Dances
   In Lilac Time
   Under the Orange Blossoms
   Wreath of Honeysuckle
   Climbing Roses


1912

Clover Blossoms
Nature's Awakening (When Nature Wakes):
    Waltzes
Corals: Caprice
In a Gondola
Melodie d'Amour
Hopes and Fears-Reverie
Merry Clowns: Mazurka
Spirit of Progress
German-American Festival March
April Violets
Haunting Strains: Waltz
Fe'te Joyeuse
In the Balkans
Moon Shadows: Nocturne
Daphne: Valse Caprice
Fond Memories: Meditation
At the Carnival: Five Dances
   The Gallant Cavalier
   A Soubrette
   The King's Jester
   The Merry Clown
   The Gentle Sheperdess
In Cheerful Vein: Six Dances
   When Duty Calls
   Blissful Moments
   Bright Days
   Ardent Hopes
   Graceful Steps
   Fox Hunters
In The Bass Clef
   Easter Morning
   Hansel and Gretel
   March of the Pilgrims
   Jolly Elves
   Song of the Forge


1913

At the Window: Reverie
In Bohemia: Polka
A Flower Message
Idylle
Marche Militaire
A Delightful Dance: Mazurka
Sweethearts Ever
Brave Hearts: Polish Mazurka

[3]


Sunny Days: Spanish Waltz

[3]


Random Thoughts: Four Dances for Piano
   Follow the Flag
   Rose Land
   Joy and Sunshine
   Jolly School Girls
Fun at Home: Four Dances
   Parade of the Dolls
   Parlor Games
   Ready for the Ball
   Fido's Pranks
Pierrot and Columbine: Four Dances
   Jolly Revelers
   Charming Columbine
   Pierrot's Pranks
   Pierrot and Columbine


1914

On the Links: March
The Winning Jockey: Galop
Taps!: Military March
Token of Love
The Debutante: Four Second Grade Pieces
   The First Ball - Waltz
   To the Banquet - March
   In the Moonlit Garden - Reverie
   In Quaint Costume - Old English Dance


Posthumous

The Gondolier's Serenade: Barcarolle

[1]


Drooping Eyelids: Lullaby

[2]

(1914)
Soldiers Marching By

[2]

(1914)
Wandering Gipsies: Lullaby

[2]

(1914)
Happy Birthday: Polka

[2]

(1914)
Our First Waltz

[2]

(1914)
A Wild Chase: Galop

[2]

(1914)
Lords and Ladies: Schottische

[2]

(1914)
Tribute of Praise: March

[2]

(1914)
Dreamily Floating: Waltz

[2]

(1914)
Joy of Youth (1915)
Album Leaf

[1]

(1915)
Wood Fairies: Waltz

[2]

(1915)
Dance and Play: Waltz

[2]

(1915)
Flitting Feet: Gavotte

[2]

(1915)
Oriental Fantasy: Intermezzo

[2]

(1915)
March of the Cadets (1916)
Festival Overture (1916)
Return of the Volunteers (1916)
Approach of Spring

[3]

(1916)
Autumn Days

[3]

(1916)
Ysmita: Japanese Seranade (1917)
Glorious Morn: Waltz (1917)
The Betrothal March

[3]

(1917)
Class Reception March

[3]

(1916)
At the Wayside Shrine: Idyl (1918)
Young Sentinel (Petite Marche) (1918)
The Little Admiral: March (1918)
The Birth of Spring [w/N. Weir] (1924)
True Love (may be Melodie d'Amour) (1928)
March of the Animals (1931)
Melody of Love (aka Whisper That You Love
    Me) [w/John Klenner] (1942)
Melody of Love [w/Tom Glazer] (1954)


Unknown or Uncertain

Bagatelle A la Mazurka
Berecuse in Ab
Butterflies and Daisies
Butterfly Schottische
Cathedral Chimes at Christmas Eve
Colonial Sonatina
A Coquettish Smile
Cosey Corner: A Poem of Love
Dance Mystic: Characteristic
Danse Burlesque
Encore: Intermezzo
Escamillo: Spanish Dance
Farewell My Dear Old Home: Reverie
Frances: Minuet
Game Of Tennis: Three Step
Glistening Pearls: Danse Caprice
The Golden Road: Reverie
Grand Festival March
Holiday Spirits
In the Springtime
In The Surf: Schottische
In Time and Trim
Intermezzo Pizzicato
Joyful Sounds: Polka
La Bohčme: Bohemian Dance
The Last Train
Little Drummer Boy
Little Miss Pride
Love's Sigh: Intermezzo
Loved and Adored
Lover's Nook: Three Step
May Day Festival
Mercedes: Caprice Espagnola
Merry-Go-Round
The Mischievous Child ('L'enfant Terrible)
Moonlight Dance
Mountain Romance
My Blue Eyed Dolly
'Neath Twinkling Stars
New Life, New Spirit
O, Lord with Weary Hearts We are Yearning
On the Drive
On The Ranch: Polka
On Yonder Rock
Outdoor Sports
Outward Bound: March
Preparing For The Ball
Promenade Gavotte
Puck's Story: Polka Scherzo
Purity: Reverie
The Return of the Heroes
Ring Out The Old, Ring In The New
Rowing
Slavic Caprice
Song to the Stars
Souvenir d'Amour
Spinning Wheel
The Tennis Party
Those Loving Eyes: Petite Valse Caprice
Under the Nation's Colors
The Village Church
When Love is Young
The Zither Player Of Annenthal

   1. as Heinrich Engel
   2. as Pierre Renard
   3. as Charles Lindsay

     Hans Englemann provides a fascinating look, at least what we can see on the surface, at what could be considered somewhat of a musical enigma,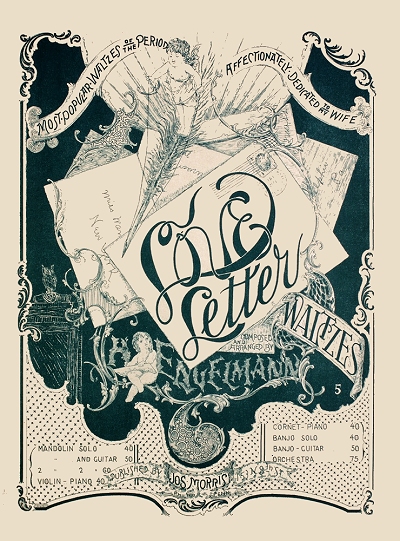 given the time, place and volume of output from his hand as opposed to what we can actually find out about him. His is not another ragtime story, but a story of survival in the ragtime era when popular music was starting to make inroads into classical studies and composition. Virtually any pile of large format sheet music from the 1890s to the 1910s is sure to have some H. Engelmann compositions in there. While he was a household name in that regard, particularly among collectors who often encounter his pieces, finding out who he really was is quite a different matter. Here is the best information to date that the author has been able to assemble.
     Engelmann was born in Berlin, Germany in 1872, the son of a top German military officer. He eventually became a private secretary under Emperor William I. Virtually all male children went through some type of musical training during this period, which was the time of Johannes Brahms, and the up and coming Richard Strauss. The main Western European forms in Germany at that time were the waltz, march, and similar genres that would become the parent of the oft-maligned intermezzo or the reverie. As a result, Englemann likely had little or no exposure to indigenous American forms such as folk melodies or spirituals. He clearly was enamored with music, however, so his father saw to it that he got a proper musical education.
     According to an obituary published in the June 1914 issue of Etude Magazin, the original plan for Hans was that music was to be a sideline so that he could enter the medical profession. But the youth had other ideas and rejected that notion. His father placed him in a mercantile office to occupy his time and perhaps sway his son's thinking. It did nothing but strengthen his resolve to be a professional pianist and composer. So it was that Hans immigrated to America on his own in January of 1891, not yet 20, and soon found himself established in Philadelphia, Pennsylvania.
     Given the scope of his later output, it may be ascertained that Engelmann continued some of his musical training there with the goal of concertizing first, then perhaps composing and teaching. Among those who supported him was fellow German and Philadelphia composer and choral director Hermann Mohr, who had relocated to the United States just two years prior. The maestro had mentored many other musicians and took Engelmann under his wing in the early 1890s, and may have taken him in at the Zweckwers Academy of Music. For next few years Hermann promoted Hans as a brilliant pianist and involved him with many concert appearances in Philadelphia and beyond.
     Hans was married to his Pennsylvania-born wife Marie C. Engelmann in early 1895, and by November their only daughter Frances joined the family. In 1896 Morh, his mentor and greatest supporter, died, leaving Hans on his own in many respects. Engelmann had already acquired some reputation as a concert pianist, and had also taken on some students. However it wasn't quite enough for survival in a highly competitive area. So he started submitting compositions for publication. While the first published pieces from his hand show up in 1896, including one composition and one arranged piece for Philadelphia publisher M.D. Swisher, and his Marine Band March which established him with the house of Theodore Presser. There are strong indications that the youth had been composing and cataloging his works for some time, since as early as the following year many of them have opus numbers attached ranging from the 70s to the 200s.
     One early work, Love Letters, published in 1897 by Joseph Morris, was "affectionately dedicated to my wife" on the cover.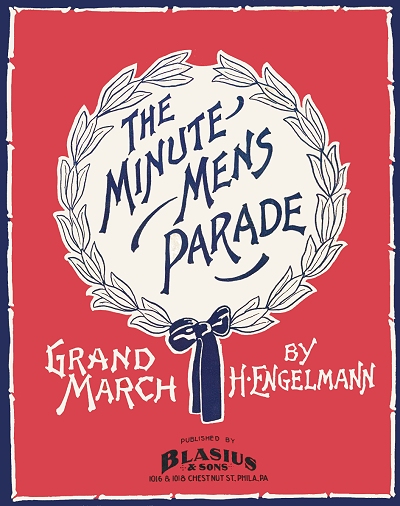 For the next several years, Englemann would free-lance, most likely from his home, sending in classically-structured works to Philadelphia publishers Eclipse Music (specializing in re-arrangements of older works), Hatch Music, Orpheus Music Company and Joseph Morris. Some of these contributions, particularly those for Eclipse, were reworked piano arrangements of operatic numbers. By the middle of the decade Hans seems to have settled in with the Presser organization as a staff composer and arranger. There are also a couple of advertisements in Philadelphia newspapers and directories indicating that he was working as a piano teacher, which makes sense considering what his future output would be comprised of.
     Hans had already gained some notoriety in the performance and composing worlds by the early 1900s. In a February 1, 1902 pseudo-advertisment in The Music Trade Review, he was quoted as speaking highly of the Steck brand of piano: "The following voluntary testimonial from H. Engelmann, a bright young composer, whose compositions have become quite popular, is one of many letters which are being received from time to time by Geo. Steck & Co., and their representatives in all sections of the coutnry, expressing the same sentiments regarding the 'old reliable' Steck. It speaks for itself: Engelmann's Studio of Music, Philadelphia, Pa. Gentlemen: - I desire to express my appreciation of the Geo. Steck & Co. pianos. The piano I purchased from you last year, 'Elite' grand, I find to be more than satisfactory. The Steck piano has been a familiar instrument to me for years, and this is one reason for selecting it. In my professional work I have seen almost every piano of note, home and abroad, and I an conscientious in saying that I consider the pianos manufactured by Geo. Steck & Co. the best in tone, action and general workmanship.
Yours as ever, H. Englemann." That Hans was quoted this liberally in a trade magazine gives credence to his stature as a composer in a time when those writing piano rags were looked upon with a wary eye.
     While a look at his list of compositions seem to make Engelmann a veritable composing machine, in reality less than half of that output is intended for anything other than the parlor, and rarely the concert hall. Most of the rest is comprised of a number of first through third grade teaching aids. A study of many of these works indicates that the German trained musician in his guise as a teacher was not only trying to present a wide scope of dance forms to young students, but make them sound like their more difficult counterparts, encouraging the youngsters to grow in their desire to improve. There are several suites that demonstrate dance or classical themes, and some could be played as a sonata of sorts as well. Engelmann's best known tune was Melody of Love in 1903, which did not take long to find a wide overseas market.
     Engelmann was not loyal to any one publisher, as the variety of his pieces fit different needs from teaching to parlor melodies. While many of his early works originated in Philadelphia, he eventually had a considerable presence in the catalogs of M. Witmark and Sons in New York and The Oliver Ditson Company in Boston. He was also published by Shattinger Music in St. Louis, and many of his works went to Carl Fischer Music. One popular Philadelphia publication was the 1906 piece The Philadelphia Record March, of which arrangements were created for bands and piano rolls in short order. It remains a favorite band march into the 21st Century.
     While it appears that Hans never actually recorded, a handful of his pieces did make it to piano rolls. To complicate matters concerning an accounting of all of his works, but also demonstrating that he was following a common dispersal practice, the amazingly prolific composer also wrote under the pseudonyms Heinrich Engel, Charles Lindsay and Pierre Renard, further increasing the scope of his known output.
In the 1910 Census, Engelmann, Marie and Frances are shown living near downtown Philadelphia, and he lists in a crowded space the occupations of musician, composer and piano teacher. In February 1914, just weeks before his demise, Hans Engelmann became a charter member of ASCAP at the Hotel Claridge in New York City.
     Hans Engelmann died in 1914 at just 42. Attempts to find a definitive cause of death have fallen short of an answer to date. A notice appeared in The Music Trade Review of May 16, 1914, stating that "Hans Engelmann, composer of much meritorious music which has won a large vogue with teachers, died late last week in Philadelphia."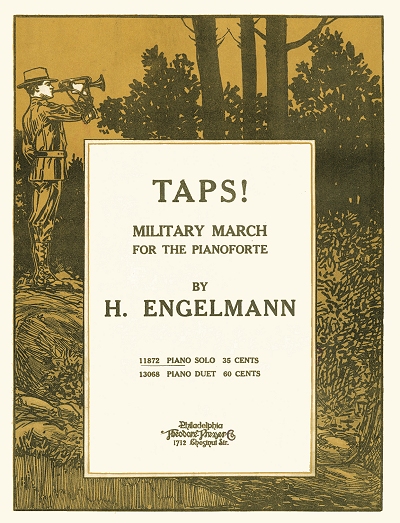 The most effusive praise for Engelmann came from a very logical source, Etude Magazine, a monthly periodical that was largely about keeping classic forms of music alive. While in the past they had only reported on his latest compositions or who was playing what in recitals, in June, then in August, there were several tributes to the prematurely deceased composer, starting with this one in the June 1914 issue:
      Composers, like poets, are born and not made. It is possible, of course, for a man to go through an elaborate course of harmony, counterpoint, musical form, etc., and at the end of the course to be able to write music that is "well constructed" and blameless from a theoretical point of view. There are thousands of Doctors of Music in the world to whom the writing of such music is a simple matter. But natural musicians are more rare. Natural musicians are those to whom music is as the breath of life. They think in tones as others think in words and can only find the true expression of their inmost thoughts in the language of music. A course in theory can only develop such gifts to a higher degree of technical perfection, it cannot supply them if they are missing.
     Hans Engelmann was unquestionably a natural musician. From him melodies gushed like water from a spring. Engelmann's music possesses at least one quality which no critic can afford to decry. It possesses the quality of absolute sincerity. Engelmann entered into the life of the people around him and absorbed the life of the everyday world. This he gave out again in his music in good measure. He did what so many of us fail to do—the best he knew how under the circumstances in which he was placed. He interpreted the life he lived honestly into music, and in doing this he gave pleasure to hundreds of thousands —perhaps millions—of people, because he gave them tunes they could understand. Hans Engelmann is dead, and dead before his time, but some at least of his hundreds of melodies will live after him and serve to awaken in many a small heart the love of music which unites all Etude readers, however varied their tastes, in the bonds of true fellowship.
     He was obviously quite highly regarded for his work, as a number of testimonials poured in to The Etude over the summer, some of them making it into the August issue (distilled for relevance here):
      There never has been in America such a prolific and melodious composer as the late Hans Engelmann. some years past, when our native writers began to show what they could do, the first item they seemed studiously to avoid was melody. To speak from my personal experience I attended all the yearly meetings of the National and State Music Teachers' Associations to hear the works of American composers performed, the impression was that all the old forms should be thrown over board, and that no such commonplace as tune and rhythm should be employed. Those of us who have watched the outcome of the effort well know when it ended. Some composers have at once reached the hearts of the people by the simplicity of their melodies, others by the constant performance of them and the popularity of certain artists. In the last finality what one needs to express his deepest feelings is not technique, or scientific contrapuntal examples and exercises, written by learned doctors or professors of music, but real inspirational melody; no matter who wrote it, whether it be a Schubert, Schumann or Engelmann. I have used and played many of Hans Engelmann's writings. About two years ago I purchased several of them for a large publishing house, and one of the numbers being too difficult, we asked him for an easier arrangement, or something of a different style. It was only a few days until we received quite a bundle of new pieces and were requested to take our choice. The musical world has been uplifted and made to feel more keenly the tender and sympathetic qualities of the art in the works of Hans Engelmann. Time and use will put the stamp of approval on those writings of his which are to last, but among them will be "Melody of Love", and "When the Lights are Low". -- W. D. [composer William Dawson] Armstrong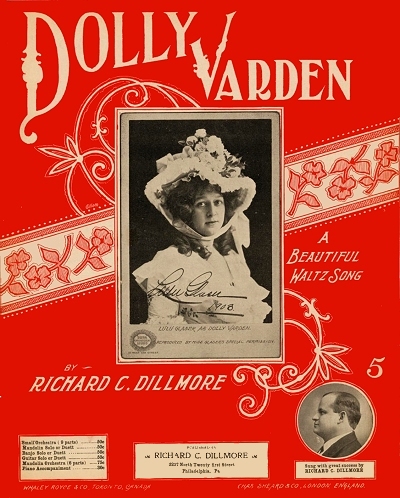 I was very much grieved to learn of the death of Hans Engelmann. We will miss him and the hopes of anticipating his new compositions. We have scores of his beautiful melodies left us, and we should all dig into his extensive writings and find numerous gems that the public know little of. We all know him for his Melody of Love, little thinking that he has written dozens of "Melodies of Love". Let us do him honor and investigate his writings, as they are the living part of this beloved countryman. -- [popular composer] Thurlow Lieruance
     Careful arranging, and grading the compositions of Hans Engelmann according to their difficulty of execution, their ever tuneful originality reminds me of the beautiful musical allegory of the Tiny Little Rill; "Trickling from the tip top of the tall mountain, it goes on its mission of mercy; joins in the merry song of the rivulet; dancing a duet over moss covered rocks; playing hide and seek among pretty white pebbles, till they reach the evergreen plain below; there a trio is sung with the voice of the brooklet, as it murmurs through the meadows where the wild flowers grow; thirsty cattle politely bow their heads in gratitude for the cool, freshing drink furnished them by the babbling brook, as it hurries on to the river and thence into the might choral ocean. The genial rays of the tropic sun kiss the waters up into fleecy clouds, which the south wind waft back up to the old mountain peak where they fall in gentle tear drops of rain, singing their song of Sweet Home Again."
     True lovers of music, and lovers of true music will gratefully keep the memory of Hans Engelmann ever green. -- [composer] Frank L Bristow
     Following his death it is possible that either Marie submitted his remaining manuscripts to one or more publishers, or those such as Witmark, who had put out much of his material, had a backlog of works to issue. Either way, previously unreleased H. Engelmann compositions came out somewhat regularly at first, then sporadically over the next several years. Marie's name also appeared on a veritable flood of copyright renewals in the 1930s, which showed her living in Burnholme, Pennsylvania for most of that decade.
     Melody of Love stayed in continuous print for many years, and was a staple of piano roll companies through the 1920s. Around 1942 this piece was fitted with new lyrics and became a mild perennial favorite as Whisper That You Love Me. Another set of lyrics were added to it by Tom Glazer as Melody of Love in 1954 to create what became a Number One Billboard Magazine hit the following year. It was recorded at the very least by The Four Aces, The McGuire Sisters, Frank Sinatra, Tony Martin, and Billy Vaughn whose version put it on the top playlists in the United States, making this his longest surviving work.
     Marie was shown as a widow living with her married daughter in the 1920 Census, still in Philadelphia. She was difficult to locate after that time except through copyright renewals. As Herr Engelmann appears to have been a corporate composer of sorts, that paradigm and a look at various copyrights indicates that he likely did not own much, if any of his music, leaving only his current estate behind and little future revenue. Marie's reacquisition and renewal of many his copyrights helped to rectify some of that, but Presser also renewed their own copyrights on his works.
     What is interesting in this instance is that Englemann demonstrates something often overlooked in the ragtime era - somewhat of a dearth of ragtime compositions from the Philadelphia area. When Harry J. Lincoln moved there several years later he brought some ragtime with him, but much of his output was like Engelmann's in many ways. The closest Hans came to ragtime in a highly competitive music market was the occasional schottische or polka. While many other European immigrants like J. Bodewalt Lampe and John Zamecnik adapted their training to either arrange or compose American popular music forms, Engelmann seems to have held out to the very end, resisting ragtime and holding true to the fading forms of waltzes, reveries, caprices, and other time-worn genres. Virtually the last piece he wrote, released shortly after his death, was called Taps!, a march, not the familiar evening bugle call. His name will be forever embedded in numerous important music collections around the world, and what little is known of him personally will likely be best revealed through studied performances of that music.