Tom Turpin was born in Savannah, Georgia during the busy period of reconstruction after the American Civil War. Note that his draft card of 1917 shows a birth year of 1874, but the earliest records, usually the most accurate since they are closer to the birth, consistently point to 1871, and a couple to 1873. His father, John L. "Honest John" Turpin (sometimes listed as Jack), was a freed slave who became a political insider during this time. So the Turpins, with the household run by John's wife Julia (Lulu) (Waters) Turpin, were fairly well off. Tom was one of four siblings, including his older brother Charles Turpin (5/1870) and younger sisters Eleanora (11/1873) and Nannie (1/1880). In the mid-1870s the family moved briefly to Mississippi.
By 1880 John had moved his family to St. Louis where their legacy of saloon-keeping started. They are shown there in the 1880 Census with Tom curiously listed only by his unusual middle name, Million.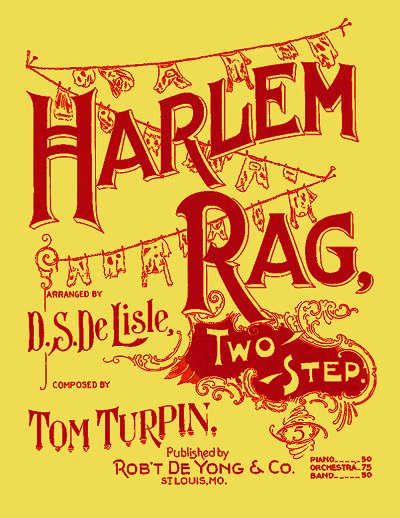 In 1885, with the help of young Tom his older brother
Charles Turpin
, John opened the
Silver Dollar Saloon
at 425 South 12th Street, which stayed in business for nearly 20 years, only to be razed for municipal expansion to accommodate the 1904
Lewis and Clark Exposition
. The Turpins also ran a livery stable for a few years.
While Tom was found to be a gifted pianist in his teens, he only saw it as a means to an end, preferring the ability to make money playing while pursuing other ventures. One of these was a failed investment with Charles in the Big Onion mine in Searchlight, Nevada (which Scott Joplin would later name a piano rag for) in the mid to late 1880s. It is reported that Charles stayed in the area for a while, even spending some time in Mexico where he eventually pawned most of his belongings to survive. Tom did not leave much information about his time on the prairies of the West. He was listed in the 1889 St. Louis directory as a bartender, but did not show up in the next edition.
By 1892 both brothers were back in St. Louis living at 9 Targee Street. It may have been a little sooner for Tom as there is an indication he was briefly married at this time. There was a child, Thomas Jackson Turpin, who died in May 1892 at barely a year old. Whether he was the offspring of Tom or Charles is uncertain, but given the name it was likely Tom. The child's mother, Julie Anna Turpin died in July, 1893 at age 20. No record of marriage or birth was found to solidify who she was married to, but the address for both deaths was the same one that the Turpin brothers were listed at. As the timing coincides with Charles' time in Searchlight, it was most likely Tom's first marriage, followed by a double tragedy. Tom was shown as a restaurant worker or bartender in the 1894 to 1896 directories and Charles as a bartender.
While continuing to work with his father at the Silver Dollar, and also at
The Castle
run by
Babe Connors
, Turpin started playing and writing in the new syncopated idiom, eventually become not only the first black composer with a published rag, the but the first published St. Louis ragtime composer as well.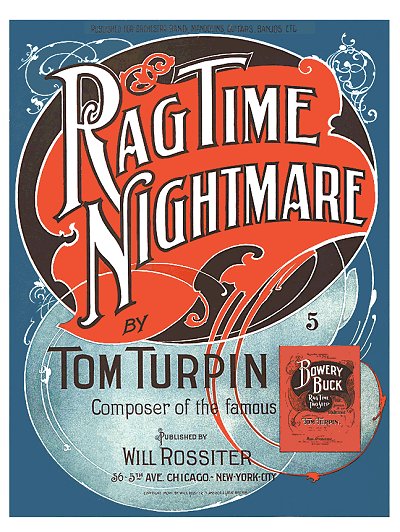 He was writing and playing ragtime, according to legitimate sources, as early as 1892. His
Harlem Rag
(1897) appeared in several editions, and sales from the piece provided him the capital to follow his own dream. In 1898 Tom was involved in an incident at his father's saloon. According to an article in the St. Louis Post Dispatch in late February, he was arguing with a bar patron on "the relative merits of negro women." Inflamed by liquor, each drew a pistol and dared the other to shoot... It was a battle to the death and both of the black men exhibited nerve and bulldog tenacity... Then came a bullet that prostrated Keeler. It entered his left side and he sank to the floor." Tom and John were arrested but charges may have been dropped, even though the victim later died in the hospital.
Tom is shown in 1900 living with his father John, older brother Charles, and younger sisters Eleanora and Nannie, but his mother Lula is not listed as John was now widowed. Within a few months, Tom would marry Willamete (Willie) Turpin. His occupation by this time is clearly musician, although entrepreneur was not far off. Charles and John were still grounded in the saloon business. That same year he composed A Ragtime Nightmare, a short but fascinating work based in part on a stage work titled Darkies Dream by George Lansing, and a follow-up piece titled Darkies Awakening buy banjoists Vess Ossman and Fred Van Eps. He manages to squeeze the more striking parts of these works into an original rag that can be easily played in less than 90 seconds.
Taking a cue from his father the younger Turpin decided to be in business for himself. He had first opened Turpin's Saloon at 9 Targee Street, St. Louis, around 1897. Then he opened the legendary Rosebud Cafe at 2220-2222 Market Street near downtown St. Louis in 1900. It soon became the center for black pianists in St. Louis during and a little beyond the fledgling years of Ragtime, in part because of constant advertising by its formidable proprietor. His father appears to have either moved his saloon or opened another one, since he was now listed at 2638 West Chestnut Street. Anticipating the upcoming Lewis and Clark Exposition, Tom composed the vibrant St. Louis Rag. While it had good sales potential, it was hurt by the timing of the premature release, as the fair was delayed for nearly a year in order to accommodate the enormous electrical needs for its buildings. Once it was published he turned his full attention to the onslaught that the Exposition would bring to his sprawling establishment.
The Rosebud had something for almost everybody, including two bars, gambling facilities, a sportsmen's club, a wine room where the piano entertainment resided, and a gentleman's brothel upstairs. The rotund Turpin was often the star attraction, usually playing standing up in front of a raised piano to accommodate his 300 or more pound six-foot frame. The resident pianists were at their peak during the year-long exhibition in 1904/1905, and the saloon was constantly busy, as were the rented (by the hour) rooms upstairs.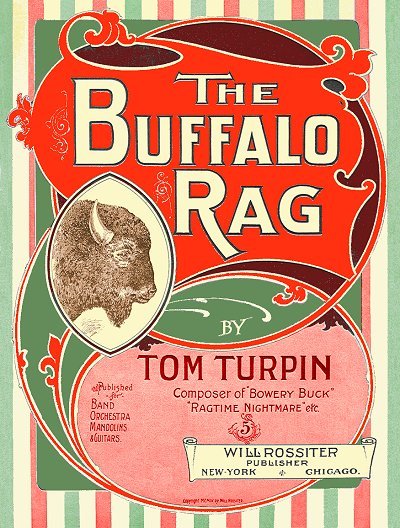 Turpin even featured an electric Christmas tree, a novelty at that time, during his 1904 Christmas celebration.
Following the fair business slacked off considerably. Tom once again turned to composing, bringing out his Buffalo Rag in late 1904. It was possibly named after a Buffalo Lodge in St. Louis, more likely than the city of Buffalo, but there is no dedication so this is not for certain. The Rosebud finally folded in 1906 as many of the musicians had been migrating to Chicago or other destinations. In the 1907 Gould's directory Tom was listed as a laborer in an unspecified field. He was reported as having gone to Butte, Montana around 1909 (hard to positively confirm) for a brief stay, a location which evidently inspired him to compose the unpublished Siwash - An Indian Rag.
Turpin continued to run saloons, dance halls, sporting houses (brothels), and eventually a theater in St. Louis with help from his brother. In 1910 he was shown residing with his wife Willie (incorrectly shown as Sillie) and brother Charles, and was listed as a theater musician. The theater was likely his own Booker T. Washington Airdrome, a vaudeville theater in a partially tent-like structure at 2323 Market Street, just a block down from the former Rosebud on the other side of the street. Charles employed many ragtime greats during the theater's run through the mid-1910s, including composer/arranger Artie Matthews. During the years that Matthews was working there, he and Tom evidently turned out new music every week, but virtually none of it was saved for posterity. They presented original shows and hosted a number of exciting ragtime playing competitions. But Charles had other ambitions as well and ran for district constable that same year, winning the position in a November election. He became the first of his race to be elected into public office in Missouri
It was also in 1910, Tom opened his newest establishment, the Eureka Club at 2208 Chestnut Street, St. Louis. After a great deal of renewed growth of business for both brothers, the Washington became a full-fledged indoor theater by 1913, but business eventually died down there as well, and the establishment had to close. It was likely around 1914 that Turpin composed the Pan Am Rag, arranged by Matthews, and without any other definitive connection to its origin, it may have been in honor of the Pan American Exposition held on Treasure Island in San Francisco Bay in 1915.
In 1916 Turpin opened another establishment at 2333 Market Street, which at some point acquired the name The Jazzland Cafe. Tom's 1917 draft card (with the incorrect 1874 birth date) shows him still in the "Saloon Business" as an owner. That year he wrote one last piece, a war song about black soldiers fighting in Europe, When Sambo Goes to France. It is likely that Turpin had written many more during his time at the Washington Theater, but once many of these pieces, some topical comic songs, had run their course in performance, they were probably disposed of leaving us with no lasting record.
During his remaining years, Turpin served as a deputy constable for the African American community in St. Louis. He and Willie are listed in 1920 as hosting his sister Eleanora, plus a 6-year-old niece (probably Eleanora's daughter) Nannette. He died on August 13, 1922, of peritonitis at just around 50 years of age. Turpin left a wide swath of happy memories for thousands of people in his considerable wake. Charles Turpin continued as a deputy constable for a few years, then lived his remaining years as a justice of the peace, dying on December 25, 1935. While the Turpins could have been forgotten to history after that time, authors Rudi Blesh and Harriet Janis brought them back to life in 1950 in their pioneering book They All Played Ragtime, and Tom Turpin's rags have been ringing again ever since.