Rachel Eleanora "Dora" Nora Goldberg Bayes Gressing Norworth Clarke Gordon Friedland
(October 3, 1880 to June 19, 1928)

1908

When Jack Comes Sailing Home Again

Sing Me a "Come-All-Ye" (Like My Daddy

    Sang to Me)

[1]

For Months and Months and Months *

[1,3]

I've a Garden in Sweden *

[1,4]

Ziegfeld Follies of 1908: Revue

  Shine On, Harvest Moon

[1]

  How Can They Tell That Oi'm Irish? *

[1,4]

Miss Innocence: Musical

  I'm Learning Something Every Day

[1,4]

1909

Ziegfeld Follies of 1909: Revue

  Mad Opera House

[1]

  If Not for Dear Old Father

[1]

  I'm Glad I'm a Boy (and I'm Glad I'm a

    Girl)

[1]

  Falling Star

[1]

  Let's Get the Umpire's Goat

[1]

1910

Come Along My Mandy *

[1,2]

Jack Norworth's College Medley

[1]

Mister Moon-Man Turn Off That Light

[1]

Who Do You Suppose Married My Sister? Thomashefsky

[1]

Back to my Old Home Town

[1]

The Jolly Bachelors: Musical

  Young America

[1]

1911

Ev'ry One in Favor Say "Aye"

[1]

Little Miss Fix-It: Musical

  For Months and Months

[1,3]

  No More Staying Out Late

[1,16]

1912

In My Birch Bark Canoe (with Emily Lou)

[1]

Roly Poly: Musical

  (Way Down in) Cuba

[1,17]

Without the Law: Musical

  Pinkerton Detective Moon

[1]

1915

Maid in America: Musical

  The Stolen Melody

[18]

  Suzi Ann

[2,19]

1917

The Nora Bayes Fox-Trot

[5]

1917 (Cont)

Odds and Ends of 1917: Revue

  Fancy You Fancying Me

[1]

1918

The Man Who Put the Germ in Germany

[6,7]

Ladies First: Musical

  Without You

[8]

  When I Build a Home

[8,9]

  All My Life (Waiting for This)

[8,9]

  Me and You

[8,9]

  Waiting for This

[8,9]

1919

How I Laugh When I Think of How I Cried

    Over You

Prohibition Blues Song

[10]

Just Like a Gipsy

[11]

1920

I'll Tell the World

[11,12]

I Could Have Had You (But I Let You

    Get Away)

[13]

1922

Queen of Hearts: Musical

  That's That

[14,15]

  Dear Little Girlie

[14]

1. w/Jack Norworth
2. w/Tom Mellor
3. w/Joseph Tabrar
4. w/C.W. Murphy
5. w/Donald Ganiard
6. w/Sam Downing
7. w/Abe Glatt
8. w/Irving Fisher
9. w/Harry Akst
10. w/Ring Lardner
11. w/Seymour B. Simons
12. w/Al Weeks
13. w/Albert Gumble
14. w/Dudley Wilkinson
15. w/Harry Richman
16. w/Bert Lee
17. w/Antonio Torroella Chijo
18. w/Phil Schwartz
19. w/Harry Gifford
* American Version


1901

The Rogers Brothers in Washington    

[49 Performances]

1908

Ziegfeld Follies of 1908

[120 Performances]

Miss Innocence

[176 Performances]

1909

Ziegfeld Follies of 1909

[64 Performances]

1910

The Jolly Bachelors

[165 Performances]

1911

Little Miss Fix-It

[64 Performances]

1912

Roly Poly/Without the Law

[60 Performances]

1913

The Sun Dodgers

[Road company]

1915

Maid in America

[108 Performances]

1917

Odds and Ends of 1917

[112 Performances]

Songs as Is and Songs as Was

[Unknown]

1918

The Cohan Revue of 1918

[96 Performances]

Ladies First

[164 Performances]

1920

Her Family Tree

[90 Performances]

1921

Snapshots of 1921

[60 Performances]

1922

Queen O' Hearts

[40 Performances]

1910

Has Anybody Here Seen Kelly?

Come Along, My Mandy

[1]

Shine On, Harvest Moon

[1]

Daffydills

Young America

That Lovin' Rag

Rosa Rosetta

[1]

What Good is Water When You're Dry?

How Can They Tell That O'im Irish?

1911

Turn Off Your Light, Mr. Moon Man

[1]

Please Go Find My Billy Boy

Strawberries

1913

Harmony Baby

You Can't Get Away From It

The Good Ship Mary Ann

I've a Garden in Sweden

[2]

1914

All Aboard for Dixieland

We Take Our Hats Off to You, Mr. Wilson

I Work Eight Hours, Sleep Eight Hours, That

    Leaves Eight Hours for Love

Sunbeam Sal

The A.O.H.'s of the U.S.A.

1916

Homesickness Blues

Are You Prepared for [the] Summer?

The Greatest Battle Song of All

For Dixie and Uncle Sam

Hello, Hawaii, How Are You?

When Old Bill Bailey Plays the Ukulele

Naming Angel Child

Broken Doll

When John McCormack Sings a Song

Hicki Hoy

Cheer Up! Eat and Grow Thin

Please Keep Out of My Dreams

Ragging the Songs Mother Used to Sing

1917

Oh Johnny, Oh Johnny, Oh

Pull the Cork Out of Erin (Let the River

    Shannon Flow)

Daniel in the Lion's Den

I'm Out With the Boss To-night

My Little Motor Car

Love America: Peace Hymn from Civilization

Love Sick Indian Squaw

Over There

(Goodbye, and Luck Be with You) Laddie Boy

Our Bungalow

[3]

Someday They're Coming Home Again

1918

I May Stay Away A Little Longer

A Little Bit of Sunshine (From Home)

Regretful Blues

Mammy's Chocolate Soldier

The Man Who Put the Germ in Germany

Just Like a Gypsy (or Gipsy)

In Your Arms

Hello Broadway, Goodbye France

My Barney Lies Over the Ocean

Mammy's Pickaninny Don't You Cry

When Yankee Doodle Sails on the Home

    Sweet Home

A Little Bit of Sunshine (From Home)

Without You

How Ya Gonna Keep 'Em Down on the Farm?

1919

You Can't Get Lovin Where There Ain't

    Any Lovin

Jerry

In Miami

Freckles

Everybody Calls Me Honey

Prohibition Blues

Taxation Blues

Snoops the Lawyer

How I Laugh When I Think of How I Cried

    Over You

Patches/Freckles

1920

Sadie Green the Village Vamp

The Argentines, the Portuguese and

    the Greeks

The Japanese Sandman

You're Just as Beautiful at Sixty (as You

    Were at Sweet Sixteen)

Singin' the Blues

Broadway Blues

I Could Have Had You But I Let You Get

    By

[4]

Love Nights

Just Snap Your Fingers at Care

Why Worry?

1921

Now I Lay Be Down to Sleep

Make Believe

Broken Moon

In a Little Front Parlor

Cherie

Tea Leaves

Wyoming

When You're In Indiana

Saturday

You've Made a Chicken of Your Mother (But

    You Can't Make a Goose of Me)

1922

Sing Song Man

Oh Sing A Loo

Kindness

All Over Nothing at All

Atta Baby

Cow Bells

I Ain't Never Had Nobody Crazy Over Me

You've Had Your Day

Good Morning

Just Like a Violin

Tomorrow, I'll Be in My Dixie Home Again

Homesick

Mammy's Carbon Copy

You Need Someone, Someone Needs You

Daddy's Goin' Huntin' Tonight

Lovin' Sam, The Sheik of Alabam'

Who Did You Feel After All?

Come On Home

1923

Runnin' Wild

Keep Off My Shoes

Dearest

You Know You Belong to Somebody Else

1. w/Jack Norworth
2. w/Hal Clark
3. w/Irving Fisher
4. w/Art Hickman


Matrix and Date

[Victor B-8700] 03/07/1910

[Victor B-8701] 03/07/1910

[Victor B-8702] 03/07/1910

[Victor B-8708] 03/14/1910

[Victor B-8709] 03/14/1910

[Victor B-8791] 04/04/1910

[Victor C-8998] 05/20/1910

[Victor C-9091] 06/16/1910

[Victor C-9633] 11/08/1910

 

[Victor C-9830] 01/20/1911

[Victor B-10223] 04/24/1911

[Victor B-10225] 04/24/1911

 

[Victor B-14206] 12/17/1913

[Victor B-14209] 12/17/1913

[Victor B-14210] 12/17/1913

[Victor B-14211] 12/17/1913

 

[Victor B-14366] 01/22/1914

[Victor B-15292] 10/21/1914

[Victor B-15293] 10/21/1914  

[Victor B-15294] 10/21/1914

[Victor B-15295] 10/21/1914

 

[Victor B-17609] 05/04/1916

[Victor B-17610] 05/04/1916

[Victor B-17611] 05/04/1916

[Victor B-17761] 06/01/1916

[Victor B-17762] 06/01/1916

[Victor B-17763] 06/01/1916

[Victor B-17764] 06/01/1916

[Victor B-18583] 10/27/1916

[Victor B-18584] 10/27/1916

[Victor B-18585] 10/27/1916

[Victor B-18780] 12/08/1916

[Victor B-18781] 12/08/1916

[Victor B-18782] 12/08/1916

 

[Victor B-19558] 04/07/1917

[Victor B-19559] 04/07/1917  

[Victor B-19560] 04/07/1917

[Victor B-19561] 04/07/1917

[Victor B-19562] 04/07/1917

[Victor B-19576] 04/10/1917

[Victor B-19577] 04/10/1917

[Victor B-20335] 07/13/1917

[Victor B-20336] 07/13/1917

[Victor B-20619] 08/13/1917

[Columbia A6030-A] 08/13/1917

 

[Columbia A6030-B] 03/01/1918

[Columbia A6038-A] 04/01/1918

[Columbia A6038-B] 04/01/1918

[Columbia A6051-A] 05/01/1918

[Columbia A6051-B] 05/01/1918

[Columbia A6138-A] 09/11/1918

[Columbia A6138-B] 10/12/1918

[Columbia A2678-A] 11/16/1918

[Columbia A2678-B] 11/16/1918

[Columbia A2771-A] 11/16/1918

[Columbia A2687-B] 12/14/1918  

[Columbia A2921-A] 12/14/1918

[Columbia A2921-A] 12/14/1918

[Columbia A2687-A] 12/21/1918

 

[Columbia A2771-B] 07/03/1919  

[Columbia A2785-B] 07/03/1919

[Columbia A2785-A] 07/18/1919

[Columbia A2816-A] 09/11/1919

[Columbia A2816-B] 09/11/1919

[Columbia A2823-A] 07/18/1919

[Columbia A2823-B] 07/18/1919

[Columbia A2852-A] 09/29/1919

[Columbia A2852-B] 10/14/1919  

[Columbia A2821-B] 10/14/1919

 

[Columbia A2980-A] 07/10/1920

[Columbia A2980-B] 07/10/1920  

[Columbia A2997-A] 08/25/1920

[Columbia A2997-B] 08/25/1920  

[Columbia A3311-A] 08/26/1920

[Columbia A3311-B] 08/26/1920

[Columbia A3347-A] 09/18/1920  

[Columbia A3347-B] 11/16/1920

[Columbia A3360-B] 12/14/1920

[Columbia A3360-B] 12/14/1920

 

[Columbia A3392-A] 01/25/1921

[Columbia A3392-A] 02/14/1921

[Columbia A3397-B] 03/08/1921

[Columbia A3397-A] 03/12/1921

[Columbia A3443-A] 04/21/1921

[Columbia A3416-A] 05/07/1921

[Columbia A3416-A] 05/07/1921

[Columbia A3443-A] 06/14/1921

[Columbia A3471-B] 06/14/1921

[Columbia A3471-A] 07/14/1921  

 

[Columbia A3592-A] 03/04/1922

[Columbia A3592-B] 03/17/1922

[Columbia A3601-A] 04/01/1922

[Columbia A3601-B] 04/01/1922

[Columbia A3633-A] 05/13/1922

[Columbia A3633-B] 05/13/1922

[Columbia A3652-A] 06/09/1922

[Columbia A3652-B] 06/09/1922

[Columbia A3669-A] 07/14/1922

[Columbia A3669-B] 07/14/1922

[Columbia A3711-A] 09/18/1922

[Columbia A3711-B] 09/18/1922

[Columbia A3742-A] 10/19/1922

[Columbia A3742-B] 10/19/1922

[Columbia A3757-A] 11/11/1922

[Columbia A3757-B] 11/11/1922

[Columbia A3771-A] 11/24/1922

[Columbia A3771-B] 11/24/1922

 

[Columbia A3826-A] 01/11/1923

[Columbia A3826-B] 01/11/1923

[Columbia A3862-A] 03/08/1923

[Columbia A3862-B] 03/08/1923
Nora Bayes was one of the first mega-celebrities in the United States, and one of the first in show business, when you consider that perhaps the biggest celebrity before her was inventor Thomas Edison. But even like many celebrities of our own 21st Century she had a troubled past which led into a sometimes troubled career, and left many parts of her life a secret, some of which is not yet uncovered. This essay, which tracks differently than most of the biographies on this site, will attempt to perhaps reveal a bit more about Nora Bayes than many in the past have, as well as give some clue through items from her time period about what her appeal was, and how she was remembered by many.
The first mystery that Nora left researchers and many interviewers of the past was that of her origin. With due diligence to Ginny Bayes, her granddaughter through the adoption of her youngest son, the birth certificate was located in 2018, for which she receives full credit. The birth year of 1880 has long been suspected, and was consistently used by her in interviews and on documents. Information uncovered during our research about one of her passports, plus one of her marriage certificates, and several manifests for cruises she took reveal a highly consistent birth date of October 3, previously not revealed elsewhere. As it turns out, the birth certificate bore out our original research as highly accurate. At least one source had put forward the names Elias and Rachel Goldberg, but no couple was found that properly matches those names and likely demographics between 1880 and 1900. However, the birth certificate shows this information to be half right. It was also suggested that she had a first cousin Ida Klein (misidentified in her obituary as a sister) living in Chicago, Illinois. She further mentioned a brother, Harry Goldberg (born as Hugo, so likely a nick name after his uncle Harry or simply apreference), residing in Los Angeles, California, working in the jewelry business.
What has become certain in our research is that her last name was Goldberg because this was used consistently throughout her life as was the birth year of 1880. The first name candidates have included Dora, Lenora, and Leonora. A recently discovered marriage record for her from February 23, 1899, shows her name as Ellye, and given that she was just 18, it is very likely as close to her original common name as can be found. The birth certificate showed her name as Rachel, and her parents as David and Rachel. It is likely they followed the Jewish tradition of picking an Old Testament birth name from the family, giving her another one for contemporary use. So for the record, it has now been determined that she was born as Rachel (Eleanora) Goldberg, and due to the attribution of Sarah in some records, including her third marriage certificate, perhaps Eleanora Sarah Goldberg at some point. Her nickname was likely Dora. The birth location has also been specifically identified as Chicago, Illinois. Her family appears to have moved up north towards or to Milwaukee, Wisconsin at some point in the 1890s. That it was difficult to find any appearances by Nora in Milwaukee while she was on the B.F. Keith vaudeville circuit speaks loudly to this probability, as she may have wanted to avoid any family contact at that time. All census, passenger list, marriage and passport records that list a birthplace show Illinois, and many show Chicago, so there is consistency there, and it was not that far from Milwaukee. This story will start from this point using this information as highly credible and consistent.
Early Years
Rachel Eleanora Sarah Goldberg
was born on October 3, 1880 in Chicago, Illinois to Polish immigrant saloon keeper
David S. Goldberg
and his Prussian wife
Rachel Miller
. She had two siblings,
Lillian
(12/22/1873) born in St. Louis, Missouri, where her parents were married, and
Hugo "Hugh"/"Harry"
(3/9//1882), also born in Chicago.
An early publicity shot of Nora from around 1900.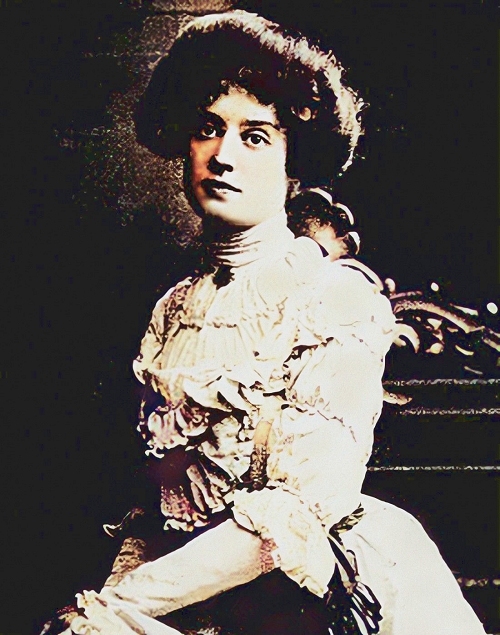 As Rachel was likely reserved as her traditional Jewish birth name, she went by her common name of Eleanora. She grew up in a strict Orthodox Jewish household in Chicago, later in Milwaukee, which automatically precluded her from doing nearly anything other than obeying the good book and getting married to someone within the faith to be a wife. Just the same, she did receive some vocal training from the celebrated
William L. Tomlins
in Chicago. Nora later claimed that when she was thirteen he wanted to send her abroad to study, but her parents would have no part of that. Nora later mentioned that she did study voice for a short time in Paris, but the reference was no more specific than that.
Given her lifelong predilection as an independent thinker and women's rights advocate, this obviously hardly suited her plans. The actress said as much in a 1918 article, stating that her parents told her that "the theater and all its works represented the lowest form of damnation and mortal sin." Ironically, it was getting married that helped her to escape her restrictive life in Wisconsin. Although she claimed in that same article to have been only 17, it was at 18 on February 23, 1899, that Ellye Goldberg married Otto Anselm Gressing, a Milwaukee native, in a civil ceremony in Kenosha, Wisconsin. It was claimed that Otto was an undertaker. In fact, for the most part, Mr. Gressing was more of an of-the-minute salesman who engaged in a number of careers, necessary at some point to keep up with his wife when her star was on the rise. Her parents, assuming the information on their Wisconsin stay is correct, were back in Chicago by the time of the 1900 census, and in Los Angeles by 1904 running a jewelry business. Therefore, it is possible, being based on the East Coast, that Nora rarely crossed paths with them. Her brother Hugo (a.k.a. Harry) was still in Los Angeles running the jewelry business at the time of her death.
Eleanora tried out stage names including Dora and Nora, and eventually a last name Bayes. According to an article in the Jewish Telegraphic Agency printed the day of her funeral, it was a Jewish stage manager that informed her that Dora Goldberg was not a name under which she could make it on the stage. Nora was easy enough to adopt. However, he suggested going through the alphabet to pick a better last name — and not just any alphabet, but the Hebrew one with the Ashkenazic pronunciation. He started from the beginning, saying "Aleph, Bays…" when she stopped him right there and reportedly said "That's it! Bays." Thus, Dora Goldberg became Nora Bayes.
Nora knew early on that she wanted to be on the stage, and had the comedic and singing talent to do so. Living in Joliet with Gressing, she was close enough to Chicago to engage in various amateur nights, including one held at the Hopkins Theater at 526 State Street. It was a vaudeville house on the south side, and gave Nora a good feel for the type of stages she would be playing on over the next few years. With seats ranging from ten to fifty cents, it also attracted many in Chicago who might not otherwise be able to attend any performances. It remained a vaudeville house when Nora first strutted her stuff there, but in 1904 added burlesque shows, which may not have meshed so well with her style of performance at that time. Nora also sang at the Chicago Opera House between acts some nights.
Nora's work in Chicago got her noticed, including, allegedly, by none other than Helen Cohan, the mother of George M. Cohan, when she was briefly on the same bill as The Four Cohans. With Mrs. Cohan's encouragement, Nora was soon on the road with a stock company, taking Otto with her to Saint Louis, Missouri, then San Francisco, California in late 1900. They were in California for perhaps six months, during which time Nora was able to refine her act and find material that worked best for her. But San Francisco was only a step, because to truly make it in vaudeville at that time, one had to make it in New York City.
So in 1901, The Gressings relocated again, this time to Manhattan. Along with them came The Rogers Brothers, actually Max and Gus Solomon who she may have worked with while all of them were on the west coast. They had previously worked at Tony Pastor's theater and were well-liked. Ms. Bayes was engaged by producer Abe Erlanger for their 1901 Broadway venture, The Rogers Brothers in Washington, which ran a little less than two months. A few months later, Nora got hooked up with a 1902 Harry Von Tilzer song, Down Where the Wurzburger Flows. Harry reportedly sang it with her at times from the audience. The end result was good for both the earnest actress and the still developing songwriter. Soon Nora was being heard in some of the better vaudeville houses of the East, including Tony Proctors.
Still trying to make her way in show business, Nora became known as a capable comic actress and songstress, and her fame spread fairly quickly over the next couple of years. By late 1903 she was featured at B.F. Keith's theater, and in early 1904 she was a regular both there and at Hammerstein's Vaudeville Theatre in Manhattan. Bayes remained particularly popular in San Francisco, where she toured again in 1904. She was recruited to star in a local production of A Lucky Stone, and was described in the announcement as "bewitchingly pretty and has a voice that will captivate the Fischer [Theatre] crowd on first trial." In an August 7, 1904 interview in the San Francisco Call of local "raconteuse" and "Queen of Burlesque," Dorothy Morton, Morton described the evolving personality of Miss Bayes in fine fashion: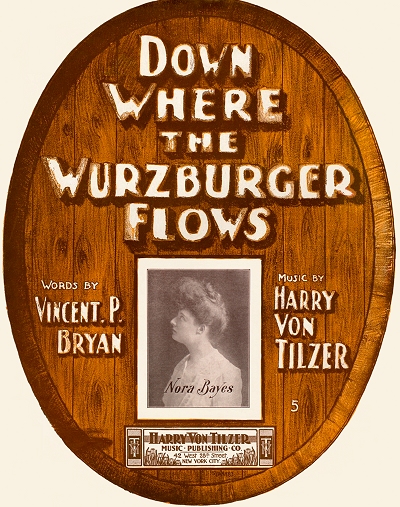 "You haven't met Nora yet? You should. She's as springy as a little piece of elastic. Funny, no end. Just the same off the stage as on. Every night she stamps past my door" - Miss Morton put every pound she has into the clump! clump! with which she imitated Miss Bayes stamp across the floor - "and sings out, 'Good-night, Doddy!' You know, I'd miss it awfully if that girl forgot to say that!"
"She's very bright," I [the interviewer] testify then, and ask: "Are those her own songs, that immortally funny one about going to 'hunt for beer and not for deer,' and the rest?" "I don't know," Miss Morton replied, "shouldn't wonder though. It's like her."
A week later, Nora tired of the show she was in, The Whirl of the Town, and the theater management, being Mr. Fischer himself, and abandoned San Francisco in a huff to return to the East Coast and its friendly vaudeville houses.
An October 1904 Washington Post notice referred to her as the "Popular comedian Nora Bayes" and the subsequent review stated that she was "entertaining in a combination of music and comedy." Where her husband was during all of this was unclear, as was whether he traveled with her. However, Nora opened at The Palace Theatre in London, England in November 1905, and quickly became a star there over the next few months.
Returning to the United States, Nora became a regular on the B.F. Keith circuit, often appearing in their theaters, or associated venues in major cities. One favorite was Chase's Vaudeville Theater in Washington, DC, a place that was advertised as the home of "Polite Vaudeville." A positive review from The Washington Post in August, 1906, states that Nora "also contributed a good number of songs and humorous impersonations" to the show. An interview with the Los Angeles Herald the previous June 29th revealed even more:
"It isn't how good people may say you are, you know yourself whether you have made good; it's what you think when you lie in bed at night, considering what you have achieved that day, which really counts," said Nora Bayes, who has the best comedy singing act that has been at the Orpheum this season. Miss Bayes was just about to being "making up," but that did not deter her from extending a charming welcome…
"You ask me if I should not like to do straight singing and cut out the comedy. Not me. I am perfectly willing to let other singers do the straight work. As for me, if I can make audiences laugh, that is all I want to do. In every audience there is usually a woman who will site with a blank face and whom it is almost impossible to amuse. Whenever I find that sort of a person in the audience I play to them alone, and I am just foolish enough to fall on my eye to get a laugh from them."…
When I was studying in Paris a few years ago, I had the best teacher in that city, and through him I met the real ones in Paris. I sang at several musicals and that sort of thing. First I would sing some crazy songs like I use in my act and afterward I sang serious ones. The French women would come to me and say, 'Oh Miss Bayes, you make such a mistake in singing those frivolous songs with your splendid voice too.' But in two or three weeks when I met them at other musicals they would ask me about the foolish songs while they would not remember the serious ones at all.
Rise to Fame
Now that she was in the public eye more often, Nora was prone to scrutiny as well as popularity. She soon learned that some things were hard to get away with, even if they weren't as they may have appeared. Even though in her 1906 Los Angeles interview she talked about buying a house in Pasadena with her husband for spending time in California,
Newspaper publicity shot of Nora from 1906.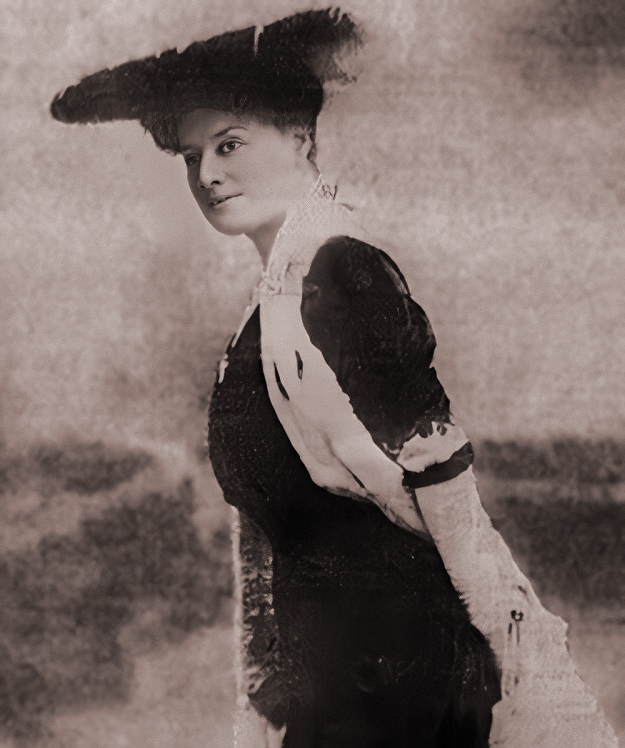 one of these not so little things in her life contributed to her divorce from Otto in mid-1907, just before her true rise to fame. According to a somewhat bizarre account of the hearing from that time:
Pittsburg was all agog over the declaration of Judge Willard McEwen of Chicago, to the effect that any man who discovered that his wife has been on friendly terms with a Pittsburg millionaire had good grounds for divorce. Judge McEwen made the remark in granting a divorce to A.O. Gressing [sic] of Chicago, from his wife, Nora Bayes. One of the men mentioned in the case was Frank McKelvey, son of William M. McKelvey, president of the Alpha Portland Cement Company.
"The more I see and hear of the doings of these young fellows who get hold of some money, the more I believe that the judge is right," said J.B. Corey, uncle of the president of the steel corporation today. "It is these theatrical actresses that cause all of the trouble. If the young fellows would leave them alone there would not be half of the misery in the world that there is."
William M. McKelvey refused to become interested in his son's affairs.
"The young man is of age and his own boss. I won't become mixed up in any of his escapades," said Mr. McKelvey.
"It's outrageous," declared the Rev. Dr. S. Edward Young, a prominent Presbyterian minister. "Pittsburg millionaires are just as good as the millionaires of any other city."
It was clear that there was humor being applied to her situation, and Nora was often the first to apply that humor. Whether or not the affair was staged in order to get out of what may have become an inconvenient marriage is unclear. Otto soon relocated to St. Louis, Missouri, where he was listed in 1910 as a phonograph and record salesman. Directly after the divorce Nora sailed for London, then France, for a few months engagements, returning to the US in late July on the Deutschland. Around this time Bayes was approached by entrepreneur Florenz Ziegfeld about a show he was planning to launch very soon, and asked her to be a part of the first edition. There was much excitement generated about the revue, and a lot of press to promote it. Their initial hype, which was disseminated around the East, read as follows:
The management of the New National Theater has been successful in securing the popular Broadway success from the Jardin de Paris, 'The Follies of 1907', for the opening attraction of the new season next Monday night.
"The Follies of 1907" was conceived and executed by F. Ziegfeld Jr., and produced by Julian Mitchell. The book is by Harry B. Smith. That the cast is a remarkable one in point of strength is evident by a glance at the names on the programme. Bickel and Watson, Nora Bayes, "The Bandbox Girl," and Mlle. Dazie, better known as "La Rouge Domino" for three seasons premiere danseuse at the grand opera in New York head the cast.
Nora's involvement with the highly successful Follies, soon to be retitled The Ziegfeld Follies, would cement her fame in show business, making her one of the highest paid women in the world less than nine years after she left her strict family. It was also where she met her most inspiring partner who would help propel her to the top, but most often in a somewhat subjugated role. Jack Norworth, who was born as John Godfrey Knauff in Philadelphia on January 5, 1879, was also engaged for the 1908 Follies. However, the pair may have met as early as 1907 when he was making his way up the ladder as a song and dance man, at times in black face. Like Nora, Jack had escaped his restrictive life in Pennsylvania to become an actor. He was already enjoying some success as a songwriter, as in early 1908 he provided lyrics for Albert Von Tilzer's memorable tune, Take Me Out to the Ball Game.
It seems probable Jack and Nora had hooked up, perhaps romantically, eve before the start of the 1908 season as they were not only put on stage as a couple, but had already co-composed some songs for the show, including the everlasting and endearing Shine On, Harvest Moon. [Note that the authorship of this tune has often been challenged, and some attribute Bayes' pianist Dave Stamper with the melody, while others suggest it was the composers of By the Light of the Silvery Moon, Edward Madden and Gus Edwards.] The couple also wed around the time the Ziegfeld Follies of 1908 made a splash on Broadway. It was the second time around for both of them as he had previously been married to the famous actress Louise Dresser Nora and Jack quickly became one of the most watched couples in the show business gossip world.
The nature of their relationship soon became clear. Nora was obviously the star of the pair, and therefore commanded the higher salary. It didn't help Jack's position in the relationship that he liked to flirt with the other Ziegfeld girls.. It was during one of these dalliances when Nora caught him in a kiss backstage, causing her to redefine their relationship with a new billing for their act: "Nora Bayes, assisted and admired by Jack Norworth." During their two year run with the Follies, they would write at least a dozen songs together, with another dozen following, although none of which equaled the popularity or endurance of Shine on, Harvest Moon.
Reaching the Top
Before the husband and wife dancing team of
Irene and Vernon Castle
became the darlings of New York society, many eyes were cast on Nora and Jack and their doings, lifestyle, wardrobe, and even hairstyles.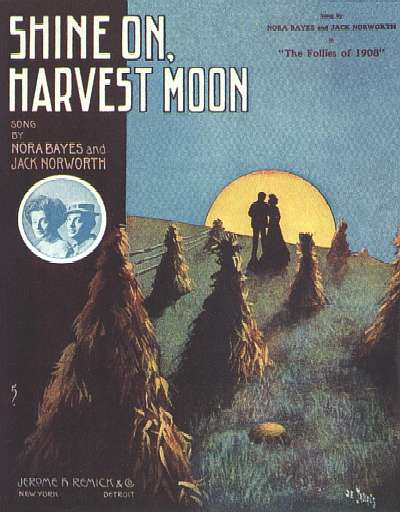 Plenty of women wanted to dress like Nora, don hats like Nora, and wear their hair like Nora. They also may have wanted Nora's independent streak, but that did not always work well for her. Perhaps frustrated by Jack's occasional wanderings, or simply because she felt she was not getting her due, she would challenge those who employed her, believing her popularity with the theater-going public would help her case.
A new addition to the Ziegfeld Follies of 1909, Miss Sophie Tucker, did not help. Nora, along with the sometimes outrageous "I Don't Care" girl, newcomer Eva Tanguay, both reportedly became jealous over Tucker's near-instant popularity. Bayes ended up alienating Florenz Ziegfeld for some time when she walked out of the show, taking a hapless Jack with her. This stunt backfired as Ziegfeld successfully brought a breach of contract against Nora that prevented her from taking any New York stage for several months. It didn't hurt her with the public, however, as when she did come back to the stage in Miss Innocence with Jack she was able to command around $2,500 a week. Tanguay also left Ziegfeld and returned to vaudeville by the end of the year, leaving a space for Nora to come back to in the Follies.
The essence of what made Nora Bayes popular is hard to capture. There were many imitators, some famous. This 1909 snippet from the Washington Post states, "Fanny Brice, who sang 'Cherry Rag,' received eight encores, and her imitation of Nora Bayes was excellent." Bayes' slightly husky alto singing voice was loud and clear, but limited to a range of a little more than an octave. She infused some Jewish humor into her act, along with some self-deprecation on her marriages and other foibles. An excerpt from a 1918 article concerning her involvement with The Cohan Revue of 1918 is quoted here for more perspective: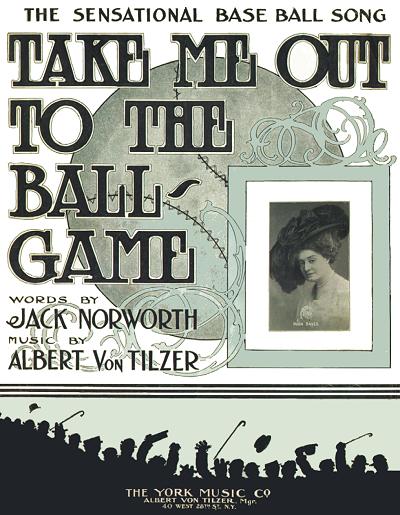 "Putting over a song success is the simplest thing in the world," declares the star of "The George M. Cohan Revue." Why, it's a lot easier than getting a marriage license in Lancaster or commandeering a parlor-car seat on any good train to or from Washington. You see, the artist or performer or regular union actor or actress-lady only has to go out there in the spotlight glare - with a nice little baby stare - and hand out the words the author has written and sing the melody the composer has contrived - and the audience does the rest.
"That's the answer! The good old audience does the trick for you, every time! It's a sure-fire! It can't fail - and you can't fall down, if you just feel out your audience. Simple! Isn't it? It seems a shame to take the money, even in these days of inflated wage scales. But there is a trick in it. No artist that ever lived, or ever will live, can register a hit with the best material ever written unless she gives that audience every ounce, every atom of talent that God and the art have endowed her with. Give the very best you have, first, last and all the time, and don't worry. They will never fail to come back at you a thousand-fold.
An article from 1919 goes into more detail concerning her range and tone, as well as her ability to really sell her performances, and an interesting look at the song-hawking process:
Musical experts declare that Nora Bayes has only eight notes in her singing voice, and Nora opines that the musical experts are telling the truth. But what the musical experts are not very clear about is how Nora succeeds in "putting a song over," as they generally admit that she does. Critical opinion declares that Nora's success is due entirely to her clear enunciation. Nora says it is due largely to the personality she puts in a song. Maybe it's personal magnetism Nora has in mind, but whatever it is, she has it.
"And I cannot explain it very clearly either," says the practical Nora. "Every song to be worth its salt must have an idea behind it. They say that every human being imagines he or she is a budding playwright. I am quite sure that every second human thinks he or she can write a great song. I am awaiting the day that will pass without having a bundle of brain children dumped on my doorstep. They come singly and in pairs, and Uncle Sam is generally the messenger through the postman. I try them all, and once in a while my patience is rewarded. I find something worth while or that can be made worth while with a little work.
"Trying out a new song is child's play to having to read a new play. I can take a batch of songs and with my pianist go through them in half an hour. Rejected songs are returned, if their authors have had foresight enough to send stamps. If not, they are filed away until called for. Song writers are a thoughtless lot. They dump a song on you today and expect you to sing it tomorrow. They forget that most successful songs have to be tinkered over, a little touch added here, another one there - just as you have to do to a play. If plays are not written, but rewritten, this also applies with equal force to songs. Few songs attain any degree of success as they have been originally written."
Nora in The Jolly Bachelors, 1910.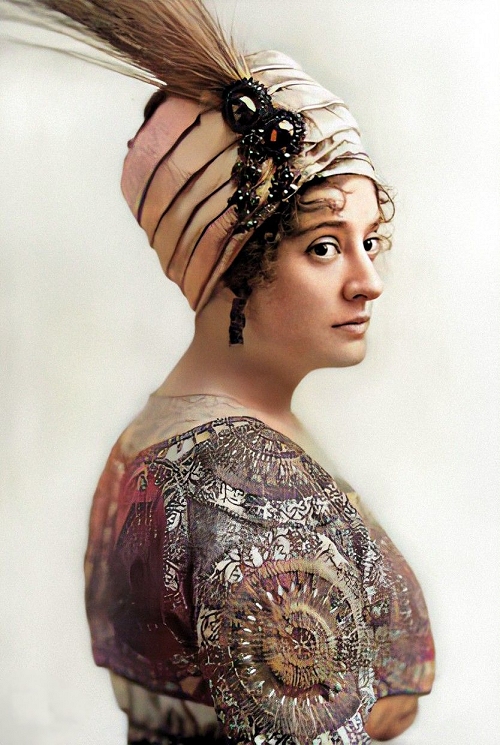 The Norworths appeared in the 1910 census in Manhattan as theatrical actors, both claiming they were in their first marriage. From 1910 to 1912 Nora and her admirer/assistant Jack plied the boards of vaudeville throughout the United States, with the exception of Milwaukee as noted earlier. Merchants often took advantage of their visits to town, as clearly displayed in this February 1910 Washington Post advertisement for a department store:
"Nora Bayes, a well-known actress, created quite a sensation in New York by appearing on the streets in the first 'Chantecler' hat [an ostentatious affair comprised of a large quantity of feathers] to be worn in this country. The one on exhibition here during the opening is the first to be shown in Washington. Don't fail to see it."
The couple managed to get engaged by vaudeville producer Lew Fields for his 1910 production of The Jolly Bachelors, which ran for a fairly decent 165 performances. The copy for Chase's theater in Washington for a late summer 1910 performance stated, "Miss Bayes and Mr. Norworth are still flushed with the success they won as the stars of Lew Fields' 'Jolly Bachelors', and they are regarded as the most popular comedy alliance in latter day vaudeville. Songs and witticisms of their own coinage are said to make up the best act they have ever given in vaudeville." This was also the first year they recorded, making a number of sides for Victor in New Jersey. Among those sides was a duet of Shine On, Harvest Moon, but the master was spoiled and it was not released, nor was it ever re-recorded. Otherwise, both of them proved to have the right timbre of voice for making the most of fickle recording horns.
In a time when celebrity was starting to sell music as well, Nora appeared on many sheet music covers with and without Jack, usually dressed to the nines in her stage garb. She may hold second place for the number of music cover photos behind Al Jolson, but was clearly the bigger star when she started. One photo in particular, which was a publicity shot also used on the cover of When It's Apple Blossom Time In Normandie, shows her at her most playful and earnest, and it clearly displayed her obvious sex appeal more than virtually any other photo she took during her career.
In 1911 Nora and Jack starred in
Little Miss Fix-It
, a perfect title for an early advocate of women/s liberation.
Jack and Nora on the cover of a song from their last co-production,
The Sun Dodgers, 1912.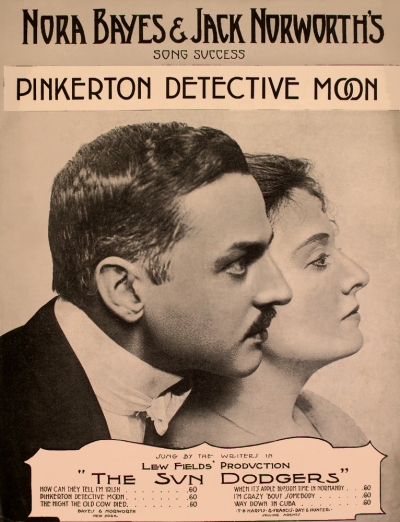 Running only 64 performances, it appears to have collapsed under the weight of the star's ego. According to a December, 1911 article:
Alice Lloyd has made her debut in New York outside of the varieties. She appeared at the Grand this week in the title part of 'Little Miss Fix-It,' the musical comedy which has been having such a tempestuous time with its stars. First, Nora Bayes and Jack Norworth left the cast periodically until the management tired of their absurd temperamental tactics. Then Eva Tanguay was engaged. But Miss Tanguay is not a dispassionate performer either, and it was only a few weeks before the cyclonic Eva had deserted in favor of the vaudeville stage.
Jack and Nora gave it one more try in 1912 with the two play package Roly Poly/Without the Law. The second play was dropped after a few performances, and the entire run lasted for only 60 nights. The Norworths followed this with another Lew Fields produced show called The Sun Dodgers. Nora and Jack were engaged in a traveling company in early 1913 after it had folded on Broadway in less than three weeks in December, 1912, due to poor reviews. While the public was not aware of the backstage drama, Nora and Jack were no longer the happy couple they played on stage. Evidently Jack had either tired of his wife's dominance, or simply wasn't ready to give up his flirting and more than just rumored womanizing. Still, many who followed them in the entertainment news were quite shocked on February 23, 1913 when the end was reported from Chicago, Illinois:
DIVORCE FOR NORA BAYES - Name of Woman Figuring in Case Not Made Public
Chicago: That Nora Bayes, actress, has been secretly divorced from "Jack" Norworth, her actor husband, was made known here today. Miss Bayes was Mrs. Dora Goldberg Klem[?] in Private life. She obtained her decree and alimony by default. Every effort was made to keep the divorce secret. Judge John Gibbons today said he had granted the decree upon the evidence of the wife and a private detective. The name of the other woman was not mentioned in court. Miss Bayes and Norworth were as loving as ever on the stage in the last performance given here, but were unanimous in declining to be interviewed.
To compound this situation, Jack was summarily ejected from The Sun Dodgers in Chicago and replaced with Harry Clarke in more ways than one. A mere month after their divorce was made public, Nora and Harry were married in Kansas City, Missouri on March 6, 1913 (registered on March 14). Harry, born Herman Ketz, was also an actor and singer who had worked in a previous production with Nora. Back in New York, Nora resumed recording as a solo artist for Victor, cutting an impressive number of pieces through the end of her contract with them in 1917. With, and more often without Clarke, she became a staple of Vaudeville on the B.F. Keith circuit, making 1914 a very busy year for the comic songstress. A typical advertisement for her that stressed her clothing as much as her talent read: "The World's Greatest Singing Single Comedienne, NORA BAYES. New Hits, Funny Lyrics, Live Topics, Diamond-Decked Gowns."
Marching Forward
In 1915 Nora went back to Broadway in
Maid in America
, for which she contributed some of the music.
Nora in her own revue,
Songs as Is and Songs as Was, 1917.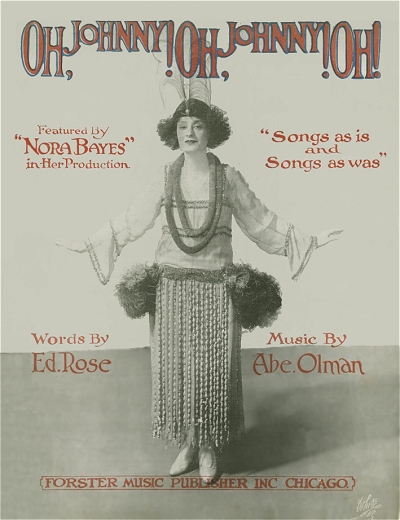 However, the strain of being on the road as well as engaged in a popular play took its toll on her and her marriage. Mr. Clarke was history by the spring of 1915. After a year of a heavy performance schedule, Bayes had an on-stage incident in early 1916 while touring the Midwest, then took a break from everything to recover. An item from March 19, 1916 in the Washington Post read: "Nora Bayes, fresh from Florida, with health restored, will be the headliner at Keith's this week. In the midst of a season unprecedented in her career, Miss Bayes broke down, and went South to recuperate." After appearing mostly on the vaudeville circuit over the next 12 months, she appeared in the Broadway revue
Odds and Ends of 1917
which ran for 117 performances. This show also briefly reunited her with the man many believe was her one true love, Jack Norworth. They co-wrote one poignant piece for the show,
Fancy You Fancying Me
, but it would be their last public appearance together. Bayes and Norworth corresponded from time to time, but the public and private romance was long over, and the disappointed public had to move on.
Bayes was still known to be temperamental and demanding, but at that time was drawing crowds, so as her own agent, and often producer, was usually tolerated. She also charmed others with her singular wit in this capacity, as evidenced by the following 1917 article:
Nora Bayes is having the time of her life as a manager for herself. A few days ago, Florenz Ziegfeld sent her an invitation to appear on his Sunday night concert bill at the Century Theater in New York. He told her he needed one more big act and that she might name her own terms. Here is her reply:
"Your note asking Nora Bayes to sing at the Century received," she wrote. "I would be glad to have her sing for you, but she could not possibly get to the Century until 11:30 at the earliest, and I am afraid that would be too late for even a Ziegfeld show. You know I have her under contract for two hours of song at the Eltinge Theater Sunday nights, and certain matinees, and her own show won't be over until 11 o'clock at night.
"I am sure she would not try to hold you up for a stiff price for singing, as she expects to have $1,500 in her own house, and heaven knows that's enough money for any decent woman to earn in one night.
"Your loving son, Nora Bayes, manager.
"P.S. - I have just had a heart-to-heart talk with Miss Bayes, and she tells me she is willing to sing at the Century any time after 11:30, and to tell your partner it won't cost either of you a cent. Us managers have got to stick together. N.B."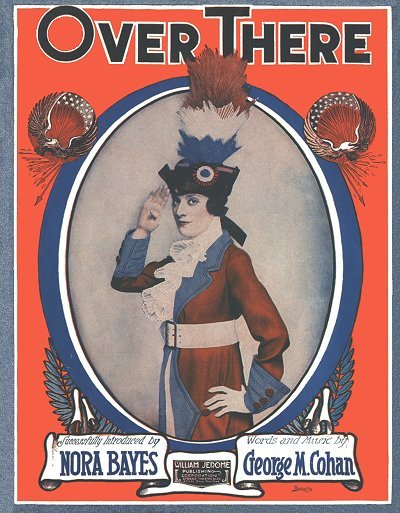 In fact, Nora frequently signed such letters "Your loving son," which became both an industry joke and a trademark of sorts.
Nora also kept busy with recordings, attending at least seven Victor sessions in 1916 and 1917. Her penultimate one for the label would become her most memorable. Bayes had made it clear in interviews, as well as in her legacy, that two of the types of pieces in which she had little or no interest were sappy sentimental numbers and overtly patriotic flag wavers. It seems odd, then, that in 1917 Nora was approached by George M. Cohan with a new song, ironically the only hit of his that was not specifically written for a stage musical, but had been composed for the war effort. Given that Cohan's clout was easily on a par with hers, she took up the challenge and started performing it in her act in both of her 1917 productions. Even though it had been introduced a month before by singer Charles King in Ziegfeld's New Amsterdam theater, it was Nora's dynamic and heartfelt performances of Over There that instantly drew raves. She recorded Over There for Victor on July 13, 1917, and was also featured on perhaps the most famous of the four covers that the piece was published under. It was the first of many pieces that Nora would ultimately sing in support of the boys fighting in "The Great War."
Bayes jumped ship from Victor shortly after the recording of Over There, and signed a contract with Columbia Records in mid-1917, a label she would remain with for nearly six years, and on which she recorded over sixty sides. While engaged with that, the burning question was asked as to why Nora, one of the biggest of stars, had not yet made the transition to the silver screen, making movies? She wrote a sardonic reply to this in an article distributed in July of 1917:
Why I Have Not Yet Entered Cameraland
Why don't I become a screen star? Because there is too much money in the picture business. Moving-picture actors, authors, directors and everybody identified with the industry receive altogether too much money for their own good. I know, because everybody tells me so. You understand English, don't you? What do you suppose I would do with all the money I would make in the movies? It would worry my young life away picking out good, reliable banks where my stupendous earnings would be secure. I'd probably deposit my savings in a dozen or more banks and then I would have to hire a couple of dozen detectives to watch each institution and report to me daily as to their solvency. The mental anguish I would suffer would make me unfit to enjoy life. No, siree. No movie work for me! I am quite content with my little two thousand dollars per in vaudeville and nothing to worry about.
Say, I wouldn't be Charlie Chaplin with six hundred and seventy million dollars a year or Mary Pickford getting five hundred decillion dollars every time a promoter with a lead pencil comes in contact with a scrap of paper for anything in the world. I would have so much business on my brain that it would interfere with my art and I wouldn't be worth the money I get from my managers.
Please don't take my delirium seriously. While it is true that I am now receiving eight thousand dollars a week I will shortly raise myself to ten thousand dollars. I will begin to throw about with careless abandon conversational dollar marks with zeros without end trailing along behind, unaccompanied by decimal points.
You know my time is worth two hundred dollars a minute, and I figure I have now consumed six thousand dollars' worth of my time just to give a measly little interview.
Eventually separating herself from the dominance of B.F. Keith and his theater chain, Nora struck out on her own with a one woman show, Songs as Is and Songs as Was. For a brief while there was a Broadway district theater that sported her name. It was in the Nora Bayes Theater that she starred in Ladies First, which followed her successful engagement in The Cohan Revue of 1918.
Nora's accompanist for those shows, and a contributor of some of the music, was 19 year old George Gershwin, who played for her for a couple of seasons. His draft card from 1917 shows him as employed by the "Nora Bayes Theatrical Company." It is possible that Gershwin upstaged Nora at times from the piano, as was subtly suggested by pianist Oscar Levant who heard one of their mutual performances. His playing tricks sometimes threw her off during a performance as well. She reportedly ended up asking him to leave after he would not alter the melody of a song — one that he had written, no less — to suit her tastes.
In Washington D.C. at a May 1918 benefit concert, it was reported that Bayes outbid millionaires in the audience to buy a souvenir program signed by President and Mrs. Wilson. With her $1,000 bid and the other proceeds from the show Out There, they raised $18,176 in one night for the American Red Cross. In spite of all this fame and attention, as the war ended and the jazz age began, Bayes' shining star run was starting to fizzle out.
A Change in Fortune
Early in 1920 Nora got married a fourth time. The lucky guy was used to being pushed around by a bossy show business person as he got started in the business that way.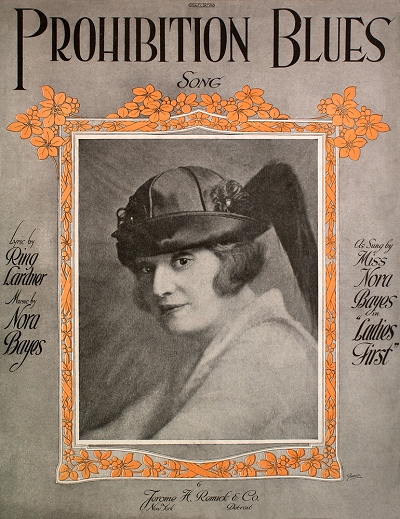 His name was
Aaron Arthur Gordon
born March 19, 1893 in New York City. As a teen he became the assistant in an act with a family friend and ragtime pianist named
Leonard Marx
who was a few years older. Marx was already an incessant gambler and womanizer in his early twenties, and Gordon frequently bore the financial brunt of their partnership during travels, often having to escape town and potential persecution/prosecution. However, Leonard was also working on creating a persona for himself, reportedly based on his Italian barber, one that would soon evolve into
Chico Marx
(the chick-chaser) of the Marx Brothers.
Gordon took on some of the characteristics of the pseudo-Italian accent himself during their tour, and by 1920, now working on his own for many years away from Marx and his brothers, was billing himself as Arthur Gordoni. This was a last name that did not suit Nora when they married in early 1920, so she kept her own. She also kept her own place at 624 West End Avenue in Manhattan up through the end of her life, which she had acquired well before her nuptials with Gordon.
Prior to and in conjunction with her latest marriage, Bayes adopted as many as four children, including Norman Bayes (3/6/1918), John Katuz (1919 - mentioned only in divorce proceedings but possibly in error), Lea Nora Bayes (7/25/1919) who was possibly some of the reason for the speculation of Leanora as her childhood name, and Peter Bayes (3/16/1922). By the summer of 1922 Gordon had been living at the Lambs Club while Nora and the children resided at her West End Avenue home. It was clear by then that her marriage with Arthur had run its course, and after discovering her in bed, with the help of detectives, with Baltimore, Maryland, banker Arthur Spencer Welton, he sued for divorce. Gordon was granted his divorce in mid-October of 1922. Their adopted son John [unconfirmed in most sources] went with him in the settlement. They subsequently moved to Los Angeles and Gordon had a tepid career on stage and in films there, dying in Beverly Hills in the 1960s.
Nora would appear in three more shows from 1920 to 1922, but all would die out in decreasingly smaller runs. The Nora Bayes Theater eventually became Thomashefsky's Broadway Yiddish Theater in 1923, then the
44th Street Theater
. She still managed to travel to her favorite places, like Washington D.C., where the Bayes magic seemed to still have some hold. But the bookings continued to decrease as Bayes stuck to her now old style of performance, echoed in many of the Columbia recordings she was now doing on a regular basis, mostly novelty comic numbers. Several ship passenger lists show her traveling to England and France between 1920 and 1924, at least one of those trips with all three of her remaining adopted children.
A mature Nora Bayes in 1926.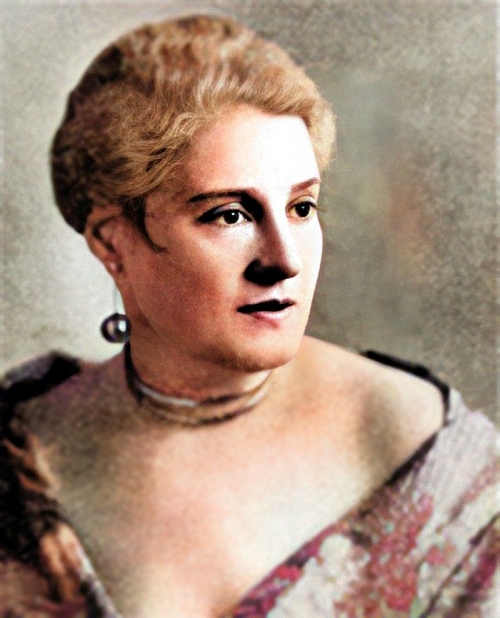 In 1924 Nora engaged pianist Louis Alter who remained as her accompanist through the end of her shortened life. He was ultimately known for songs such as Manhattan Serenade and Do You Know What It Means to Miss New Orleans. Her contract with Columbia having expired in 1923, no recordings of them together are known to exist. A notice from an early December, 1924, performance in Washington D.C. gave some credence to her continued performances on the stage:
The distinctive niche which Nora Bayes has occupied in the American theater is still hers, despite her exile in Europe; that much was clearly established by her reentry last night at Keith's, the scene of so many of her brilliant experimentations with the topical and satirical song a decade or more ago. A Sunday night audience in Keith's is a trifle prim and restrained for the more sophisticated twists in the Bayes style; hence it was not so robust in its enjoyment of her pointed philosophy of life and amours as it might have been. It was a buxom Nora Bayes that it saw, one mellowed in style, and her songs had the same incisive bite as of years ago. 'My Better Self, Good-By' was a song characteristic of her best and most familiar mood; so also was 'Marriage,' every line of which had the barb of Bayes in it.
In 1925, Nora got back on the marriage horse one last time. The bulletin in the papers on March 2, 1925 read as follows:
Nora Bayes, actress, has taken a garage owner for her fifth husband. They were married yesterday at sea by Captain Hartley of the Leviathan. Benjamin Lester Friedland, New York, is the man. News of the wedding was first telegraphed ashore by Miss Bayes to her personal representative here. Then the captain of the Leviathan, in a lengthy official report to his vessel's agents, told more details, including the fact that Mrs. Alfred E. Smith, wife of the Governor of New York, was one of the witnesses. Miss Bayes' previous husbands were C.A. Cressing [sic], Chicago business man, Jack Norworth, actor, Harry Clarke, once her dancing partner, and Arthur Gordon, actor.
Friedland took his chances, but being successful at a business that was, of course, "show" business increased his odds. The couple traveled a bit more over the next three years, but Nora was growing ill, and was often unable to keep her engagements. Cancer had taken hold in Nora by the mid-1920s. She was diagnosed with the disease while in Germany allegedly as early as 1914 while in a sanatorium in that country. It was clearly ravaging her by 1927, and had dropped her weight to around 82 pounds.
Keeping her illness a secret from the public when she returned to New York City, the actress endeavored to gain weight, and took up the practice of Christian Science, a far cry from her strict Orthodox Jewish upbringing.
A poster for the Warner Brothers biopic,
Shine On, Harvest Moon, 1944.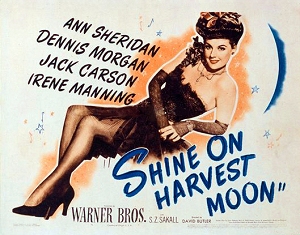 During this time through early 1928 she tried her best to make at least some public appearances at charity benefits and on radio shows, the latter of which were quickly growing in popularity. However, one of her later appearances turned out to be somewhat disastrous for her both personally and professionally. At a 1927 benefit held for the National Vaudeville Association at the Palace Theater, Nora got into a heated argument with Sophie Tucker and the management as to who should go on stage first. Nora ultimately lost the argument, and a spot in the show, reportedly being escorted out the door as a result of her insolence.
In March of 1928 Nora admitted herself into the Jewish Hospital in Brooklyn, reportedly for "a rest." Doctors there attempted to ease some of the symptoms, and perhaps remove the cancer, with an abdominal surgery on March 18th, but within 24 hours Nora Bayes career had ended as well as her storied life. She left behind her three adopted children, five husbands, an adoring mass of heartbroken fans, brother Hugo Goldberg in Los Angeles, and first cousin Ida Klein in Chicago. But there was more to her story yet to come.
With the major success of MGM's Meet Me In St. Louis with Judy Garland in 1943, Hollywood quickly realized that the public wanted more than movies about the ongoing World War, and that nostalgia offered them escape. Such films go back to The Story of Vernon and Irene Castle in 1939, and even Alexander's Ragtime Band in 1938. But the time was right for more. Warner Brothers jumped on the literal bandwagon and came out with Shine On, Harvest Moon (1944), a highly fictionalized version of the life of Nora and her most cherished partner, Jack Norworth. The movie starred Ann Sheridan and Dennis Morgan in the lead roles, and regards very little actual fact in its storytelling, which was typical for Hollywood at that time. Jack was still around and living in California (he died in 1959 at age 80), yet appears to have had little or no input into the project. The film still remains good entertainment, mostly in black and white with a technicolor ending featuring the title tune sung in a way it was likely never heard in Nora's lifetime (dubbed for Sheridan by singer Lynn Martin). However, it ultimately helped to make Nora and her famous song popular once again. Shine On, Harvest Moon remains as a well-known favorite song more than a century after it was first introduced.
Ben Friedland died in 1946, and Nora's body, which had been in a receiving vault for 18 years, for which the maintenance had been financed by Ben, was finally buried alongside him in Woodlawn Cemetery in the Bronx, New York, albeit in a poorly-marked plot. (On April 21, 2018, Nora was finally presented with a simple granite headstone to mark her final resting place.) Years later, both Nora and Jack were inducted into the Songwriter's Hall of Fame. For her contributions to American Theater and the American songbook, Nora Bayes was added to the National Recording Registry on April 11, 2006. The official citation reads: 'Over There, Nora Bayes (1917) - Inextricably associated in popular imagination with World War I, Nora Bayes' recording introduced George M. Cohan's song and became an international hit. Cohan had specifically requested that Bayes be the first singer to release his composition. A former member of the Ziegfeld Follies, an extremely popular vaudevillian and a Broadway star, she recorded a number of other songs to boost morale during the war and performed extensively for the soldiers." To hear her sing it nine decades later is still a stirring experience. Shine On, Nora Bayes.