Frederick W. Vandersloot was a good example of a publisher in a somewhat isolated location who nonetheless managed a large reach through the United States during the ragtime era, particularly through the efforts of a couple of people who he was fortunate to have working with his firm. He was born in Fairfield, Pennsylvania, just miles from where the Battle of Gettysburg had been fought three years earlier, to Frederick William Vandersloot Sr. and Eliza E. (Crouse) Vandersloot, both Pennsylvania natives. The year 1867 is specifically listed on the 1900 Census, but most of the other reporting dates on Vandersloot indicate an 1866 year of birth. Frederick Jr. was part of a large family, including older brothers Edward, Byron and Harry, younger brother Caird, and younger sisters Reby, Daisy and Alba. Frederick Sr. was a well-respected doctor in Clinton County, Pennsylvania and likely delivered all his children as well. As he was growing up it seems probable that he was referred to as William, his middle name, to avoid any confusion, something underscored by his listing in the 1880 Census and a couple of Pennsylvania listings into the late 1880s.
Frederick's grandfather,
Frederick E. Vandersloot
, was a dentist in Gettysburg for many years. Frederick's aunt Louisa, his father's sister, sang in the choir that helped dedicated the memorial at Gettysburg on November 19, 1863, with President Abraham Lincoln in attendance.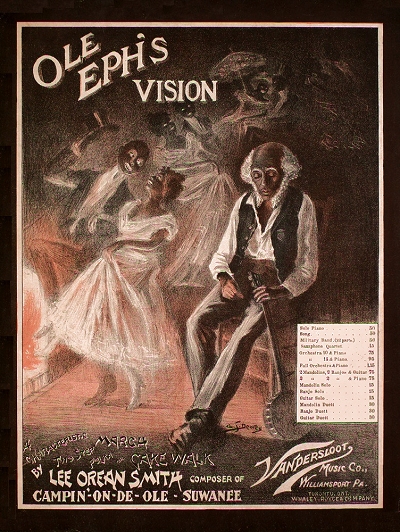 She ended up being the last surviving member of that choir, having met every president since that time who had come to the yearly memorial each November, including Franklin Delano Roosevelt. Frederick Sr. served as s surgeon in the Civil War for the Pennsylvania Heavy Artillery at Fortress Monroe, and continued to practice medicine in Pennsylvania to nearly the end of his life, moving to Delaware where two of his sons were living just prior to his death in 1902 at age 72.
Frederick did not follow his father and grandfather into the medical profession. He was married on January 19, 1888, to Cora E. Elwert. The following year Frederick went to work for music publisher Fisk, Achenbach & Company in Williamsport, Pennsylvania, the same year that a devastating flood had ravaged the city. His capacity in that job is unknown, but he may have done some light arranging and administrative work. The town was becoming a local music magnet, with some of the finer public bands performing in the area, including the famous Repasz Band. The opening of a fine opera house in 1891 seating 1800 guests further cemented their growing cultural reputation. Frederick's brothers Byron, Harry and Caird either succeeded or joined him in Williamsport by the early 1890s. Within a few years he was involved with the choir at the Pine Street Methodist-Episcopal Church, eventually leading it for 28 years. Byron was also in that group. In spite of the family association with the Pine Street church, Cora was employed as an organist at the First Church of Christ in Williamsport. There is virtually no documentation about Frederick's tenure with Fisk, Achenbach & Company, but they quit publishing around 1896, and he started publishing around 1897, indicating a possible takeover. However, given that he carried nothing over from their catalog into his own, it seems more likely that he formed his own company, and perhaps bought some of their printing equipment.
The first pieces under the
Vandersloot Music
banner came out in 1897. Somehow Frederick, with connections likely made during his previous employment, had managed to secure dealers for his works in Buffalo NY, New York City, Philadelphia PA, Chicago IL, St. Paul MN, Milwaukee WI, Montgomery AL and Richmond VA.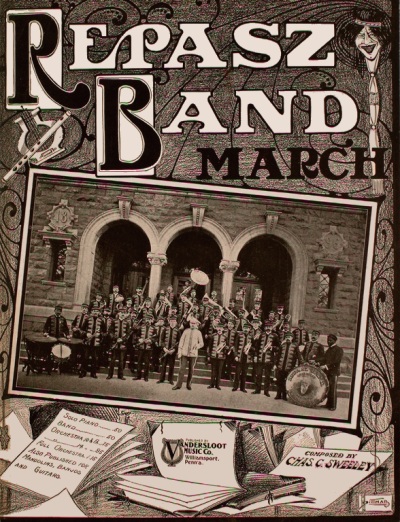 All of these are mentioned on one of the first releases,
Yellow Kids on Parade
, attributed to C.E. Vandersloot, who we now know to be Cora Vandersloot. There is a mention in a 1972 article in Williamsport quoting an 1897 Gazette article citing that the Boston Ladies Symphony had performed this piece on November 30, 1897, and they attribute it to Mrs. F.W. Vandersloot. It was clear from the beginning that Frederick wanted to be in step with contemporary music styles, although he was not overly progressive or aggressive in that way. In 1898 he released
The Coons Jubilee
by W.V. Whiteman and the topical
Cuban Independence
by C.D. Henninger. At this time he had an office in New York City, although that did not seem to last very long. One other release in 1898 was the Vandersloot's son
Carl D. Vandersloot
. The 1900 Census lists the couple and their child as living with Cora's parents
Robert and Sarah Elwert
. Frederick is listed as a music publisher living on Washington Street, a residence he would remain in the rest of his life. Dr. Vandersloot was again living in Clinton County. In 1900 or 1901 Frederick and Cora had one other child that died in infancy.
While in New York, Vandersloot had searched for product to put out. Among those who became associated with and quickly latched on to Frederick was Lee Orean Smith who gave him one of the early cakewalks published by the company, Campin' on De Ol' Suwanee. Smith's work of that time was only average, and even though it was a minor hit, their association did not last long. He tried composing for Broadway later, but fared even worse in that venture. Back in Pennsylvania, Vandersloot actually found some of his best talent locally, eventually taking on works by local cornetist Harry Augustus Fischler and Frank Hoyt Losey, both who would be frequent contributors to his ragtime output. But two of his associations would help his company make a substantial in music publishing in the Eastern United States.
Among the acquisitions that helped with a consistency in the Vandersloot catalog in terms of look and feel was Williamsport artist
Walter J. Dittmar
He started working for the company around 1904, and for 11 years provided all manner of cover designs from beautiful landscapes to borderline offensive caricatures of blacks, most of his work landing somewhere in between. Walter's simple style, nearly always using only one color plus black, was driven by his being colorblind. He also was a successful artist for some Christian publications, and ended up teaching art in the Williamsport school system.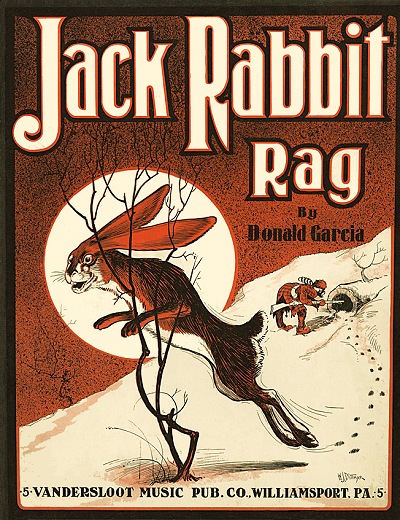 Dittmar made Vandersloot publications as recognizable as those of the multi-colored covers of
E.T. Paull
, and may have been a factor in the company's popularity, helping distribution through familiar branding. A few of the covers wer actually done Carl Vandersloot, who cam e close to capturing the Dittmar style in some instances.
In 1903 Vandersloot took on a 25 year old composer from Shamokin, Pennsylvania, publishing his piece Vallamont (Valley and Mountain). It was not the first time that Harry J. Lincoln had been published, having had success with E.T. Paull who put out his Midnight Fire Alarm in 1900, but it was the beginning of a significant relationship for both. The story of how it started is complex, but worth restating here.
Charles C. Sweeley was a trombonist and a member of the famed Repasz Band in Williamsport, a community group that dates back to 1831, renamed after long-time director Daniel Repasz in 1859, and which still plays into the 21st century. Lincoln had written a 6/8 march piece honoring the band as early as 1896 or 1897, but had trouble selling it to a variety of publishers. After the success of Midnight Fire Alarm, yet still in need of money, he was able to sell it to Mr. Sweeley who subsequently published Repasz Band under his own banner and composition credit. Having not marketed the piece very well, Sweeley let it drop from view. As Lincoln's situation improved he reformed his publishing company which had originally printed Midnight Fire Alarm before Paull bought it, and then took back Repasz Band. However, either out of respect for Sweeley or because the composition parentage had been established through copyright, he left Sweeley's name on the piece. After Lincoln again dissolved his small firm in 1903 he was hired on at Vandersloot Music in 1904 after Vandersloot published another of his works, Heaven's Artillery. Vandersloot also bought the existing Lincoln copyrights, and wanted to meet the composer of the marvelous Repasz Band march. At this point Harry revealed it was actually his own, but they agreed to continue to publish it with Sweeley's name until the mid-1910s when Lincoln's name started to appear on the cover. When the copyright was renewed in 1929 Lincoln reclaimed the piece as his own, which was reinforced by a sworn statement from Sweeley himself. Even so, members of the family still contest the story, and the handwriting on the statement. Given Lincoln's prolific career and Sweeley's minimal output, it is more likely that Lincoln possibly contributed to a few more Sweeley pieces (unconfirmed at this time) rather than the other way around. Just the same, his name shows on the list of composers here as he did have a couple of his other works published by Vandersloot.
In short order, Harry became the general manager, arranger and composer for Vandersloot music, issuing no less than 200 pieces under that logo, likely more, using his own name and those of
Abe Losch
and
Carl Loveland
.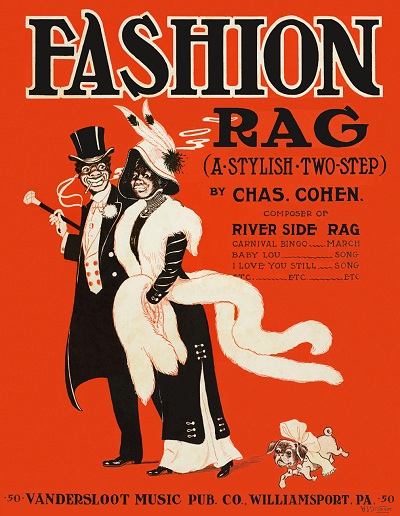 Frederick was able to concentrate more on the distribution and business end while Lincoln handily managed the buildup of inventory and acceptance of new pieces, often applying his hand to them as arranger. He managed to snag a couple of pieces by
Dill Pickles
composer
Charles L. Johnson
, but did not promote or distribute them enough, or at least to Johnson's satisfaction. However, most of the contributors were happy enough to send their works to the firm. One good relationship that Vandersloot and Lincoln built was with
James Royce Shannon
, who would become significant as a songwriter in the 1910s and 1920s. The boss also lent his own works to the catalog, one of the most memorable being his pleasant
Christmas Chimes
in 1915. Cora also contributed a few more works, always published as C.E. Vandersloot, hiding her gender. She also contributed to the family size, giving birth to daughters
Ruth Person Vandersloot
and
Maude Esther Vandersloot
in 1904 and 1906. The 1910 Census shows the family living in their Washington Street Home with a servant, Abbie Yonkin, and Frederick's younger brother Caird. According to some newspaper reports Caird was working for the publisher in some capacity, but was subject to some medical difficulties with gall stones around this time, likely why he was living with the family.
The 1910s were good to Vandersloot and Lincoln in general. Their fortunes started to fade around the time the United States entered World War One, in part because so many of their contributors were drafted or enlisted. Harry did not go, so was the primary staple of the firm at that time. Two of the Vandersloot children started contributing as well, with son Carl turning out some average marches, even compared to Lincoln's often uninspired output, starting in 1918. Daughter Ruth would write some lyrics starting the following year, often with Lincoln. She was married in late 1920, and wrote under the name of Ruth V. Hoyt for several years with Lincoln and others. Lincoln was himself branching out, having formed yet another Harry J. Lincoln publishing company, but also U.S. Music Publishing which appears to have briefly been an offshoot of Vandersloot before it became Lincoln's company completely. Lincoln moved to Philadelphia in 1918, but maintained a constant relationship with Vandersloot, still working for the company from his new home. The 1920 Census shows Frederick still as a music publisher, with Carl, Ruth (not yet married) and Esther still living in the Washington Street home.
In the post ragtime years Lincoln and Vandersloot managed a few one and two shots with composers who would ultimately become famous under other logos. These included Frank Banta who wrote the pieces Midnight and Some Little Girl with Carl, Charley Straight who would have a substantial career in novelty and jazz piano, and Raymond B. Egan who became known as an effective lyricist. But from Williamsport they found it increasingly difficult to compete with mega-publishers like Irving Berlin and Jerome H. Remick. With Lincoln's absences, Frederick and Carl, who was now helping out, found it hard to keep things going, and by the late 1920s were mostly issuing reprints of earlier works. As of 1930 Frederick and Cora were still hosting Carl in their Washington Street home, along with Ruth, now divorced, and her daughter Patricia Ann Hoyt. This was the last listing of Frederick as a music publisher. Carl was shown as a musician doing orchestra work. Vandersloot passed on in 1931. His firm dissolved at the same time, with much of the inventory being acquired by New York publisher Jack Mills. While most of it did not see the light of day in short order, many of the classic Vandersloot pieces of the ragtime era did find their way into Mills Music folios of the early 1960s, bringing new interest into the output from central Pennsylvania during the ragtime era. New rediscoveries of Vandersloot pieces and cover art are still being made in the 21st century after having been neglected during the decades of the 1930s to 1950s. Frederick and Cora Vandersloot lie side by side in Wildwood Cemetery in their beloved Williamsport. Carl survived until August 1963, and is also buried in Williamsport.