The Ragmobile
The Wandering Ragman's Work Horse
by Bill Edwards
Contents Copyright ©2008/2016 by William G. Edwards
It is simply a fact that not everybody can come to where I am to perform, and my house is not big enough to accommodate a festival, even if some organization was willing to relocate. All of this would be a ridiculous notion, of course. Musicians have traditionally gone to where the fans and future fans are to perform (perhaps with exceptions like Branson, Missouri or Las Vegas, Nevada, which draw people from all over). So I have to get there somehow. That somehow is a vehicle that I have dubbed the "Ragmobile." I have come to greatly appreciate the utility and other fine aspects of this compact yet capacious wonder of transportation, and have been asked many times (seriously) about it. So at last I will pay tribute to that which helps me to avoid airplanes and rentals, and allows me to bring much of my life with me when I wander through the eastern two-thirds of the United States to perform for anyone who will listen. First, a brief poem.
ODE TO A CHROME AND STEEL WORKHORSE
Oh faithful steed of steel and chrome,
You keep me moving when I'm far from home.
With cruise control you glide with ease
To all my gigs, or where'er I please.

Through rain and fog, through sleet and snow,
You always get me where I need to go.
You ask not much, just gas and oil,
You are my friend, and ne'er my foil.

A familiar sight to those who may know,
You announce my arrival where'er I go.
For years in comfort in you I have ridden,
You even know where patrol cars are hidden.

Through countless miles and rarely a doubt,
On Interstates and Highways, no matter the route,
You take us reliably with nary a break,
And seem to know where to find each Steak and Shake.

Without you I would be at a loss,
As it is, you are rarely home gathering moss.
Some day, I know, that you'll have to step down,
But you'll always be remembered with joy, ne'er a frown.

My friend, of all cars I've known in my years,
You're the first one that I will most sure part with tears.
But until then, my Cruiser, I guide you so proudly,
From venue to venue! Your praise I'll sing loudly.


RAGTIME PERFORMERS AND THEIR TRANSPORTATION
All right. I know. There was perhaps a bit of silliness in the poem. On the other hand, the sentiment is more than just partially true. While a car is not a pet or family member, it is not unusual for someone who spends so much time in one as I do to become fond of their vehicle (or in some cases learn to deplore their car). It is one thing to depend on it, but another to also make sure it remains dependable. I have stories, and hope to convey some of them that may provide a laugh or wonderment for the reader. Please know I'm not trying to sell cars for Chrysler or any other brand. Just conveying my personal experience and hoping it provides some brief entertainment for you.
Musicians in our fields are not always paid top dollar. Sometimes we play for the joy, and not for the money. We also have equipment to haul around, and CDs, and our support people. So unless the gig is clear across the country, flying is often not a palatable option. Even in this time (2015 at last refresh) when fuel prices are back to reasonable levels (for now), driving has many advantages over flying. For example, when you get to your destination, you don't need to rent a car. You can't have the pilot stop the plane and pull into a Steak and Shake or an Antique Mall like Heart of Ohio. Keyboards and upright basses are not plane friendly either. I live in the Washington, D.C. area, near the middle of the Eastern Seaboard of the U.S., so I generally will drive as far west as the Mississippi River, and often the Missouri River for a gig, and north and south to the border as well. I am not the only one. My good friend Sue Keller and her husband Howard Vigorita drive their black GM SUV to many locations, full of sound and recording equipment. When in the U.S., Jeff and Ann Barnhart pedal their Volvo, tagged JEFFO, to many gigs, and as I understand it usually opt for a car rental in other countries as well. But the most celebrated case would be full time performer and one of the busiest in ragtime, Mr. Bob Milne and his wife Linda Milne, who travel the entire U.S., sometimes several times in a year, in their full-sized van. It has been converted to accommodate sleeping and a good-sized wardrobe, and there is an office space instead of a kitchen. So they literally live in the van part of the year. As of April, 2008, it had gone over 700,000 miles, after a 2008 overhaul for a new engine and some replacement side panels (Michigan winters are tough). But it is still going and should for many more tens of thousands of miles, carrying Bob to locations full of eager fans to which he will spread his unique ragtime joy.
So you see that having the right vehicle is important for a number of reasons. However, it is also possible to find a car with a personality that fits the owner as well. At least sometimes, that is. Jeff with a Volvo? He is a daredevil at the piano, so I'm not sure on that one. But it does provide him safety and it keeps on going. Sue also has owned a VW Beetle that similarly fits her personality well when she drives it to gigs. As for me, I have really only had three out of six cars in the past 15 years that I consider good companions, two others that were sorta OK, and one that had many issues. Two of them expired after a few years. Two of them have gone on to a second life somewhere. The remaining two still reside in my driveway (well, at least some weeks of the year), and one in particular has been my traveling rock. First I'll give a brief history on the evolution of my Ragmobile needs.
I did not need travel all that much
in the 1980s through the early 1990s, as I had steady gigs where I lived in Durango, Colorado and later in the Metropolitan Washington, D.C. area. My car of choice during that period was one of two Honda Civics that Joanna (my wife at that time) and I drove.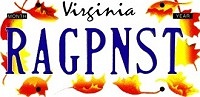 I used the '86 hatchback for general transportation and the '88 sedan for trips to Decatur for the
World Championship of Old-Time Piano Playing
, although I rarely took much with me back then. But the need to travel more started in the mid-1990s, about the time I bought my
1995 Geo Prizm
- a replacement for my Red 74½ MGB which never traveled far without engine issues. Remember Geo? It was the Chevrolet series of cars made by Suzuki or Toyota. While the Geo Metro did not get good press, the Prizm, a Corolla in Chevy skin, was a very fine car and remains so. It was the direct predecessor to the first true Ragmobile. But it also had quirks. For starters, the Commonwealth of Virginia got my license plate request wrong, and perhaps I wasn't clever enough with the content either. So my distillation of Rag Pianist became
RAGPNST
without a space. There were three letters that seemed to stand out to those who didn't get it - the wrong three - and I was sometimes accused of having a pornographic plate. But I endured. It was nice, a black car with a sleek profile and grey leather interior, power everything except seats. I managed 155,000 miles in it over the next eight years, but it could have been more.
Eighteen months into its life the Prizm abruptly met one of its Camry cousins from behind (on a notoriously difficult highway in our area) and was never quite the same. While it was waiting for expensive repairs to pass inspection, I opted for a used 1993 Ford Escort which was kept around as long as the Geo. It also made a couple of trips to Decatur, Illinois, but had an upper limit of 83 MPH. When I tried to go 84, it would yell "Cut that out!" at me. Reminded me of my first car - a '71 Pinto. Seriously. I got that up to 72 MPH going downhill once. Once! Hard to get a ticket in that car. Anyhow, as year 2002 progressed and I was happily getting more gigs, I was finding the Geo with a trunk was not always up to the task of carrying a keyboard and audio/video recording equipment plus passengers, and the Escort was not always powerful enough to get me there in a timely manner (although it did average 34 MPG, which I do sort of miss). A change was in store.
I remember the day very well.
Others may as well. You see something that just instantly agrees with you.
A passel of my smaller PT Cruisers,
Bruisers and Panel vans.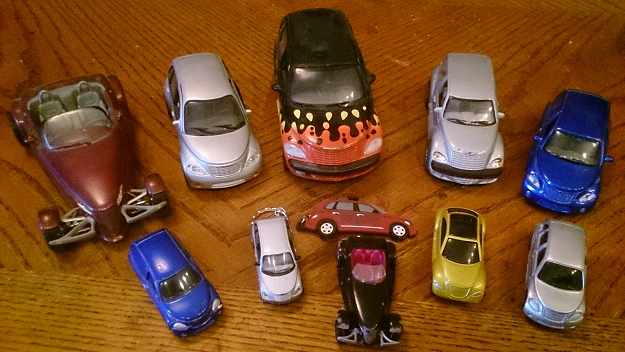 It gels. It calls. It lures. It beckons. It downright seduces. Well that day was Sunday, January 3, 1999. Parade Magazine (a universal Sunday paper supplement) showed a preview picture of a car that would hit the market around 21 months later. It was sleek. It was retro. It was practical. It was beautiful (even though it was black). It was the
Chrysler PT Cruiser
(PT stands for Personal Transportation). My family can tell you that I nearly instantly dubbed it the future Ragmobile. But I would have to wait. Finances were one issue, but availability and reports on the Chrysler reliability were also a consideration. PT Cruisers finally became nominally available in late 2000 in most places, but in very limited supply with high demand. The first ones were built on a Neon platform, which had shown OK reliability. We had just purchased a new home, so such things had to wait. In the meantime, I started collecting little Cruisers (I now have around a dozen) and building models. Not an obsession, but certainly a desire. Pamela, my wife since 1998, was not sold on them. She thought the black ones looked like "Nazi cars" from old black and white war movies. However, she finally agreed to test drive one. It took about five minutes to convince her, and the course for our future was set.
Then came that day - my birthday in fact - in 2003 when we bought the first one - a G.T. Turbo with Auto-Stick, leather, power everything, the works. And we were able to pay it off nearly instantly - a bonus. Two months later we donated the Geo (155K miles) and the Escort (147K miles) to people who needed inexpensive reliable transportation, and proceeded to procure - THE RAGMOBILE - the steel blue PT Cruiser Limited that some of you had since seen at my various gigs around the country. It has a manual transmission, black leather, cruise control, awesome sound system, six airbags, power everything, and ultra-high reliability. The PT Cruisers from 2003 and later actually have quite a bit of Daimler Mercedes technology in them, which has elevated them beyond Neon status. So this is where the real story begins.
THE RAGMOBILE
The two original Ragmobiles and their owners posed for a Christmas picture in 2003.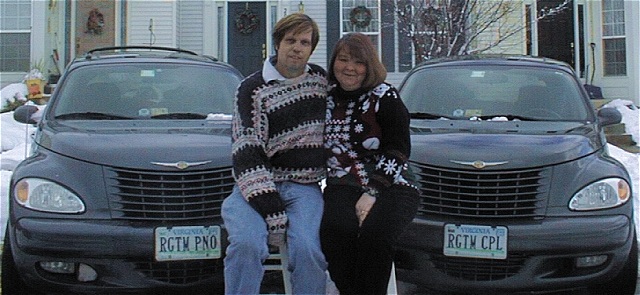 Unlike Batman and Robin,
Bill and Pam only have outdoor spaces to park in, and we wear jeans without capes. However, we have both loved our PT Cruisers from the outset.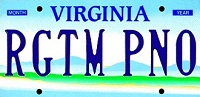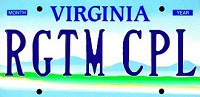 Then came the first change. About fifteen months in, the original G.T. had a water pump issue (only a slightly unusual occurrence), so Pam wanted to consider another car. I suggested trying the recently released convertible. She answered with the notion that we had sunroofs and that was pretty much the same thing. But Pam test drove one anyhow. With the top down it took around 30 seconds this time to sell her. So the second Ragmobile was quickly procured - an extremely rare 2004½ model of the convertible, of which only 42 were ever made with the particular color combination of almond (tan) with a tan top and light tan interior, in what amounted to a four month model year. As of December 2007 convertibles were not being made at all, making ours even rarer. However, it is the casual Ragmobile and her commuting car. The 2003 is still the primary one. We also had to identify them on the plates, and that ID has spread beyond us. Not repeating the mistrake put on the Geo, I opted for
RGTM PNO
. The convertible has
RGTM CPL
for the ragtime couple. We had a Celica for a couple of years which was
RGTM FUN
. Then Pam's parents, who often traveled with us in their conversion van (see addendum below), got
LUV RGTM
, and my mother had
RGTM MOM
on her Subaru. So it was quite a sight with all of these vehicles together.
What's the big deal about the PT Ragmobile? One of the earliest bits of amazement to me was moving a console piano in that car. Honestly. We just moved the front seats up and removed everything else, and I got a Baldwin Acrosonic Console in the back of that car. Try that with your Vibe or xB. The Cruiser has proved to be incredibly capacious and versatile, which is amazing when you discover that the footprint of a PT is actually less than that of a Honda Civic or Toyota Corolla. It's just taller than other compacts, allowing for different manipulation of space. There is a shelf in the back that can be moved to various heights to better accommodate cargo needs. The 70/30 back seats can both be removed, good for both extra space and gas mileage, essentially creating a small panel van. The front seats are higher, so it's more like sitting in a traditional chair, and there is plenty of back seat foot room as a result because of the 4" height under the front seats. At times when space is really needed, the passenger front seat also folds flat, giving 8' clear of inside length. There was a built in rack on top to which I could mount a shell, and I added a hitch receiver to which I could mount a rack for luggage or for bicycles.
All of this translates into sometimes challenging but usually still comfortable long distance travel.
A top down day - a good day to drive.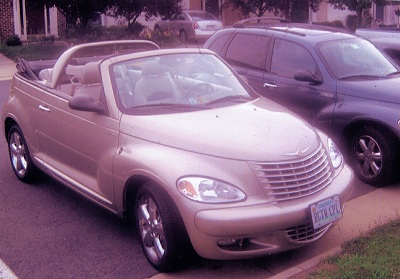 For a typical festival weekend when I used the shell or the rack we got two or three people in there along with two computers and a printer, large luggage for three, two or three boxes full of CDs and music, merchandise display gear, a video monitor or projector, a DVD deck, microphone stands, a case of audio cables and recording equipment, a keyboard and stand, a portable stool, and drinks plus any entertainment we bring along. With only two of us (although one time we worked this out with three) we can also put in a full drum kit and an upright bass which is 6'5" tall and 10" deep. The latter usually lays up the middle, but there are times when I have put it over the left side of the driver's seat, forcing me to duck under the neck when I get in and out of the car. Only a minor inconvenience, and it is worth the look on people's faces as I unload all of the stuff from this veritable pack mule. On light trips I got up to 31 MPG, and fully loaded I still averaged 25 or better. It booked at over 100 MPH (shhhh!), but I tend to find 75-85 more than adequate to keep up with faster interstate traffic.
As for the convertible, well, it's fun to drive in the summer. The trunk can hold two suitcases with a shoehorn to get them in. The rest sits in the back seat. But it's still one of the coolest convertibles on the road. The mileage is admittedly less with the turbo - anywhere from 18 MPG to an optimal 25 - but sometimes that simply doesn't matter. The main advantage to the GT is that Pam can also drive it, whereas my stick shift is still out of reach for her (she may yet learn). I like it because it allows me to manually shift as well, perhaps helping to increase the MPG and also saving the brakes a bit when downshifting. Still, the top down is NOT the same as just opening the sunroof. So it remains RAG FORCE 2 at this point, the fun backup sibling. As of July, 2016, the GT has around 155,000 miles. These figures will be updated from time to time here.
TRAVELS IN THE RAGMOBILES
As you can likely tell,
the Edwards family has definitely had adventures in the Ragmobile. I tended towards giving this car more character when remembering back to another Chrysler in our past, the 1969 18' long Town and Country wagon with the 440 cui snap your head back engine.
The super-giant-family-hauling 1969 Chrysler Town and Country Wagon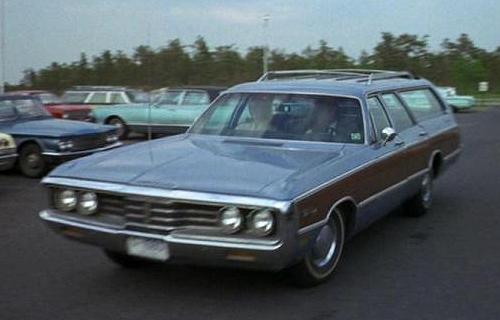 Five of us traveling in that monster, often pulling a 28' trailer, made for great memories growing up, including the impromptu stop-the-car-in-the-Mojave-Desert 100,000 mile "birthday" celebration that my mom planned (I have done the same for two of my Cruisers). So I have acquired a similar attachment to this particular breed of Chrysler, and making sure my boys have had good adventures in it. Zachary, through his teens, was usually relegated to the back seat - sometimes the 70 side and sometimes the 30, depending on the load. However, he had several road trips with me where he rode shotgun. His friends were often amazed when they asked what he did over a weekend, and he said something like "We drove from Virginia to St. Louis to visit Trebor Tichenor, played at the Scott Joplin house, went up in the arch, got a sheet music cabinet from some people an hour south of town, then came back home on Sunday." I sometimes have to offer proof - like a souvenir - so they know he's on the level. We think almost nothing of driving to Detroit, Indianapolis, or even Chicago just to get out there and play for willing fans.
For car buffs, sorry, but I did not do much to customize this PT, save for putting chrome on the front grill, I did more to make sure it stayed viable and reliable. Because of how I drive and how much interstate travel I do, the original front brakes went 90,000 miles, the rear brakes around 130,000, and the clutch stayed in perfect working order. I did not have to replace any bulbs until 105,000 miles. I changed the oil every 5,000 to 7,000 miles, having used synthetic (usually Mobil One) since the car was new, another good habit to make it last longer. The original battery made it at least 5.5 years, and despite having gone dead twice still cranked well. So the reliability and durability of Ragmobile 1 exceeded not only my expectations and the demographics of some consumer magazines, but Chrysler's as well. Note that because of this experience, I also rented PT Cruisers when I needed to fly for travel.
---
Even though it's a joy drive and a pleasure to show off,
our PT Cruisers, like all cars, are mechanical, and things can go wrong.
Loading the Ragmobile on the Amtrak Auto Train in Lorton, VA.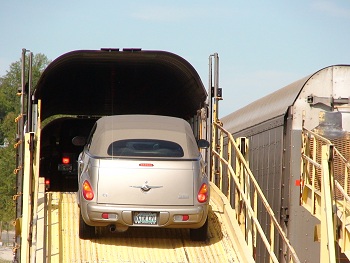 Still, they can make for a good story, and I have one in particular to share. Just prior to a trip to Florida for a week-long cruise, and a week at Disney, culminating with a concert in Southern Florida with
Bob Milne
and
Bill Westcott
in early 2008, I took the car in, then at 119,600 miles, for a checkup. The serpentine belt, the do-all workmeister that keeps things moving, was replaced, and some other maintenance done. I was told the timing belt would need to be replaced in about 4,000 miles. Or Perhaps Less? I don't remember hearing that. How about in something like 350 miles. So the next day the Ragmobile goes to Florida with us on the Amtrak AutoTrain. We drive from Sanford to Port Canaveral and get on the ship, so it has gone around 70 miles since the checkup and then just sits and waits for us for seven days. Then it goes another 60 miles to Orlando, and with little exception essentially sits for another week since Disney has a great internal transportation system. The concert is on a Saturday morning in Boca Raton, with an afternoon performance in Jupiter. So we need to really get moving after our last night in Orlando.
We reluctantly departed Disney's Boardwalk Resort at 6:00 a.m., expecting around a 160 minute drive down the Florida Turnpike to where the college performance venue is. The car, as always, hums along fine at around 75 for the whole way down the Florida Turnpike. As I get off I heard a little "whap, whap, whap..." so figured I might need to check it out after the first show. After that entire drive, I was, no kidding, two miles from the venue, stopped at an intersection, when the timing belt quit timing. What saved our bacon was that the car was idling, but idling rough, so the engine was barely moving when the belt snapped. This meant no bent valves, a concern as soon as any mechanic hears about such a problem. So we were now in the left through lane at a major intersection going nowhere as the light turns green. Literally, six cars behind us, is the AAA truck. He pulls alongside asks if we need assistance, even though he was on the way to another motorist. No time to think, only act, so we accept. We push the car across three lanes around a corner, I grab my CDs, Pam stays with the car while he calls a truck, and Bob laughs as he sees me jumping out of the tow truck a few minutes later - but on time, thank you very much. Then we proceed to do our concert from 9:30 to just after 12:00. WELL, it's not just Saturday, but it's President's Day weekend. I was called at intermission with the belt diagnosis and authorized work. Then I had to turn the phone off. Uh oh. It Gets Better!
It's now around 12:15 and I turn the phone back on. Did I mention that the AAA shop (which turned out to be reliable and completed the work as promised) closed at 12:00 on Saturday? So Pam has been relegated to sitting in a shop next door while trying to contact me. Bill Westcott and his wife take me to retrieve Pam a few miles off (thanks to GPS in the rental) and when we get there I find out that the car was on the rack when they closed. Pam essentially got only a goodies bag with toiletry essentials in it, because they couldn't access any of the other bags from the car while it was up there, as there was another vehicle parked partially below it, so it could not come down. UH OH. It Gets Better!!
We all race up to Jupiter (north of Palm Beach) for the second concert. While there, Pam and the other helpful (downright essential) "band wives" are trying to locate a rental car and lodging for us. Did I mention that it was not only President's Day weekend, but also Daytona week, and also a vacation week for essentially all schools in Florida? Oy gevalt. The non-airport rental places were out of cars, and most closed before we would have been able to get there anyhow. So after the show (and many thanks to the generous people in Florida who bought many CDs, and their comments since on how much they are enjoying still them) we were taken to Palm Beach Airport to Alamo, attempting to rent one of the ten cars left along the eastern Florida coast. Did I mention that it was a holiday and Daytona 500 weekend, a Saturday, end of the day, and a field day for the rental companies that base price on supply and demand? For us it was "Oy Day." Fortunately (?) we were able to get - you guessed it - a PT Cruiser for the "discounted" price of *deep breath* $120 per day. Not kidding. Normal rate is around $25, but on a holiday race vacation weekend late afternoon in Florida, not so cheap.
So here we are, stranded in Central Florida (still a lovely place to be stranded) in an expensive rental with no luggage, and I'm wearing a tuxedo. It's a little bit like homeless displacement, but frankly without the hopeless desperation attached. First stop was Walmart for - how embarrassing - underwear, socks, toothbrushes, clothes, what have you. Then at dinner we are trying to figure out where to stay in Central Florida on a holiday race vacation etc. weekend for less than $250 a night. Since my computer is also in the car on the rack locked in a garage 50 miles to the south, I can't search the web for the answer. We call my mother in Colorado to see what she can find. Then we remember - we are members of the Disney Vacation Club (which I will openly endorse and recommend -
just email me
), and they have a resort at Vero Beach, not far off. So after all this, we ended up with the
last room
(albeit supersized) in the place (the manager was amazing to work with) and extended our vacation with two rest days right beside the ocean at what is a major sea turtle breeding ground, so had a very cool time. Perhaps the car wanted a rest, and it simply forced us to take one as well.
Lest there be a concern that the shop was not open on President's day, it actually was, and after a day sifting through sheet music in Boca antique malls, we picked the Ragmobile up just before 5:00. Then we had to race up to Palm Beach to deposit the rental cruiser. I am not exaggerating when I say we made it by a mere three minutes before we would have been charged another day. We then crawled back into the Ragmobile, which safely transported us home the next day. It's the only disaster of sorts we've had with it, but still a good memory because it all turned out so very well. It makes a good story for Bob Milne to tell also, which he has more than once. Besides, that belt was overdue, so I'm the knucklehead to blame. I just thought it might last forever like everything else on the car.
As of January 2008, the PT Cruiser convertible was extinct, having ceased production in December of 2007, and the standard PT similarly ended production after a brief 2010 single-model year after essentially a 9.5 year run and only one major styling change. Other than Andy Tichenor, Trebor's son, who loves to tell how he "munched one up real good" with his own car in an accident, I have never met a PT owner who hasn't been at least positive if not overwhelmingly glowing about their car. As with Honda Accords and Toyota Camrys, you don't see quite so many of them on the used car market as some other brands, since owners tend to keep them longer.
In late November of 2008 the Original Ragmobile was part of a three car sandwich. The airbags did not deploy so it was low impact.
Son of Ragmobile!
However, there was just enough damage - including the starter breaking off of the engine block - that in spite of the exceptional condition of the engine at 146,000 miles, the poor thing had to be declared a loss. There were many tears and much angst, more about the loss of a great reliable friend than about the insurance payout or other factors. The funeral was brief, and kept under 60 mph. However, as of December 13, 2008,
Son of Ragmobile
was put into service, starting us out on a new adventure. (It's first task on day one was to transport me to a Florida Hospital to treat a painful kidney stone.) It is a "dangerous" little 2006 PT that lived its first meager 12,000 miles in Florida, and not only does it have a manual transmission (a requirement for me), but a hot rod 210 hp turbo engine, 358 watts of ragtime band pumping sound power, and a bright red coat of paint like a giant red Radio Flyer wagon. Y'all will see me comin' NOW I'm sure. That includes all those fine Ohio and Indiana state troopers. Don't worry, cruise control will be set to keep me in check. So, wanna ride? Hope you like your ragtime with some power behind it! As of mid-2016 it is past 165,000 miles of service, and other than a rather nasty DC pothole that took out the front tires, suspension, and an expensive aluminum rim, it has had no other run-ins or issues. The original clutch went 160,000 miles (I used it sparingly), and it is still on its second set of brakes. Even all of the lights on the vehicle are originals — none of them have burned out to date.
I had hoped to keep both of our PTs running for perhaps a decade, perhaps even two. With one newer one I have a little more time to worry about that.
The 100,000 mile celebration party —
Route 50 in Maryland, March 30, 2012.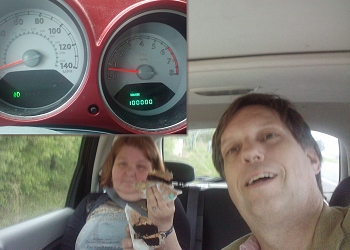 My future concern is what I could possibly consider in today's market that would equal it for capacity, versatility, reliability, longevity, gas mileage, comfort, and retro styling that suits a guy who plays retro music. Right now, pretty much nothing else matches that, so I'll just have to take good care of them and keep these gems running well. Our PTs have helped make my presence recognizable to friends and fans, some of who actually find me in happenstance locations rather than just at gigs. It's also comfortable, familiar, a friend in which we can safely transport our lives from time to time and know it will always find its way home. It's a car with a design that represents some of the most lyrical of cars from the past, including the Chrysler Airflow, Auburn Cord, and elements of the Ford and Mercury Zephyrs. It coddles us in the winter with heated leather seats. Ragmobile 2 excites us in the summer with topless vistas and a gentle breeze. I can carry as much or little as I need in the main (Son of) Ragmobile, and usually have room for more stuff I might pick up along the way. Both of my boys will have fond memories of a long procession of trips to familiar and new locales - both for leisure and for gigs - that will last throughout their lives like my travels in my teens with our Chrysler wagon will last throughout mine. And it's as much about family as it is about that car.
Another addition to the family came in 2016 with the acquistion from my in-laws of their Ford 1979 E-150 conversion van with a TurtleTop™.
The Ragabond Traveling Syncopated Menagerie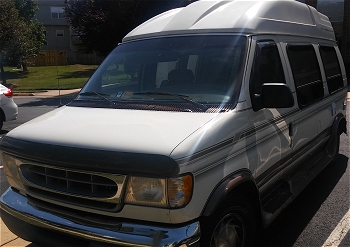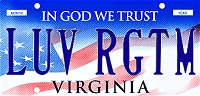 It is henceforth dubbed the Rag-a-bond. This allows us on certain trips to eschew the comforts of a hotel room and spend the night instead in a campground or a Walmart parking lot. With a microwave, stove, sink, queen bed, good storage, ample seating, 16" flatscreen, and a Kenwood sound system that has AM, FM, HDRadio, Pandora, Sirius/XM, iPod/Aux, Bluetooth, CD, DVD, GPS and Backup Cam (not original equipment, of course), we are set for the long haul. We even had the original owner's plates, obviously obtained with some bias, recast in a new format. This will be, for the most part, trips on which I will be primarly playing or presenting, and for chilling in a National Park or Forest here and there. But for the mainstream festivals, especially where I need that cache of band instruments and more, expect to see Son of Ragmobile, now in its second decade, and still decidedly my favorite mode of intra-state and interstate travel.
I know, I know. A car is just a thing, not a living or sentient entity. So don't believe that I have lost my grip on reality. Then again, who doesn't at some point recognize the viability of #53, Herbie,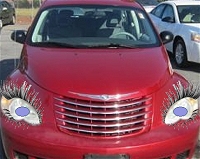 the Love Bug, as a sentient being, and how inherent his stories and actions are to his history and appearance, which gives him a definitive personality. But in the end it's the association of a car with personal memories, those in the past or those yet to come, that bring to it the personality and relevance it retains, and contributes to its status as a friend (or foe - ask me about Ford Pintos some time!). Of the ten cars I have owned in 40 years of driving, the recently departed and two current PT Cruisers have exceeded all others as my favorites on multiple levels. That also means the prospect of getting out on old US 40 or US 66 and exploring things off the interstate, or traveling to yet another new location to bring joy to yet another group of ragtime fans through my performance. It's nice to get home, always, but after a while I take a look at the car, and I swear that it smiles and even winks, letting me know that it's time to set out on another adventure in life. Perhaps an adventure that we'll share with some of you as well as we continue Cruising along, and remember fondly years from now.