All MIDI file contents and Wave/MP3 Audio recordings are Copyright ©1998 through under the 1998 Electronic Copyright Laws by Bill Edwards and Siggnal Sounds. All Sheet Music and Album Cover images here have been restored or enhanced by Bill Edwards, and only the original sources are in the Public Domain (except where noted). Unauthorized duplication or distribution of these proprietary files or associated digital recordings is a violation of copyright and patent law. They are for personal use and enjoyment of individuals only, and may be used on other sites only upon request for permission to do so. This site has been optimized for HTML5/CSS3 browsers released in 2012 or later with a recommended minimum 1024x768 and optimal 1280x900 monitor resolution or better.
Listings are updated now and then. Last Update
Left Click on title to play MP3 or thumbnail to View full size cover with MP3 Player.

Previous Page
Bill and Friends on Web Videos
Next Page

Like It or Not, the internet has changed access into people's lives for better and, in some cases, not so better. However, it can be used as a positive and a tribute. So in my case, like it or not, I have been put on YouTube by those who have recorded my live performances - warts and blemishs and scars and festering blisters and all. Even though I'm a bit better in the studio, I do have my fair share of good live performances, and have been flattered by those who have cared enough to share renditions of those with the world.
So instead of grousing or moaning about a less than stellar performance (I'm still waiting for that stellar stuff, but my standards are pretty high), I've decided to capitulate and accept this reality - indeed embrace it in light of the fans who have taken the time to do this. Below are links to many of the YouTube videos of me and other artists that have been posted. It will never quite, for me, replace the real "being there" experience, but I still hope you enjoy what you find.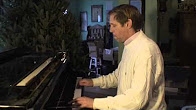 Although it was hardly the first rag written or published,
Maple Leaf Rag
did become the first instrumental piece to sell over one million copies. The
Charles K. Harris
song
After The Ball
from 1888 was the first million selling piece of sheet music, but Maple Leaf did it in a shorter amount of time, reportedly in less than a decade. Joplin named the rag in honor of the venue in which it was allegedly first heard by publisher
John Stark
, the
Maple Leaf Club
in Sedalia, Missouri. Actually, it was more likely demonstrated in his office, which was down the street from the short-lived club. There are many stories about how Joplin and Stark became associated as a result of this rag. One possible version suggested that when Joplin first played it for Stark, he had a little black child with him who danced to the salacious syncopations, a move that may have helped sell it. However, a more likely story, researched by Ed Berlin, says that a young lawyer who was a friend of Stark's son, who was running the Sedalia store, offered to help Joplin present the piece to the firm as well as draw up the paperwork, some of which was altered at the time of signing as indicated on the original copy which still exists. Stark had already acquired a catalog of songs from the music store he had bought out, but was printing little or nothing at that time. When he finally heard the piece he was impressed enough not only to take on
Maple Leaf Rag
, but to offer Joplin an unheard of royalty agreement as well (.01¢ per copy). Sales of
Maple Leaf
and subsequent rags earned Joplin his "King of Ragtime" reputation, and enabled Stark to open a music store and printing shop in St. Louis, then later New York. Note that the original cover, now extremely rare as there were only 400 printed, featured a rough mirror image rendition of a tinted picture commissioned by the American Tobacco Company. It shows the famous vaudeville team of Williams and Walker with two lady dancers, soon to become their wives, doing the cakewalk. This edition was printed in St. Louis but displayed the Sedalia address, since Stark had not yet established his music store in the larger city. For the second printing, with the St. Louis address, he started issuing the piece with the better known Leaf cover made explicitly for his best seller.
The original
Maple Leaf Club
was actually a social club that met in a saloon run by the Williams brothers of Sedalia. While the status of black rights in Canada and their trek up there during the American Civil War has been suggested as the source of the name, it is more likely that they followed the trend of naming organizations after trees in the area, and Sedalia has no shortage of Maple trees along its streets. The run of the club was essentially from November of 1898 to January of 1900, when it was dissolved due to a number of legal disputes and alleged errant behavior during a couple of events. The building no longer stands, replaced in recent years by a picturesque concert pavilion backed up to the railroad tracks, but the musical memories created there certainly remain.
Dick Zimmerman
resurrected the name in 1967 when he helped to found the new
Maple Leaf Club
in the Los Angeles area, which still meets in the 21st century.
This was a special recording of my Morton/Waller/Edwards thing version done for my good friends megafan Danny Matson and award winning drummer Danny Coots, the former who was receiving a kidney that day from the latter. It's just - well, what it is.
Swipesy Cake Walk/Stomp
Scott Joplin
and
Arthur Marshall
- 1900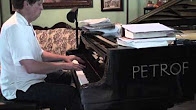 The only published output with Joplin's name on it in 1900 was this piece co-written with his protégé,
Arthur Marshall
, possibly even before
Maple Leaf Rag
, but that is difficult to determine. Although it is labeled as a cakewalk, there is more than enough syncopation in it to consider it as a rag. The A section provides contrast in the left hand, with the oom-pah pattern interrupted by repeated chords, a device later used in some Joplin trios. The B section is simple, and more cakewalk-like in nature. The trio is very much Joplin in content, and likely his largest contribution. It has a very well developed melody line and chord progression, echoing elements of Marshall's motifs in earlier sections. The D section reverts back to the original key, and provides a great opportunity for left hand expansion and even a little stride piano. The title was possibly contributed by publisher
John Stark
, who said that the boy pictured on the original cover "looked like he just swiped something." His daughter suggested that it may have also been the result of an altercation between two young black boys taking a swipe at each other outside the music store as they were thinking on a name. This version is more of a stride stomp in the style of Jelly Roll Morton or James P. Johnson - just less swing. Please stomp along, unless your neighbors downstairs frown up at that kind of thing.
The Nonpareil (None to Equal)


The cover with Uncle Sam holding a flag would possibly indicate that this may be a patriotic march or fast two step. However, it is actually a very pleasant classic rag, and contains the expected Joplin note,
"NOTICE: Do not play this piece fast. It is never right to play 'Ragtime' fast."
Based on this and the French title, it is possible that publisher
John Stark
or his daughter named the piece, possibly even based on cover art availability. However, Joplin may have also had a say in the name, since there were various bars and performance venues named
Nonpareil
present in some of the locations where the composer lived. The A section is well constructed but unremarkable. The B section displays some experimentation with variations on the ragtime format, utilizing a flowing left hand melodic line under chords, alternating with right hand melody. The C section is similar to many of his lush trios of this era, though less complex harmonically. The D section is well syncopated, almost to the point of sounding improvisational, and shares the end of the B section in an expression of unity and continuity. Note that the title term came into the American lexicon in the mid-1880s in association with Irish-born John Edward Kelly, better known as boxer
Jack Dempsey - The Non-Pareil
(the original, not the 1920s fighter who took the same name), who remained undefeated in 41 bouts from 1883 to 1889. He was mostly victorious in subsequent bouts over the next few years until his early death in 1895 at age 33. While there may be no direct association between Dempsey and the Joplin piece, his extraordinary career and national fame may have certainly kept the word floating around in the public's consciousness for many years after.



Lenzberg
was well known for playing, and occasionally writing knock-offs of popular classical themes spun into rags. This is one of his best, incorporating themes from
Franz Liszt's
Hungarian Rhapsody #2
for piano. I have added a part of the original to the introduction, largely in an effort to remind the listener of the nature of the original Rhapsody (and also to show off a bit). The A section is largely made up of the ubiquitous three over four pattern found in
Black And White Rag
,
12th Street Rag
, etc., but is unusual that it ends on the dominant (5) rather than the tonic (1), and is not returned to after B. The B section contains one of the primary bass themes of the Rhapsody, one that fans of the Bugs Bunny cartoon,
Rhapsody Rabbit
(1942), will know well, and essentially completes the idea started in section A. The trio bears little resemblance to any part of the Liszt original, but the trio interlude contains two of the prominent themes. As a result of the tempo that I play this piece at, and the fact that the A section is not repeated, I go through most of the rag twice to give it more content and variety. Of notable interest, in England and Australia via Francis, Day and Hunter publishers, this was released as
Rhapsody Rag
, not to be confused with the more common piece by Harry Jentes. There may have been a problem with "Hungarian" part, or perhaps the name was just more high-brow for that audience. Either way, it's always been at the top of my Liszt!
Tres Moutarde (Too Much Mustard)
Cecil Macklin - 1911


One of a series of "too much" pieces, such as
Too Much Jinger
and
Too Much Raspberry
,
Too Much Mustard
(the English translation) is essentially a non-syncopated two-step. Macklin was a British composer who wrote a few dance tunes intended for orchestras at society gatherings. Nonetheless, it was a popular hit in both the U.K. and the U.S. that was accompanied by a sequel,
Plus Moutarde (More Mustard)
by
Louis Mentel
. The charm of this piece is in its simplicity, in which the primary theme is comprised of short themes of essentially two repeated notes. The B section slips from F major into F minor, a device used to great effect in some of the best piano rags, and returns to the initial strain. This is followed by two short eight measure strains, one in the relative D minor, and another that is oddly enough notated but not signatured in Bb. The tune closes with a return to the opening trio of sections. I have, of course, interjected a bit beyond the range of the original publication. This version is loosely based on a take by
Lou Busch
in 1951 that syncopates the thing, and I expand even on his idea. The piece is short either way, but then again, do you really want "too much" of such a good thing? If it's too fast, I can wait a moment for you to ketch-up. I most certainly didn't relish that, of course.



In spite of an output of only five rags written directly by Matthews, I have long considered him to be equal in general ability to the big three (
Scott Joplin
,
James Scott
and
Joseph F. Lamb
), and perhaps even more innovative in some regards. His arrangements of rags by other composers clearly have his stylistic imprint on them, and some of them, such as
Cactus Rag
and
Agitation Rag
could be considered as "extended pastimes" given the similarity. Note that like Joplin, Scott and Lamb he was published by
John Stark
, but that his talents lay beyond ragtime composing and arranging, and eventually spread to blues and early jazz. A lot of that comes through in this rag. As with the other
Pastime Rags
, this was most likely released some time after it was written, which may have been around 1912. Publisher
John Stark
had every confidence in Matthews' abilities as both an arranger and composer, but considered some of the
Pastimes
a bit too advanced for the average music consumer at the time of their composition. I first was exposed to Artie Matthews at the age of 5 through a recording of this rag by the legendary
Paul Lingle
on the only studio LP he ever cut. I'm not sure what it was about the piece, or the performance, that stuck with me, but this has long been my favorite of the five. It is entirely unique as a rag. The A section utilizes a modified tango, found in other pieces of the day, but not often shifting between the tonic and the relative minor. The B section is reminiscent of "villain music" played during the silent movies of the time. I tend to play the right hand an octave lower than written for a more dramatic effect. It is followed by an interesting variation on rag themes of the day complete with a full measure of rest. The ending is pure Matthews with a melody line that surrounds rhythmic chords. I'm sure you'll appreciate the intricacies of this fine rag as much as I do. In these performances I take the most liberties with the final section, and if the floor weren't made of concrete you'd hear me stomping a bit better.
Kitten on the Keys
Edward Elzear "Zez" Confrey
- 1921



Novelty ragtime is typically traced back to
Felix Arndt's
Nola
(1915) and the initial pieces of
George Cobb
(
Russian Rag
,
Rubber Plant
, etc.). However, the true master of the popular novelty was
Confrey
. He also wrote a great deal of serious work throughout his life, but is best remembered for
Kitten On The Keys
,
My Pet
,
Nickel in the Slot
, and
Dizzy Fingers
. One of the most memorable novelty pieces around,
Kitten
was an instant hit, partially because it was released almost concurrently with a phonograph record of the tune played by the composer. Prior to this, publishers viewed piano rolls, and in particular, phonograph records as potentially detrimental to sheet music sales. In spite of its difficulty,
KOTK
sold very well, likely because of the recordings rather than in spite of it. As was a common practice of the time, it was released as a song a year after its debut. Confrey probably played on more piano rolls than we will ever know about, and developed his unique style by "tricking up" rags with fuller arrangements to create rolls that would sell better.
Kitten
starts with a consistent three over four pattern found in earlier rags such as
Black and White
or
12th Street
. It is the trio that is most challenging with its octave heavy left hand in the opening measures. In this performance I call on elements of tricks inserted by
Roy Bargy
and
Frankie Carle
on their interesting recordings of this piece, plus several of my own, and some in the style of
Lou Busch
. So this is one mongrel hybrid of a Kitten!
Space Shuffle
Robin Frost - 1980


California resident Robin Frost has been active for nearly four decades in composing a number of pieces that evoke the hot piano styles of the late 1920s through the 1930s. These are no-holds-barred rip-roaring works that go beyond relying on riffs, and represent the finest novelty and early jazz playing of that era. Frost adds many contemporary wrinkles to his pieces, however, and takes it one or two steps further. Much of his composition is done using MIDI instead of traditional notation. In doing so, he creates a fantastic sound, but much of his work can't be readily be played, even by the most seasoned pianists with twelve fingers, something he willingly has admitted. But if it sounds good, then why not. One of the few pieces of his that CAN be played, albeit with lots of practice and effort, is
Space Shuffle
. It takes years of knowledge of and experience with these styles and months of practice just to pull off a piece like this. That doesn't explain how Adam Swanson, not quite 16 when this was performed, is able to do it, but he has not met any obstacle yet that he has been thwarted by - even Robin Frost. So in this duet I do the best I can to keep up with Adam and enhance Space Shuffle with a few extra notes where there are spaces available to do so. The end result, whether solo or duet, still leaves many reeling in the sheer dynamic runaway train force of the work, including the pianists at times.


A lesser known composer with only limited but high quality output, Boston-born Nat Johnson wrote a few good rags, and managed at least this one interesting exercise in ragtime, which is essentially a flashy showcase for arpeggios. Not to deride his other fine works, including
Frisco Frazzle
and
Gold Dust Twins Rag
, both of which remain viable among some ragtime performers of the 21st century. But
Calico Rag
is a barn-burner of sorts that often captivates the listener, in spite of its inherent simplicity. Although scales have been used quite often in many other rags of the era (and Hanon exercises more recently), this is one of the few that effectively uses arpeggios (broken chords) throughout. Of note is the trio which runs through a gamut of major chords in a
1 3 6 2m 5 1 2 5
, well established in the key F but never staying in that tonality for more than two measures at a time. A lot of credit for salesmanship and the high collectible value of this rag needs to be given to the innovative cover, featuring a "gal in calico" that blends in with the background of calico. This rag also makes for a great duet, as demonstrated here with Marty Mincer (with one minor loss of traction). I usually play a secondo to Marty's dynamic arrangements, so you will sometimes here a reinforcement of the melody, or a harmonic of it, and sometimes just counterlines in a different octave. We also do plaid and gingham on request, but no paisley!
Repasz Band
Charles C. Sweeley (also
Harry J. Lincoln
—disputed) - 1901/1905


Reportedly the second-most played march in history, behind The Stars and Stripes Forever, the origin of Repasz Band is the center of a controversy that exists over a century later. Sweeley was a trombonist and a member of the famed Repasz Band, a Williamsport, Pennsylvania, community group that dates back to 1831, renamed after long-time director Daniel Repasz in 1859, and which still performs into the 21st century. Lincoln's side of the troublesome story is that he had written a 6/8 march piece honoring the band as early as 1896 or 1897, but had trouble selling it to a variety of publishers. After the success of his Midnight Fire Alarm in 1900, plus in need of money, he was able to sell Repasz Band to Mr. Sweeley who subsequently published it under his own banner and composition credit. Having not marketed the piece very well, Sweeley let it drop. As Lincoln's situation improved he reestablished his publishing company and took back Repasz Band. However, either out of respect for Sweeley or because the parentage had been established through copyright, he left Sweeley's name on the composition. After Lincoln dissolved his small publishing firm in 1903 he was hired on at Vandersloot Music in 1904 after Vandersloot published Heaven's Artillery. Owner Frederick W. Vandersloot also bought the Lincoln copyrights, and wanted to meet the composer of the marvelous Repasz Band march which he had republished in 1904. At this point Lincoln revealed it was his own, but they continued to publish it with Sweeley's name until the mid-1910s. When the copyright was renewed in 1929, Lincoln reclaimed the piece as his own, which was allegedly reinforced by a sworn statement from Sweeley himself, a statement that currently resides in the Library of Congress.
Members of the Sweeley family contest the story, as well as the handwriting on the statement. Sweeley's son had the handwriting analyzed by a professional and it was ascertained to be a potential forgery. The original copyright submission clearly shows Sweeley as the composer and Lincoln as the arranger. Also, there was been some duress in terms of Lincoln's claim over the piece. Lincoln made two attempts to re-copyright it in 1929, the first being rejected. The second attempt had the alleged sworn statement backing it up. There are points to be made for either scenario. Given Lincoln's prolific career and Sweeley's comparatively minimal output, it could seem more likely that Lincoln possibly contributed to a few more Sweeley pieces. Sweeley spent most of his adult life working with Lycoming Rubber, playing with bands on the side, but not as a full-time musician or composer. There is also the fact that Mr. Sweeley continued to have his works published by Vandersloot, which would not make sense if there were any serious contention between him and the company manager, Mr. Lincoln. A modicum of doubt must still be considered in this instance concerning authorship. Those who knew the real story are long gone. The claims of the Sweeley family need to be considered in balance with those of Lincoln, and duly respected as sincere and honest.
At one point when responding to the Sweeley family's claims that were made to me, I did a forensic analysis comparing Repasz Band with similar characteristic pieces by both composers. The most logical and probable conclusion that could be reached was that it was likely Sweeley's melody, but clearly arranged in Lincoln's style for both piano and band. Just as E.T. Paull's arrangement of Midnight Fire Alarm contributed to its major success, Lincoln's likely adjustments (based on other Sweeley works) to Repasz Band likely had an impact on it as well. Both men deserve credit in different ways for making the piece popular, so hopefully there is enough to go around. Coming to an absolute conclusion of full authorship is difficult to achieve when all of the known facts are considered. In this duet with Marty Mincer and myself, we try to find the driving potential within the piece, particularly in the trio and the interlude. It was performed often by bands as well, so just picture us performing it as a 176 key orchestra.
---
The Ragtime Webring-Dedicated to Scott Joplin and the music of the Ragtime Era, this ring is an invaluable resource for jazz music lovers, musicians and historians. Sheet music, midi files, afro-american history, record collectors...

| Previous | Next | Random Site | Ring Hub | Add Your Ragtime Site |
There are lots of great ragtime recordings by top artists available from


Including some of my recommended favorites:
And don't miss these movies which include some ragtime music:
Or just search their site using the search engine below!