Hired after the war
to work with Capitol's transcription service (
click for Lou Busch biography)
,
Lou Busch
had previously played with a few orchestras,
and knew his way around the piano, as well as being a seasoned arranger. A little after the Hunt explosion took Capitol by surprise, Busch was promoted to A&R supervisor, and asked to see if he could infuse a little ragtime in some of their recordings. Among the successes in 1949 were a single of
Ragtime Cowboy Joe
with
Jo Stafford
and
Paul Weston
, along with a cut of his own,
Sam's Song
, which he released under the pseudonym of
Joe "Fingers" Carr
. Also recorded that same year was a single by jazz pianist
Marvin Ash
of
Maple Leaf Rag
b/w
Cannon Ball Rag
. The sales for these were encouraging enough that Busch released his own composition,
Ivory Rag
, in 1950. It did well enough over the summer that Capitol decided to have him produce an LP (still a new market) of ragtime tunes. It should also be noted that the first edition of the legendary history
They All Played Ragtime
by
Rudi Blesh
and
Harriet Janis
hit the bookstores around the same time, sending renewed waves of interest in both the music and composers, at least through the musically educated segment of the buying public. In spite of the fact that the music was truly ragtime, the title of
Honky-Tonk Piano
was chosen, although it is not clear who collectively was responsible for that name.
The Honky-Tonk Piano album
was and still is successful in its intent as well as flawed in its execution.
It flew off the shelves when introduced at the end of 1950, and predated similar albums from other artists by at least a year. The album included the Ash cuts, three pieces from pianist
Ray Turner
, and three from Busch himself, billed here as "Professor Lou Busch" in keeping with the ragtime nostalgia. All of the pieces are authentic ragtime, even the newest one composed by Busch,
Two Dollar Rag
. It also sparked great interest in more material of the same genre. However, the Turner cuts were sped up so they were pitched more than a fourth higher, and were considerably faster, giving a false impression of his playing. The Ash cuts were more New Orleans jazz, even on
Maple Leaf Rag
, than they were ragtime. Three different ensembles with three different pianos were used, creating some inconsistencies, but promoting the uniqueness of the artists as well. And the title—it was this title and the success of the record that may have been more responsible for the label of
Honky Tonk
applied to most of the 1950s ragtime releases than any other factor. Clearly the term had been around since, perhaps, the late 1910s (ask the dictionary - it doesn't even know!). While it initially referred to the type of "joint" in which the music was performed, it was quickly applied in the late 1940s to the genre of music played on pianos prepared to sound somewhat out of tune and with a more metallic timbre. Then it became a synonym for ragtime - at least for a while.
A veritable tidal wave of releases started
Paul Lingle's legendary Good Time Jazz record.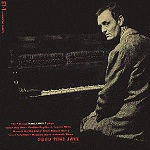 to build up after the release of
Honky-Tonk Piano
, and it took along some existing recordings in its wake. Lester Koenig's
Good Time Jazz
label gained extra visibility as a result, and he soon added artists like
Burt Bales
,
Paul Lingle
,
Clancy Hayes
,
Kid Ory
,
The Banjo Kings
and
Turk Murphy
to the catalog that started with the
Firehouse Five plus Two
. A GTJ album of
Wally Rose
playing real ragtime, albeit with the bass/drums combo in the background, also did well on his label. The legendary Barbary Coast pianist
Paul Lingle
, who had eschewed recording studios for many years, recorded his only formal album for Koenig, then left the mainland to live out his final decade playing ragtime in Hawaii. Busch, this time going on the earlier pseudonym of Joe "Fingers" Carr at Capitols request, followed the debut
Honky-Tonk Piano
album in 1951 with two more notable releases. Both
Bar Room Piano and Rough-House Piano
did Capitol proud for volume sales. These albums were also increasingly better in terms of the quality of Busch's arrangements, and led to two more albums featuring his "Ragtime Band," which was in reality a tightly arranged traditional jazz band with a couple of extras like xylophone thrown in.
By 1953, mainstream artists were also making their contributions.
Big hits were made of the nostalgic
The Old Piano Roll Blues
by everyone from pop singer
Teresa Brewer
to America's flashiest pianist,
Liberace
, and, of course, Carr. More importantly, 1940s band leader
Frankie Carle
,
in some of his earliest efforts for RCA Victor after migrating from the Columbia and Decca labels, cut two albums also titled
Honky Tonk Piano
, the first one including the increasingly omnipresent
Old Piano Roll Blues
. Carle had aspired to be a professional boxer in his younger days, but the family was able to steer him away from pugilism and towards a musical career, starting at the age of twelve. So he was brought up with ragtime music and often drew upon the repertoire of the 1910s and 1920s for his band recordings. His
Honky Tonk Piano
albums helped to further legitimize the genre given Carle's stature in the business and his exposure on the new medium of television. The collective Honky Tonk Piano albums became so popular for the well-known Carle that they were combined onto a 12" release a couple of years later, and remained available in various incarnations into the early 1970s. He only did one follow-up in the 1960s as part of his series of medleys of hits from various decades, featuring no less that 25 tunes per album! Carle's original arrangements contrasted nicely with those of Busch, albeit many were formulaic after a while. Frankie's popularity in the genre was probably just behind or equal to Busch's for quite some time.
By 1955 the field was rather crowded
(
see the lists on the next page
), including a number of knock-off artists with contrived names to echo the "Fingers" paradigm set up by Busch. Many of them were otherwise unknown or uncredited pianists recording for smaller labels, included whimsical percussion that went far beyond what Busch and Carle had done in terms of taste and sound effects, and had less innovative arrangements, usually sticking very close to the popular melodies and progressions set down by the composers. Names such as
"Spats" Hollaran
,
Archibald Musclefingers
,
Joe "Fingers" O'Shay
,
The "Crazy Guy"
,
"Barrel Fingers" Barry
,
"Happy" O'Hallihan
,
"Knocky" Parker
and the famous
"Crazy Otto"
were appearing in record bins everywhere, although in spite of the kitschy names, many of them were actually fine pianists in the genre. A couple of the more unusual titles of this sort would eventually be uncovered as pseudonyms for one of America's finest pianists, a virtual unknown in the early 1950s, but certainly beloved by many by the time the decade was over, then again more than a decade later.
Enoch Light
, a violinist and musician of some stature,
but eventually better known for the music he promoted, was put in charge of a small record label in 1954.
Waldorf Music Hall
specialized in budget recordings, charging 99¢ per 10 inch disc. He recruited both starving musicians and better known figures for the label, and produced albums across a wide spectrum from classical to jazz, also trying to cash in on the honky-tonk craze. Among the characters he created were
Puddin' Head Smith
and
Willie "The Rock" Knox
, the latter who was introduced around the same time as another well-named ivory plunker,
"Knuckles" O'Toole
(originally
Keyboard Kingston
). The first Honky-Tonk albums by O'Toole were performed by the talented jazz pianist
Billy Rowland
(pictured), who later struck out on his own recording everything from pop to boogie woogie. Two of the records covered standard honky-tonk fare played very well, but they were followed by two unusual and often overlooked entries of Latin and French-based honky-tonk stylings. Both of these represented Rowland's arranging skills, expertly applying the worst of piano sounds into the best of a fusion of these diverse musical styles. It was the Knox recordings that were notable, however, because they featured more authentic ragtime in focused arrangements by a young
Richard Roven Hyman
, now more commonly known as
Dick Hyman
.
In 1956, Light founded
Grand Award Records
, and converted many of his Waldorf recordings into 12" reissues on the new label, most featuring colorful artwork on the covers.
In spite of the promotion of the Willie "The Rock" Knox albums, the name, and perhaps repertoire of "Knuckles" O'Toole took precedence with the buying public. So when Light started producing new material, particularly after Stereo LPs were introduced in 1958, he tapped Hyman for the task. One of the best O'Toole albums ever, and perhaps one of the best of the Honky-Tonk era, was his
Greatest Ragtime Hits
. It featured 13 well-known piano rags and ragtime songs, plus two newer compositions by Hyman.
While they did not stray from the music in the same way that Busch as Carr had been doing for nearly a decade, there is a consistency and originality about the Hyman performances that kept this album in circulation into the 1970s, even after Grand Award was bought by ABC, then eventually shelved by owner MCA. It was followed by two well-done albums of sing-along featuring a men's chorus and Hyman, a few years before Mitch Miller produced similar efforts. Mr. Hyman followed the "Knuckles" O'Toole recordings with one of
Slugger Ryan
, a
Bil Baird
puppet known for his honky-tonk piano on various kids shows and appearances on
The Tonight Show
with
Jack Paar
. This was evidently the first time Slugger actually played through entire rags without interruption. Every performance is a delight on that album. Hyman went on to record some of the greatest jazz, stride and novelty albums ever, the complete works of Scott Joplin for RCA, and scoring several films for Woody Allen, often featuring nostalgic music from the 1900s to 1930s.
A different approach to the genre emerged just a little before Hyman's albums,
bursting into the world out of Gallatin, Tennessee. A young record store clerk who had been working for
Randolph C. Wood
, the founder of
Dot Records
,
Johnny Maddox
was the first on the list to record for his boss. He was an avid sheet music and record colletor who also had a keen interest in piano rolls. Soaking in all of these influences, particularly the better rolls of the 1910s through the 1930s, Maddox went to work with a pseudo honky-tonk style that actually honored ragtime very nicely in its presentation. Between 1952 and 1960, Johnny recorded no less than 19 albums of ragtime and honky-tonk. One of his more famous singles was a cover of
Fritz Schulz-Reichel's
Crazy Otto Medley
, after which Johnny was often as closely associated to the "Crazy Otto" name as its creator, although this was mostly a public appellation and not Johnny's or that of Dot Records. Johnny was also one of the earliest proponents of recording piano rolls onto records as well, most with rhythm accompaniment, so that the population at large that did not have a player piano could enjoy the fine work of the arrangers of a bygone era. Johnny continued performing his easily identifiable style into the 1990s from coast to coast, including several years in Alexandria, VA, and was a mentor to many fine pianists of the 1970s and 1980s. He is still performing into the 21st century, straying from his Tennessee home now and then to delight all who come to hear him.
Women were also a part of the honky-tonk culture,
albeit more towards the end of the 1950s. Among the best was a native of Trinidad,
Winifred Atwell
, who really went at the piano with great force and accuracy whether it was pop tunes or authentic rags like
Black and White
. Atwell applied the honky-tonk style to a number of pop tunes as well, and her records quickly became "party albums." She was one of the few artists whose honky-tonk and classical recordings, which she took seriously, were popular on several continents, largely Europe and Australia, where she eventually lived out her life. Atwell was soon joined by
Del Wood
and
Jo-Ann Castle
. Wood had a straight out no-holds-barred attack on the piano which brought her to prominence in 1951 with her hit version of
Down Yonder
. She continued to make albums for some 20 years.
Castle is an important figure in part since she became a regular on the televised
Lawrence Welk Show
. Welk was a "sweet band" leader with a heavy Minnesota accent, known for light polka fare and the bubbles that pervaded the set at both ends of the show. Castle started out on the accordion, making her debut on the show in 1958 at age 18. Soon after, the resident honky-tonk pianist
"Big" Tiny Little
left the show to pursue a career on the road. Castle was tapped to play as a guest on the show several times over the next year, having switched to the piano, and by 1960 she was a regular. This exposure helped her sell a lot of albums with her good-time honky-tonk style, and she is still performing in the 21st centurym including Lawrence Welk Orchestra Reunions. However, while Castle, Wood, Hyman and Busch were still cutting records into the 1960s, there was a change coming on that would take nearly a decade to come to fruition. Ultimately it would constitute itself as the ghost of ragtime coming back to life to reclaim itself as an historically legitmate musical genre.