Henry Hutt
(December 18, 1875 to January 19, 1950)
Henry Hutt
did not contribute very much to the art of sheet music covers, but he was responsible for a few significant ones. More than anything, his life was that of the eclectic and trouble artist, and very much a product of the excesses of the ragtime era, perhaps in part due to how public it was at times. He was born in 1875 in Chicago, Illinois, to teamster
Georg Gotlieb Hutt
, an immigrant from Württemberg (a 19th century Germanic kingdom), and his Russian wife,
Dora Friedricke Will
. Henry was preceded by his sisters
Clara
(1869) and
Amanda
(1871). Georg died in the mid-1870s, leaving Friedericke to raise their children on her own, working as a seamstress. The 1880 census showed them living in a Chicago tenement, probably just scraping along until the sisters could get better work to contribute to the family.
Some of that must have gone to help Henry obtain an art education, given the propensity he showed for drawing at a young age. According to an early biography, he was mostly educated in the public schools, but spent every afternoon copying illustrations that he admired. Some of that time was spent drawing animals from life. While hard to confirm, Henry was providing professional-quality illustrations at age 14. When he was just 17-years-old, Hutt worked as an illustrator for a short-lived Chicago-based magazine called Good Form. Surviving on hard work with small Chicago publishers, Henry managed to receive a year of training in night classes at the Chicago Institue of Art in the early 1895 to 1896. While there, he was one of a group of founding members of the
Palette and Chisel Academy of Fine Art
, formed by around two-thirds of the members of the life class (painting or sculpting of models) at the Institute. According to an early story in the Inland Printer in June of 1896, the members were "all wage-workers and busy during the week with pencil, brush or chisel, doing work to please other people." On Saturdays they assembled in tha Athenaeum Building in downtown Chicago to work in whatever medium stirred their fancy that week, encouraging and helping each other along. the club still exists as the
Palette and Chisel Academy of Fine Art
, the second oldest such organization in the United States.
An art editor of Mclure's Magazine took a liking to Henry's work, and engaged him to illustrate a Stephen Crane story, His Mittens. From the 1899 forward, his artwork was seen increasingly in major magazines, both as content and advertising. Before the century was out, Hutt moved to New York City where the major art centers and exhibitors were, as well as the funding for his craft. The 1900 census listed Henry as an artist living in Manhattan. That same year saw his work advertised and featured in such fine publications as The Saturday Evening Post, an earlier incarnation of Life Magazine, Ladies Home Journal, Collier's Weekly, The Century Magazine, McClures, Harper's Magazine and, most importantly and frequently, Scribner's Magazine. These were occasionally in pen and ink, but most often with partial to full color prints in wash or watercolor. Along with a few of his peers, such as Charles Dana Gibson and Harrison Fisher, Henry was known in particular for his effervescent paintings of beautiful women, to the point where they became a trend early in the decade. One in particular caught his eye, and he often referred to her as a modern-day Venus de Milo, perhaps even more beautiful. Her name was Edna Garfield Della Torre, a New York native, and from 1902 for the next several years, she would be one of his most used models. Edna and Henry were married on January 17, 1903, and their son Richard Henry was born exactly nine months later on October 17.
Henry's work was now featured in books that he illustrated, newspaper inserts and articles, magazines, and advertising material, including some images for Coca-Cola. Edna was one of many models that he used, but he quite publicly made it clear that she was the ideal model and perhaps the most beautiful in America. When the topic was broached in 1907 by French artist
Masson Forestler
concerning American women in particular,
One of many paintings of Edna Hutt
by Henry Hutt, c.1909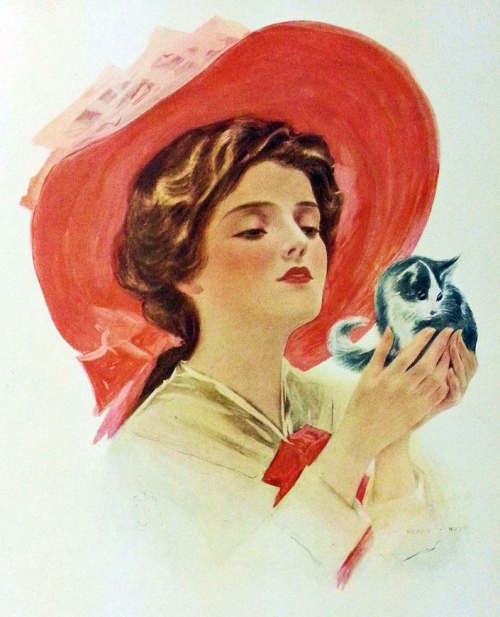 it created a bit of rivalry among the artists who represented them on canvas. In a syndicated article printed in late October of 1907, Hutt and Harrison Fisher sounded off in a "friendly rivalry" in the press:
"You may talk as you like, Harrison… but after all your arguments I still hold that my model is the most beautiful woman in the world." And to prove it the artist produced a photograph of his wife, saying: "Here is the most beautiful woman, not because she is my wife, but because she is truly perfect, according to the classical conception of beauty, which is above reproach and the one standard of perfection which outlasts every so-called type, that has its popularity only while its originator lives. Beauty does not live only in the brain of the idealist. It is neither a fad nor a fashion, it is a fact, as the noble outlines of the Venus de Milo prove by their time-defying loveliness."
Hutt further laid out the "Ideal of Beauty Tabulated:" Height—Five feet seven inches, Eyes—Dee blue, Complexion—Very fair, rose tint, Figure—Fully rounded, Hair—Curly chestnut, with god and red lights. By 1908, people across the continent were aware not only of Henry but of Edna as well, who they saw in many of his works, even if they did not know it. However, she was clearly not the only model who caught his eye. There were newspaper spreads of his artwork showing everything from how to wear hair accessories to how to properly wear the latest fashions. In 1908, The Henry Hutt Picture Book full of his sketches and paintings was released, and became a very popular Christmas gift that year, as well as a learning tool for other aspiring artists. A follow-up in 1910 was simply titled Girls, including subjects as young as a few months in its pages. And while all seemed to be going well for Henry with his thriving business, public acclaim, and beautiful wife and loving son, there were dark rumblings behind the public persona. Based on later court descriptions from his wife and others, as well as accounts in newspapers, Henry and his artist friends were apparently a rather rowdy and unseemly bunch at times. For Hutt, it is quite probable that he was an alcoholic, and apparently did more than just sketch his female subjects. He may also have been emotionally unstable, potentially bipolar, and unaware of his limits. This first manifested itself publicly on March 8, 1909, widely reported across the country:
Falling on the street [Broadway] as a result of an attack of acute hysteria, Henry Hutt, the artist whose pictures and sketches of women have spread his fame from one end of the country to the other, is now lying critically ill in a hospital in this city. Hutt gained considerable fame as an artist about ten years ago. His popularity increased and at the present time he ranks well in the front with the artists of America. Hutt's illness is believed to be due to overwork. He was married in 1903, and his wife has been the model for the greater portion of his work. When taken to the hospital it was with difficulty that he was able to tell his name. He is thirty-four years of age.
As he later told it, Edna was also a perpatrator of misdeeds, and had also been abusing him physically and mentally (she was physically the size as he was). While on a visit to the Narragansett Pier in Rhode Island, while Henry was at dinner (or the gaming tables),
A charming Hutt Sketch of a father,
daughter and beau, c.1909.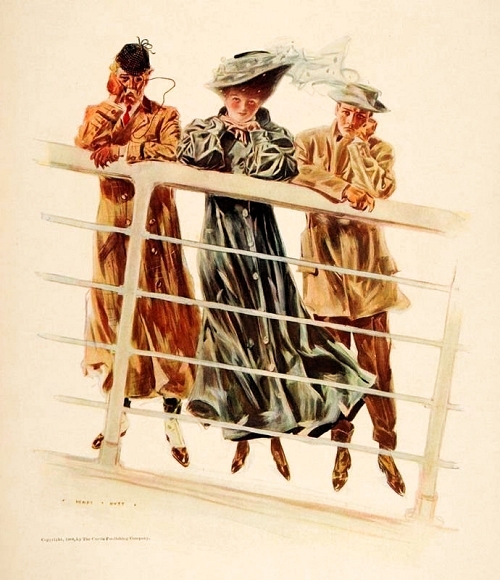 she would excuse herself, and he would later find her in the basement in a locked room in the company of other men. When she decided to take a vacation from him for a few days to Narragansett without leaving word, he allegedly wandered about the city in a stupor looking for her in desparation, which precipitated his eventual breakdown. It was clear that there were serious issues with the Hutt union. As of the late spring 1910 enumeration, they were still residing together in Manhattan, complete with a domestic in the home. However, things would soon get ugly and created a mild sensation in the newspapers.
On January 19, 1911, it was reported that Edna brought suit against her husband for abandonment, use of "strong liquors," intimacy with other women, and cruelty. She also claimed that Hnery had prevented her in some way from becoming part of the "Four Hundred," the elite of New York society. Henry counter-claimed that "Her habits of intemperance, violence and extreme cruelty constitute a perfect defense to her action." Her extravagant spending and a similar abadonment of the home was also an issue. In a surprising move, Richard, only seven at the time, was brought in for private testimony. He sided with his mother on the issues he was asked about. Edna made it clear to the public that she did not want Henry's son to hate his father, and encouraged their relationship, then turned around and gave him a difficult time in terms of any hope of reconciliation. By April she had been granted a legal separation and $100 per month (she had asked for $500) for support. However, the New York courts were reluctant to grant her a full divorce that year, so in January, 1912, Edna and Richard moved to Reno, Nevada, where local laws of that time required only a six month residency before obtaining the final action. In the interim, Henry reportedly suffered the scorn of the general public as well as his patrons and employers, as noted in a syndicated article from January 9, 1912:
Do you remember Henry Hutt, creator of the "Hutt Girls," who was kept busy not many months ago making pictures for the magazines? And do you remember Edna Garfield [Della] Torre Hutt, she whom he called his princess and used as a model and described as "more beautiful than Venus?" Well, he is down and out now and is suing to have his alimony reduced. He has brought to court papers to show that he has only $3.80 in cash, owes $5,000; that he is sick abed and his sister is paying the wages of his nurse. Editors no longer fight for his pictures, he says. In fact, he can't get rid of them. He has showed the court a sheaf of rejection letters—the heartbreaking kind, more often received by creators who have not yet "arrived" than by artists who have just been national fads.
On August 30, 1912, Edna's divorce action in Reno was denied, with the judge stating that her charges were not proven or substantiated. After a continued trial on September 16, and another one in mid-October, Edna was finally granted her final divorce. Over the next year she would nearly fade out of view, while Henry regained his footing. He also appeared in a long-running advertisement for Tuxedo Tobacco, quoted as saying "A pipeful of Tuxedo puts new life into me." There was new life, and by 1915 it appears that all was either forgiven or forgotten by the public and his fans. However, the nature of his paintings had also changed. They were still taken from life, but less focused on beautiful women and more inclusive of other subjects. His main competition in that field was still Harrison Fisher, particularly for Cosmopolitan Magazine in later years. But they were both challenged by rising star Rolf Armstrong, who would soon dominate the field of female-centric art. For a brief period from 1917 to 1920, Hutt's pictures were not just seen in the papers or magazines, but issued on the covers of sheet music. Most of these were issued by publisher Leo Feist, but a couple also curiously made it onto publications put out by Vandersloot Music in Williamsport, Pennsylvania, including the waltzes Nona and Naomi by Frederick Vandersloot himself.
On his 1918 draft record, Henry indicated his sister Amanda as his point of contact, and that he was also residing with her in Manhattan. He was not readily located in the 1920 enumeration, although Edna and the children were still living in Manhattan for that record. In 1923 Henry, now 48, married a 20-year-old model named Josephine (last name not found), and moved up to the Bronx area of New York City The 1930 census revealed that he was still an portrait artist, but also doing landscapes, and that Josephine was a model for ladies wear. Little else is known of Hutt's life beyond that, and virtually no commerical artworks were identified from the late 1920s forward, so he may have worked on gallery items and commissions from that point. Hutt remained in the Bronx until his death in 1950 at age 74.
Henry Hutt's overall body of illustrations, particularly of women, were not the highest form of art, but had an appeal that resonated with the general public. He was able to capture certain nuances and details of women that highlighted their charms, particularly his copious body of illustrations of his wife from the first decade of the 20th century. His sheet music covers, part of his later work, actually seemed pulled back a little from his earlier work, focusing on simplicity overall, while still exuding beauty, joy, or even heroic aspects. One of the most famous of his covers was actually drawn by an artist at Rosenbaum Studios. One of the four editions of Over There had a simple picture of marching soldiers (albeit in a Broadway stage manner), which was based on a Hutt sketch. Otherwise, they were focused on "the girl" and often surrounded by white, further enhancing the subject. His most complex and widely distributed cover was for The Vamp in 1920. In spite of his proclivities and at time appearing to live as a tortured and loose-moraled charcter, Hutt nonetheless provided us a window into life of the early 20th century that should still be well regarded a century and more later.